Kadaif is actually shredded pastry. It bakes into a crispy topping that covers a couscous crust topped with a delicious cheese filling. This honey type cheesecake is unusual and tastes divine!
St. Patrick's Day has come and gone. I did not see a rainbow or find a pot of gold.
However, I did make a delightful new dessert that glistened with honey, which may be as close as I ever get to a pot of gold.
A friend came over on Sunday to see the photos of my trip and I decided to make a Middle Eastern Spread.
Just the mezze (appetizer) part; after all, us girls have to watch our figures.
This is a great, healthy way to eat and a super simple way to entertain.
And of course eating salads helps to justify dessert.
What is Kadaif?
But those salads will have to wait. I want to tell you about my Kadaif, my Middle Eastern cheesecake.
There are several ways to prepare it, all of which were new to me.
I adapted two recipes and it was fun trying something when I had no idea how it would turn out.
My efforts were a success and my friends that took the cake home agreed.
If you are planning a Middle Eastern meal this is an easy, but exotic dessert.
Made with a honey syrup that is similar to baklava, kadaif tastes richer, because of the added cheese.
Many middle Eastern groceries sell kadaif in the freezer section, but if you can't find it shredded wheat cereal would make a decent substitute.
Kadaif can also be made with a nut filling or as individual pastries.
It can be made with the shredded pastry as the bottom crust also, but one recipe I found used couscous as the bottom and top crust.
I decided to use the couscous as the bottom layer and the kadaif noodles on the top.
It was a good decision on my part and this the recipe I'm sharing today.
Imagine a silky, slightly salty cheese filling with a crunchy topping soaked with a lemon honey cinnamon syrup. Not bad, huh?
Yeah, that's what my friends thought, too. In fact, they asked when I'd be baking it again!
A Few More Turkish Desserts: From Give Recipe try Turkish Sweet Churros .
And though not really Turkish these Turkish Shortbread cookies from The View from Great Island sound like something I need to try!
More to Try: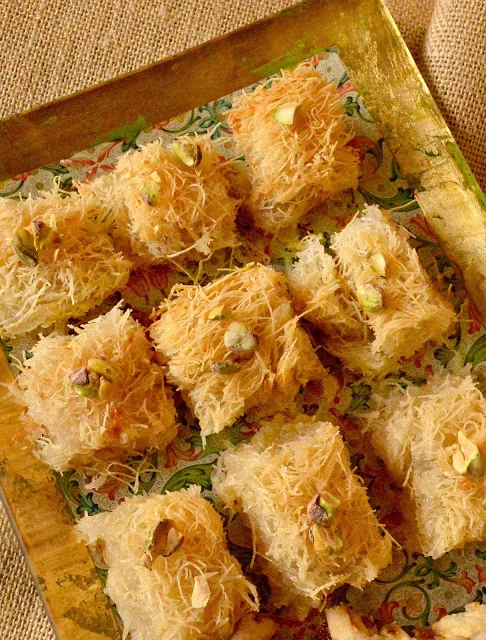 Chicken with Hazelnuts, Rosewater and Saffron

Please Pin and Share!
Print
Kadaif or Middle Eastern Cheesecake
Author:

Abbe Odenwalder

Prep Time:

30 Minutes

Cook Time:

60 Minutes

Total Time:

90 Minutes

Yield:

12

-

16

Servings

1

x

Category:

Dessert

Method:

Baking

Cuisine:

Middle Eastern
---
Description
This Kadaif Middle Eastern Cheesecake is made with a crust of couscous, filled with salty sweet cheese, and topped with crunchy kadaif that is then drenched in a honey lemon syrup.
---
Ingredients:
1 C couscous
2 C Boiling Water
1/2 C Butter melted
1 lightly beaten Egg
pinch of Salt
1 3/4 c Ricotta Cheese
6 oz Shredded Mozzarella Cheese
1/2 package of kadaif (about 80z)
1/2 C butter melted
1 1/2 C Honey
Pinch of Saffron (Optional)
Pinch of Cinnamon (optional)
1/2 C Water
1 Tablespoon Lemon Juice
Chopped pistachios for garnish
10" Springform Pan
---
Instructions
Put couscous in a bowl and pour boiling water over. Stir. Leave to soak for up to 30 minutes until water is absorbed. When absorbed stir well with fork to break up lumps.
Pour melted butter over couscous and then stir in egg and salt. Pat this in bottom of 10″ springform pan. (This is your crust. It is a soft one.)
Preheat oven to 375.
Combine Cheeses and 2 T of honey. Spread on top of Couscous.
Take kadaif and mix well with ½ c melted butter. Tear or shred into threads and make sure each one is coated well with butter. Press this on top of cheese. Bake about 45 minutes.
Take honey and saffron or cinnamon, if using, and the water and put in pot. Bring to a boil and boil for about 5-7 minutes. You are making a light syrup. After you take off heat, stir in lemon juice. Chill this in fridge or freezer, but do not let it solidify. It needs to be cold when you pour it over your warm kadaif. This keeps your kadaif crunchy.
After baking your kadaif for 45 minutes, turn the oven up to 450. Bake for 10-15 minutes or until the top of kadaif is golden. Remove from oven and immediately pour cold syrup over kadaif. You can serve it warm if you like, or let it come to room temperature.
Sprinkle with pistachios. They look and taste good. Kadaif will stay good and crunchy for about 4 days if it lasts that long.
Mint Tea is the traditional accompaniment.
---
Keywords: kadaif, kanofa, Middle Eastern cheesecake, kanafeh, kadayif, kunafa cheesecake, kanafeh cheesecake