This incredible homemade red raspberry jam is ready in about 20 minutes. This glistening red jam keeps in the refrigerator for up to 6 months. Make this when raspberries are on sale. You won't be disappointed!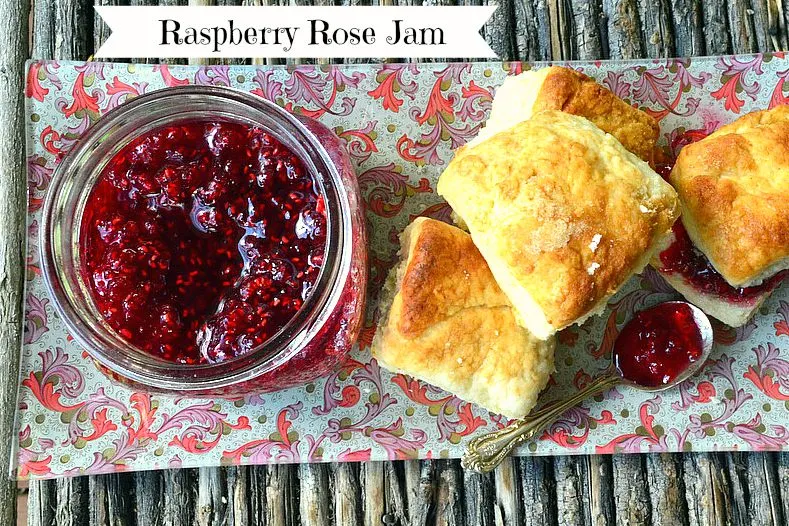 And so it is that sometimes I surprise myself.
I'm not talking about something awe inspiring like climbing Mt. Everest. Or even Long's Peak.
No, I'm talking about something as simple as making homemade raspberry jam.
In particular this raspberry rose jam.
I've tried and tried and other than my strawberry balsamic black pepper jam, I've never had great success; with jam making that is.
We have had plum trees and a peach tree and even a cherry tree, that died of old age, and never was I able to take the fruits of their labors and do them justice.
It makes me feel so incapable.
I think I'm a pretty accomplished cook, but certain things just stymie me.
So it was with great trepidation that I approached this jam recipe.
I made sure it didn't require any scary elements in the way of special equipment- like a thermometer. Or sterilizing jars. Or a water bathcanner. Or special lids.
I only know how to use a food processor. And a mixer. And a knife.
Forget pressure cookers. (I mean Insta-pots!) Forget double boilers. Forget deep fryers. Or even rice cookers!
I was raised on pots and pans.
I can't tell you what inspired me.
Perhaps it was the large package of raspberries that needed a home.
They looked so pretty in the grocery. But yet there are only two of us.
I was going to make raspberry muffins, but Manservant didn't want sweets in the house.
So, perhaps it was the claim that this would be jam in 5 minutes.
Well, surprisingly, it almost was.
Active time was about 10.
Shocking, I know. Yes, you too can make jam. Well, at least raspberry jam.
I haven't progressed further than that!
I must look up if this works with grapes. We still have a grape vine.
And the last time I attempted grape jelly, I ended up with grape something that could be sliced with a knife.
Maybe it could be a new version of quince paste.
Scraping it off your teeth was definitely not an added bonus; unless you know a dentist that needs work.
Perhaps the raspberries inspired thoughts of biscuits.
Biscuits always lurk in the deep recesses of my brain. I love these Southern biscuits!
With butter and honey; and butter. I guess I said that.
But biscuits go pretty, pretty good with this raspberry jam recipe.
And they go pretty, pretty good with smoked pork loin and peach sauce, which was what Manservant ate on Father's Day. That seems so long ago.
I was planning on getting this recipe to you last Friday, but Friday found me at the airport AGAIN.
I had to drive round trip two times.
Manservant has not been having such luck with his flights, lately.
He and Alex were heading to Houston to see Manservant's folks and the airline cancelled the flight.
The airline which shan't go unnamed, the cheap ass airline SPIRIT, cancelled the flight.
It appears that the flight crew hadn't had enough sleep. Of course they knew this when the crew got in the night before, but it would be too kind of an airline called SPIRIT, to let their passengers know BEFORE they got to the airport.
It would be to considerate to let them know before the time they were supposed to board, so that every man, woman, and child wouldn't have to race back to the main terminal and try to book a new flight; the new flight being one that didn't go out until the next day.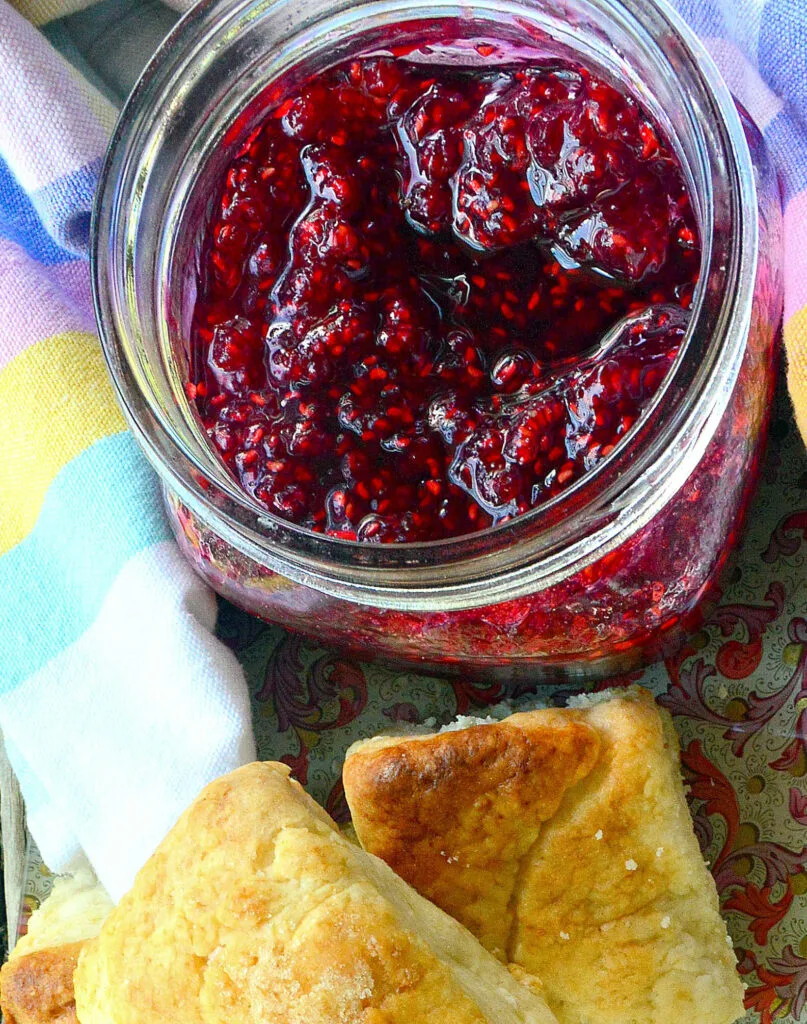 Spirit is just too cheap to rebook on other airlines.
And I guess Manservant was too cheap to book another airline, so he is just considering this a lesson learned.
When it comes to booking airlines, let us just say that we have no SPIRIT left in us.
So after my third drive to the airport Saturday morning, and delivering them unto the SPIRIT, which involved waking at 6AM both days, I was tired.
I am not an early AM riser.
That is a fact, in case you wanted to know.
SPIRIT did get them there yesterday, but that was one day late.
Which makes this jam recipe three days late. Late is becoming my middle name.
But don't let late stop you from making this easy raspberry jam. It is worth it.
I love the subtle flavor of rose in this, but if you don't or won't, then just don't.
Add rose, that is.
This is not a seedless raspberry jam; just a delicious jam.
And go get some fresh raspberries now, while they are cheap. Driscolls are my favorite, when I can't rely on mine.
Speaking of which, I should have a good raspberry crop coming soon unless that is the Japanese beetles destroy my raspberry bushes.
So hopefully that means more red raspberries something.
How to Make Red Raspberry Jam
Two simple ingredients are needed to make this delicious recipe.
Raspberries and granulated sugar!
If you choose to add a flavoring that would make it three!
I used two containers of raspberries-you know- the little 6 oz red raspberry packages.
With this easy recipe you use equal amounts of sugar to equal weights of raspberries.
The amount of sugar really depends on how sweet your berries are, so use this recipe as a guide.
12 ounces of sugar is what's required and that works out to 1 and 2/3 cups of sugar, but you can add up to two cups if you want it sweeter.
I use this method if I don't weight the sugar-which you can if you want!
And if you want a scale, I find this one quite useful.
Place the rinsed berries in a large heavy pot and place on a medium heat burner.
Berries will start to break up in about 5 to 10 minutes.
You can use a potato masher to mash them or a fork.
This really is not an issue because the berries mostly break up on their own.
Do not overcook the raspberries or they will lose their pretty color.
Add the sugar and stir. If foam rises to the surface feel free to skim with a large metal spoon.
Over medium heat bring to a full rolling boil and then set the timer for 5 minutes.
And I confess, I did use a thermometer just to see if the 5 minute thing really worked. It did!
Remove from the heat and stir in rosewater if using.
Vanilla extract is also another flavoring option.
Pour into a clean jam jar and leave unopened at room temperature to cool.
Use a damp cloth to wipe jar rims so there will be no sticky residue.
After that screw on the screw bands if using canning jars or jam jars, and place jars in the fridge.
This is not a jam that can be stored in the pantry.
It also isn't freezer jam though I have heard of some that do that.
This fresh jam with lots of fresh raspberry flavor keeps just fine in the fridge for up to 6 months.
If it lasts that long!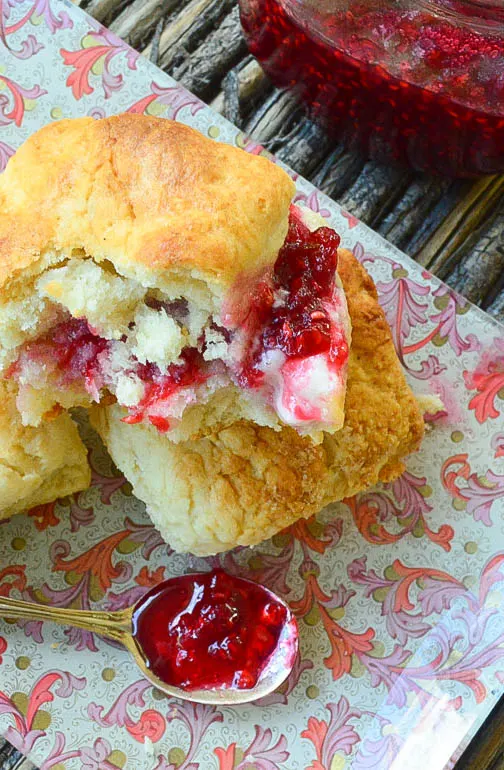 How to Serve Red Raspberry Jam
This small-batch jam is my favorite jam recipe.
I have now made it countless times and it turns out every time.
Whenever I spot raspberries on sale at the grocery stores, I buy a few containers, so I always have fresh jam in the refrigerator.
I spread it on toast and peanut butter sandwiches and dollop it on my blintz casserole.
Perfect with a wedge of brie or even spooned over vanilla ice cream; it's also great on French toast.
What is the difference between jam and preserves?
Jam is mashed fruit. Preserves contain whole fruit.
Since rapsberries don't stay whole during the cooking process, you can call it whatever you want
This is a great way to make homemade preserves.
It keeps for months in the fridge and makes a great gift for the host or hostess.
Notes About Red Raspberry Jam
One thing I must share – in case there are other homemade jam challenged folks like me – jam doesn't look like jam UNTIL it has cooled.
Now if I'd thought about it first, I would have understood that jelling takes time.
And in my case it took about 20 years to realize this.
SO! when you pour the hot jam into the glass jars, it looks like liquid.
It is thin. It is a gorgeous red.
It will not need to be scraped into the jar. It will pour.
I said that twice so you will get it right.
Don't cook your jam until it looks like jam. It becomes jam in the jar.
There is no need for lemon juice or pectin in this recipe.
There is also no need for a hot water bath
Hopefully this will get you jammin' and not in a jam, because this homemade red raspberry jam is really worth it.
OK. Yes, I surprised myself. I've always been jam challenged.
I have to admit I'm proud of myself.
My homemade jam contains no high fructose corn syrup, is made in about 20 minutes total and now I can say I made my own jam!
Doesn't get much better that that!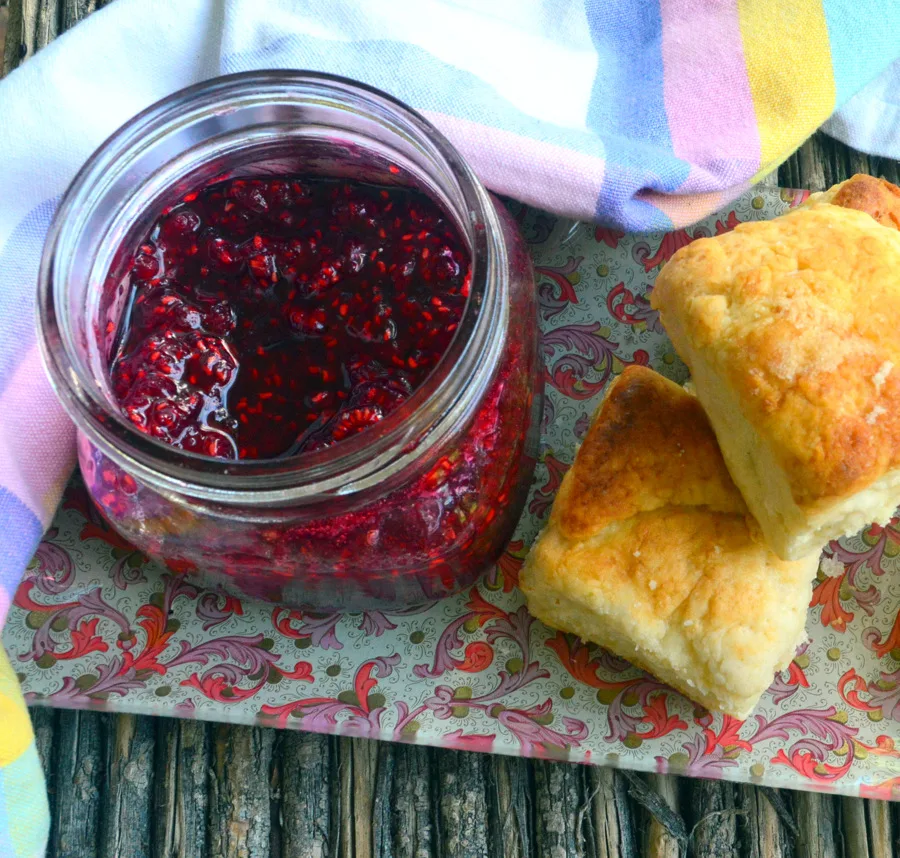 Still Hungry?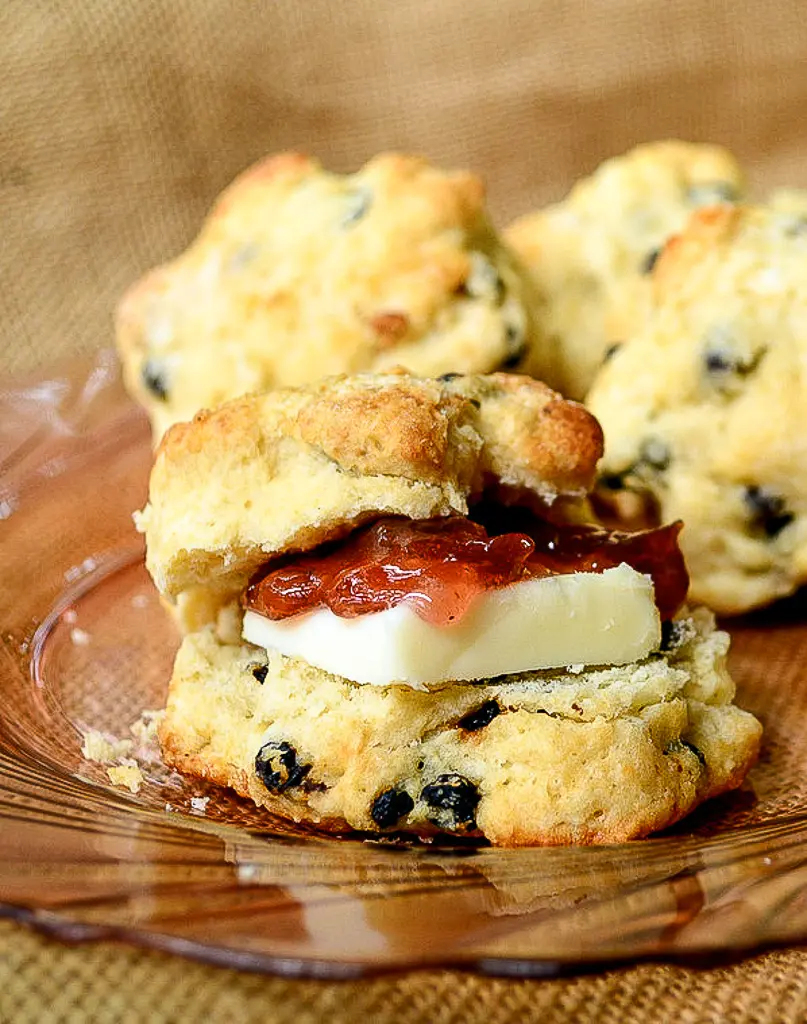 This is an updated post from 2014.
This post contains affiliate links from which I may or may not earn a small commission at no cost to you.
Print
Homemade Raspberry Jam
Author:

Abbe Odenwalder

Prep Time:

10 Minutes

Cook Time:

15 Minutes

Total Time:

25 minutes

Yield:

1.5 pints

1

x

Category:

Sauce

Cuisine:

American
---
Description
This two ingredient homemade raspberry jam tastes incredible. With a dash of rosewater it has everyone guessing and wanting more. But even without everyone wants seconds!
---
2 pints fresh, rinsed raspberries
12 ounces sugar or 1 2/3 cups
1/2 to 3/4 t rosewater
---
Instructions
Put raspberries in a heavy, deep pot.
Heat on medium heat until raspberries start to break up. There should be enough water still on the berries from the rinsing. Mash a little or stir with a fork to help break up, but this only takes about 5-10 minutes for berries to soften. Don't overcook the berries at this point because then you will lose the beautiful red color.
Stir in sugar. Heat until boiling. Once mixture reaches a rolling boil, set timer for 5 minutes. (The set point on a thermometer for jam is about 220 degrees, which means in Denver it is about 210. Not that this matters, because 5 minutes is what it took. But if you want the hard core facts, well, now you know.)
Take off heat and stir in rosewater if desired. Pour into a clean jam jar and let sit opened until jam cools. This should take roughly two hours to gel up.
---
Notes
Raspberry Jam will keep in a jar in the fridge for months. And please, do not ask me about canning or sterilizing or such matters, because this is all I know!
Keywords: homemade raspberry jam, raspberry jam, raspberry jam recipe, how to make raspberry jam, raspberry preserves recipe, easy raspberry jam