Chocolate Fudge Cookies are a little bit cookie and a little bit fudge. Melt your chocolate and butter in the microwave, add some condensed milk and pretty much from there it's shape and bake!
There are lots of chocolate fudge cookies recipes out there.
However there aren't many by that famous queen of bakers-Maida Heatter.
I've had her cookbooks a really long time and this chocolate fudge cookie recipe is so worth it.
They were a first for me. I clipped them out of the paper long ago.
I don't know what took me so long to try these. Manservant wondered the same.
These decadent cookies are a perfect cross of fudge and brownie; all in one perfect cookie shape.
For anyone that loves a chewy brownie or a glorious piece of fudge and can't decide which they want more, these chocolate gobs should be their choice!
There's something undeniably magical about this marriage of rich chocolate and condensed milk in this simple cookie.
Add in the crunch of toasted pecans and you get sublime results.
Plus there are no eggs required!
No white sugar or brown sugar or even an electric mixer with a paddle attachment is needed to make this fudgy cookie.
The Irresistible Ingredients For This Chocolate Fudge Cookies Recipe:
12 oz semisweet chocolate chips (or a mixture of bittersweet and semisweet)
1/2 unsalted stick of butter
1 can sweetened condensed milk
1 teaspoon vanilla extract
1 tablespoon bourbon (optional)
1/2 teaspoon salt
1 cup all-purpose flour
2 1/4 cups toasted pecans, broken into large pieces
Optional Ingredients for that Extra Touch:
Maldon Salt flakes
Cocoa powder
Crafting the Perfect Chocolate Fudge Cookies Recipe:
Preheat and Prepare:Preheat your oven to 350°F (175°C) and line a cookie sheet with parchment paper to ensure cookies don't stick and for easy removal of the cookies.
Melt the Chocolate:In a microwave-safe large mixing bowl, combine the semisweet chocolate chips (or the mixture of bittersweet and semisweet) and the half stick of unsalted butter. Microwave in short intervals, stirring in between, until the mixture is smooth and melted.
Create the Cookie Batter: To the melted chocolate mixture add the sweetened condensed milk, vanilla extract, bourbon (if using), and salt. Slowly add the flour, stirring with a rubber spatula until just combined. Fold in the toasted pecans and any optional ingredients, such as extra chocolate chunks to add extra texture and flavor. Whatever you do, don't eat all the cookie dough or you won't have any fudge cookies!
Scoop and Bake:Use a small cookie scoop to form small dough balls and place them on the prepared baking sheets. Remember to leave enough space between each ball however these cookies do not really spread. Sprinkle with Maldon salt flakes if you like.
Bake to Perfection:Bake cookies in the preheated oven for 7 minutes, or until the edges are set but the centers remain soft. The cookies will not look baked and will be glossy and wet. That is OK. They will firm up as they cool.
Cool and Indulge:Allow the cookies to cool on the baking sheets for a few minutes before transferring them to a wire rack to cool completely.
Tips for the Ultimate Chocolate Fudge Cookie Experience:
Experiment with Chocolate:Feel free to play with the types of chocolate you use. Whether it's a mix of bittersweet and semisweet or the addition of milk chocolate, dark chocolate, or white chocolate chips, tailor the recipe to your personal preference.
Toasted Pecans for Crunch:The toasted pecans add a delightful crunch to the cookies. If you have a nut allergy or simply prefer a different texture, consider substituting with chopped nuts of your choice or omitting them altogether.
Maldon Salt Flakes and Cocoa Powder:For an extra layer of sophistication, sprinkle Maldon Salt flakes on top of the cookies before baking or dust them with cocoa powder after they've cooled. This touch elevates the flavor profile and makes these cookies truly indulgent. Or top with powdered sugar for that holiday look!
Bourbon Infusion:The addition of bourbon is optional but adds a depth of flavor to the cookies. If you're baking for all ages or prefer a non-alcoholic version, feel free to omit this ingredient.
Chocolate lovers will adore this simple chocolate fudge cookie.
The combination of melted chocolate, toasted pecans, and a touch of bourbon creates a cookie that satisfies even the most discerning chocolate cravings.
Whether you're a seasoned baker looking for a new recipe to impress guests or a first-time baker venturing into the world of brownie cookies, this easy and rewarding recipe calls for simple steps and readily available ingredients.
So, roll up your sleeves, preheat the oven, and get ready to experience these chewy, fudgy, and rich chocolate cookies with fudgy centers.
Once you've baked a batch, you'll have a hard time resisting the urge to share your delicious results with friends and family, making them a new favorite for any occasion.
Store this decadent chocolate cookie in an airtight container or a giant ziplock bag.
These chewy chocolate fudge cookies can also be frozen until you are ready to enjoy them!
Just 7 simple ingredients are required for this easy recipe.
Give them a try and let me know what you think.
I know they will be in my cookie boxes this year because I don't know anyone that doesn't love fudge in cookie form!
(The above was an updated post from 2014)
Ever since I've been back from Phoenix I've been working like a dog to get everything put away.
Just like a dog who searches for the best place to bury his bone, I've been looking for the perfect place for that certain picture or piece of furniture.
This is good in the sense that I love cleaning out and throwing away.
I love new arrangements of knickknacks and other common hoi polloi.
I'm one of those that arranges according to the season. Please, no rolling of the eyes.
What I don't love is all the mess that this creates. Who knew that moving one piece of art would create reasons to move three more?
And how does all that damn dust ever get behind those hanging paintings?
And I never knew that nails could rust if they are pounded into a wall. I don't like things out of place.
I need to feel a certain sense of order around me. In college I couldn't study if things were out of place.
There are a few that would say that was just an excuse not to study; but we won't name names.
Between getting everything put away and bringing out all of my menorahs and other important artifacts of the holidays, I am going crazy.
For example, I love candles. My friends that know me well, know my home is lit by candlelight in the winter.
OK. Not to see by, but to be seen by. I love the feeling of warmth that candles give. Honestly, I feel the thermostat rise, when they are burning.
Now one might think that finding candles is easy. It is not.
I am picky about my candles. I do not like scented candles. I do not like to spend a fortune on candles, so I am careful where I shop.
I have good luck with tapers from Hobby Lobby. Sometimes I can find them at Cost Plus. Pier One? No.
Expensive boutiques always have candles, but not always tapers or reasonably priced cylinders.
And usually they all smell. Some good; most not. Michaels has really cheap candles, but they burn fast.
And what's with all this LED crap? These are not candles. They are high tech fakes. Really, have folks forgotten how to light a match?
They spread no warmth; they have no wax to clean up and they always have batteries that need replacing.
Using them means there are no leftover candles to start a fire with. I just want a few blue shades of tapers. Maybe some cylinders. I don't want aqua or navy.
I love Vance Kittera candles but his blue is so faint, I think it is gray.
So this year, white it is. And maybe a few off white. I've already bought 18 tapers and still need at least 4 more.
I've totally given up on finding pillars. I am tired of venturing out to at least 6 stores, just to find candles.
Yes, I'm going a bit overboard, you might say; Manservant does say.
He tells me just to go get expensive ones because time is money. Well, if that was the case, I'd be rich!
And besides I haven't even found any of those I like.
But this girl is on a mission, and failure is not an option. I've been so crazed that I showed up at the doctor's a day early. Who does that?
Well, tomorrow Salvation Army comes to pick up our STUFF. We have a lot of STUFF.
It served us well and I will not be sorry to see it go. I am so not sentimental about STUFF.
They, however do not take big old TV's. I've had numerous inquiries on Craig's List for said TV, but no one ever follows through.
Hopefully, with all this gone, my head will soon clear and I will be able to focus on candles. Yes, the really important stuff. LOL!
Chocolate Fudge Cookies
In the meantime, I'm just going to offer the Salvation Army truck driver some cookies. That is if he'll take my TV.
Really, these cookies are so worth it. They were a first for me. I clipped them out of the paper long ago and they are attributed to Maida Heatter; Queen of baking.
I don't know what took me so long to try these. Manservant wondered the same.
These are a perfect cross of fudge and brownie, but all in one perfect cookie shape.
These gorgeous gobs of chocolate are for anyone that loves a chewy brownie or a glorious piece of fudge and can't decide which they want more!
More Cookies?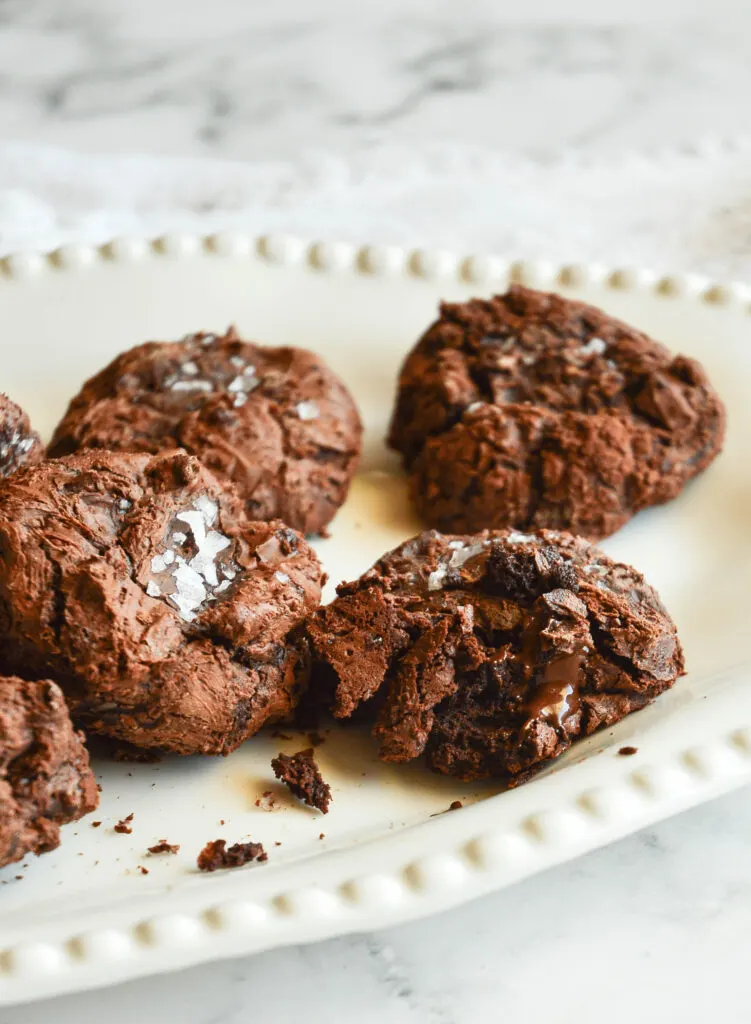 Classic Black and White Cookies
Print
Chocolate Fudge Cookies
Author:

Abbe Odenwalder

Prep Time:

15 Minutes

Cook Time:

7 Minutes

Total Time:

22 Minutes

Yield:

3

Dozen

1

x

Category:

Cookies

Method:

Baking

Cuisine:

American
---
Description
These gobs of chocolate are a cross between a cookie and fudge. I'll take two!
---
12 oz semisweet chocolate chips or a mixture of bittersweeet and semisweet
1/2 stick unsalted butter
1 can sweetened condensed milk
1 t vanilla extract
1 T bourbon (optional)
1/2 t salt
1 c all-purpose flour
2 1/4 c rough chopped toasted pecans
Maldon salt flakes for sprinkling
---
Instructions
Preheat oven to 350.
Melt chocolate and butter on low setting in 1 minute intervals in microwave, stirring at each interval with wooden spoon until fully melted. Stir until smooth.
Stir in condensed milk, salt, vanilla and bourbon if using.
With a rubber spatula stir in the flour and toasted pecans, scraping the sides of the bowl as needed.
Using a rounded teaspoon drop cookie dough balls on parchment or Silpat lined baking sheets. Bake 7 minutes. Cookies will be glossy and wet and not looked fully baked.
Melt chocolate and butter on low setting, in 1 minute intervals in microwave, stirring at each interval with wooden spoon, until fully melted. Stir until smooth. Stir in condensed milk, vanilla and bourbon. Stir in flour and toasted pecans. Don't worry. They will be fudgy and delicious. Let them cool completely and then transfer to a wire rack until bottoms are dry.
Seal in an airtight container or store in a giant zip lock bag. They keep easily for 5 days or can be frozen and thawed as needed.
---
Notes
Cookies can be sprinkled before baking with Maldon salt flakes or sprinkled with powdered sugar or unsweetened cocoa after baking.
Keywords: chocolate fudge cookies recipes, Maida Heatter, Maida Heatter recipe, chocolate fudge cookies, fudge cookies, chocolate fudge cookie, recipes for fudge cookies,
Need Some real fudge? This caramel coffee fudge from Inside BruCrew Life sounds fabulous and this hot cocoa fudge from Wine and Glue sounds like something I must try!
More December Food:
Gingerbread Waffles
Liege Waffles
Not My Mamas Chicken Pot Pie
Chicken, Artichoke, Mushroom Casserole
Spritz Cookies
Shortbread Cookie Cut Outs
British Scones
Chocolate Krantz Cake or Babka
Double Chocolate Mocha Macadamia Bark
Browned Butter Cream Cheese Apricot Rugelach
Soft Chocolate Crackles with Mint M and M's
World Peace Cookies
Latke 1 or Latke 2
Sweet Potato Latkes