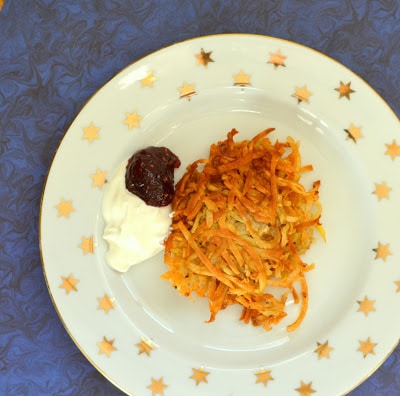 Latke One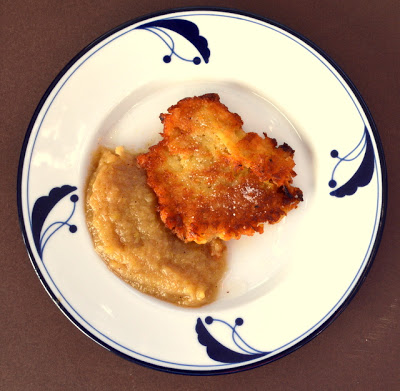 Latke Two
Latkes
are a once a year endeavor. This year it happened twice. But the truth is that
if you follow a few rules making latkes is not such a gigantic effort. Or even
a giant oily mess. Unless of course you are making them for an enormous crowd
in which case you will never have enough. So we won't go there.
This year
I made the normal latke that everyone makes. I also decided to make Yotam
Ottolenghi's
recipe just to compare the differences between the two. Now this
wasn't a scientific experiment but it was fun to analyze. Especially when it
comes to putting them in one's mouth. My husband liked Yotam's. It is lighter and sweeter due to the
addition of parsnips. It also only uses egg whites and it uses cornstarch
instead of matzoh meal.Plus he uses butter and oil to fry them in. They are very good. I, of course, liked both.
Key to
making good latkes of either variety is watching the temperature of your oil. 375
degrees is about right. The depth of the oil also matters. Between the two
these key things really help prevent spattering. Of course nothing prevents the
smell of oil but a good exhaust fan does help. And let's be real, isn't this
how your house is supposed to smell at Hanukah?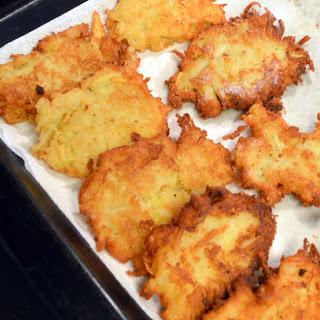 There are
many variations on latkes. I've seen carrot latkes and sweet potato latkes. Parsnip
is another one and the list goes on. The type of potato is up for debate. Some
prefer russets for their starch content, others prefer a waxy variety and Yotam
prefers Yukon Golds. I tried both. Honestly, anything fried gets a gold star in
my book and I couldn't tell the difference. You might say it is because I haven't
eaten them in a year and don't remember but I think this is a genetic thing. I
mean a latke is always good-isn't it?
So here
goes: You decide. Either way you can't go wrong.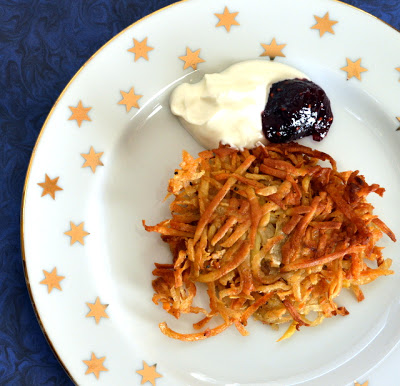 Latke #1
Yotam Ottolenghi's
Latkes (attributed to Helen Goh) Latke #1
5 ½ c peeled and grated waxy potatoes
2 ¾ c peeled and grated parsnips
2/3 c finely chopped chives (I did not feel like spending $6 on
chives so I used ½ of an onion)
4 egg whites
2T cornstarch
5T unsalted butter
6 1/2T sunflower oil (I used canola)
1t salt
Pepper
Rinse the grated potatoes in cold water. (I used the shredding
disc on my food processor.) Drain in a colander and squeeze out any excess
water. Then spread the potatoes on a dry kitchen towel to dry completely.
In a large bowl mix the potato, parsnips, chives or onion, egg
whites, cornstarch, salt and plenty of black pepper.
Heat ½ the butter and ½ the oil in a large frying pan over medium
high heat. Use your hands to pick up portions of about 2T of the latke mix. Squeeze
firmly to remove some of the liquid and shape into patties about 3/8" thick. Carefully
place as many patties as can fit in the pan. Push them down gently and level
them with the back of a spoon. Fry for 3 minutes on each side until they are
completely brown on each side. Drain on paper towels and keep warm while you
fry the rest using the reserved butter and oil.
Serve with sour cream, jam, sugar and apple sauce. And remember
these do not need to be made just once a year.
Latke #2
Traditional Latkes
(Serves about 4) Latke #2
3 large peeled potatoes About 1 ½ pounds (I used a
combo of russets and yukons.)
2 grated
onions
4T matzoh
meal or flour
1t baking
powder
2 eggs
1 t salt
1/4t
black pepper
Canola
oil
Using the
steel blade of your food processor put in the potatoes and grind them to mush. Or
you can shred some and mush some which is what I do so they have a bit of
texture. Put in a colander and push out as much liquid as you can. At this
point I also squeeze my mixture in a big piece of cheese cloth to extract as
much moisture as possible.
Transfer
to a bowl and add the shredded or chopped onion, matzoh meal, baking powder,
eggs, salt and pepper and mix with hands until well combined. Heat oil at a
medium temperature in a large skillet to the depth of about a ½ inch. (Mine is
nonstick, but a cast iron works really well, too.)
Drop
spoonfuls of the batter into the pan. Fry over medium heat for 3-4 minutes on
each side until both sides are brown and crisp.
Drain on
paper towels or a paper grocery bag. Keep warm while frying the rest of the
mixture. You may have to add more oil as necessary.
If you
want to make these ahead-I put them in a very cold refrigerator or freezer. Then
when you are ready to serve place them on a baking sheet into a preheated 450
oven for about 5 minutes. It works!
See serving
suggestions above.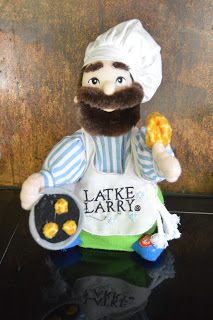 My Hanukah Menu:
Smoked
Salmon Spread with Crackers
Yotam's
Hummus
Yotam's
Beet Mezze
Pita
Brisket
Latkes
Homemade
AppleSauce
Donuts
Chocolate
Glaze
Caramel
Glaze
Coffee
Glaze
Plus lots
of wine and friends. Many candles and lots of love!