A scone is just a scone; unless it is a bannock; which is another name for a scone; unless that scone is a biscuit. In which case, it has no egg and just a touch of sugar. Alas. Then a biscuit is just a cousin of the poor scone or bannock. Or maybe it is the scone, that is the poor cousin. I am confused. What I am not confused about is the quest I've always been on to achieve that perfect biscuit or scone. Everyone thinks they have it, but then everyone's idea of beauty is often different than mine. It's what makes us human right?

And so it is that this Jewish girl grew up on Bisquick. Bisquick biscuits. Bisquick pancakes. And Bisquick shortcakes. And if anyone knew about scones when I was growing up, there probably would have been Bisquick scones. Really there is nothing wrong with Bisquick. But Bisquick was never part of my quest in my search for the perfect biscuit or scone.
I've always like the Starbucks maple nut scone. But it never compared to the truly British scone (which is really Scottish), that I ate while having tea with my two gorgeous children, after a long day sightseeing in London. I remember my daughter decided she needed to see Wimbledon, but Manservant and Alex and I traipsed through the Victoria and Albert Museum and then met daughter back at Harrods (you don't think she'd miss shopping), before ditching Manservant, while the three of us went for tea at the Capital Hotel, just down the street. I can't quite figure out what makes tea so expensive, but after having a busy day, there is nothing quite so civilized as taking it down a notch, and being served tea and scones in a lovely dining room. It is definitely something I could get used to.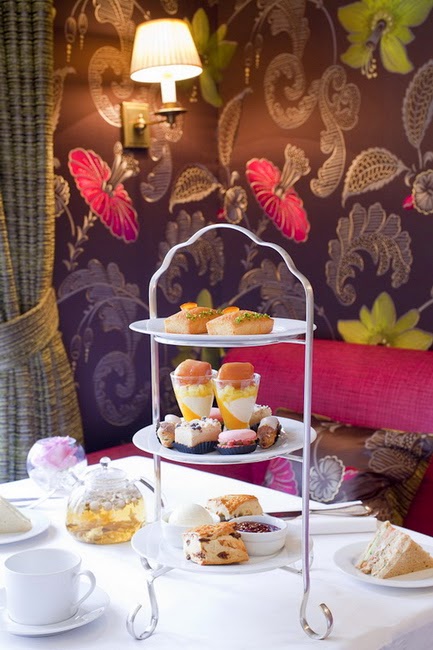 And so we had scones. Perfect, beautiful, currant filled scones. With jam. And clotted cream. And that lovely embroidered fabric wall covering right behind us. It was gorgeous. In fact, I think we even sat at that table. All while feeling damp and tired and exhausted-after all this was London in December. Not the best time to visit. But I'd go anytime to London. Even if I don't get to meet the Queen. Well. I'll take it that she didn't want to meet me. Her loss.
But I digress. Scones. We are talking about scones. Or bannocks. That originated in Scotland. Speaking of Scotland. I haven't been there-yet. But there is still time. Is anyone else out there watching Outlander on Starz? It doesn't have enough blood or guts for Manservant. I've read the entire 8 ginormous novels that Diana Gabaldon has written and some more than once. Totally love these books. And now I am enjoying the series; though I haven't figured out  the choice of Jamie just yet; however he is starting to grow on me.
It's Saturday. I've been digressing a lot. Manservant is at the big golf tournament in Cherry Hills and here I sit. Digressing. Thinking about Scotland and scones and Jamie. And this is getting long. And I really don't know if anyone ever really cares how much I write. Perhaps they just want the recipe. It's coming. Hold your horses.
So I took these scones to the mountains with the previously posted almost crack granola. I'm not sure what was a bigger hit. But I do have to tell you. These scones nailed it for me. They were just like I remembered. Just what I've been searching for; for FOUR years. I have a really weird food memory bank, don't I?  Full of flavor. Tender. Cakey. Perfect to slather butter and jam on. They were great warmed up at 300 degrees in a foil pouch  for about 10-15 minutes. My friends loved them. As we looked out to Grand Lake and saw the birds and the deer and ate scones, it occurred to me I may not have been in London, but I may as well have been eating the same scone. At least this is how I remember them.
And I'll have you know I made the best plum jam. Same way I made the raspberry jam. I took the weight of the plums and added the same weight of sugar. It takes plums a bit longer than raspberries to reach the setting point. And now that my plum tree is no more, I'm sure glad I figured that out. I then added a touch of allspice and OMG. It was so good. And all this because I saw a boy on the canal picking plums off of a tree. So I reached into my backpocket, pulled out my extra bag for scooping poop, and he helped me fill it up. Best jam EVER! To eat with the BEST scones ever.
Bake some tonight. Take a load off. Make some tea. And if you need a tea pot, check out Carol's site. She has the best tea pots and I'm assuming the best tea that would be perfect with your scones. (Plus she writes really good stories!) So if you don't make scones for tea, make them for Sunday breakfast. You won't be sorry. (Phew! I'm now out of words.)
Scottish, British Scones or Bannocks, But Surely not Biscuits (Cooks Illustrated)
Yield: About 12 depending on your size of cookie cutter
Ingredients:
3 c flour
1/3 c sugar
2 t baking powder
1/2 t salt
1 stick butter, cut into cubes
3/4 c currants
1 c milk
2 eggs
Directions:
Place oven rack in upper level position, but not at the highest level. Preheat to 500 degrees.
Pulse flour, sugar, baking powder and salt in food processor, until combined or about 5 pulses. Add cubed butter and pulse until fully incorporated and mixture is fine with no big clumps or pieces of butter. Transfer to a large bowl.
Whisk milk and eggs together in a small bowl. Set aside 2 T to brush on top of scones before baking. Add remaining to flour mixture and using a spatula, fold ingredients together until flour is moist and incorporated. Transfer dough to a floured surface and shape into a large ball.
With floured hands, knead until surface is smooth and free of cracks. Press gently to form a disk about 9 inches around and about 1 inch thick. Using a floured round cookie cutter, cut out rounds and place on a parchment lined cookie sheet. Gather scraps and repeat until all dough is used. Brush tops of scones with reserved egg mixture and sprinkle lightly with additional sugar.Place in oven and immediately reduce temperature of oven to 425. Bake until scones have risen and are lightly browned, about 10-12 minutes. Serve warm or at room temperature with more butter and jam.
Don't Lose This Recipe! Please Pin and Share!
More Food to Eat while Drinking Tea:
Pumpkin Brown Sugar Muffins
Egg Salad
Black Pepper Strawberry Jam
Lemon Rose Madeleines
Chocolate Krantz Cake or Babka