This classic black and white cookies recipe is simple and delish. An easy to make cookie – it disappears fast, so learn how to make them today!
So if you've ever been in a true Jewish deli, you have probably spotted giant black and white cookies.
Or if you've been to Trader Joe's, you've probably spotted little black and white cookies!
My love affair with black and white cookies didn't begin until I was an adult.
Growing up in a small town meant no Jewish delis with the aroma of fresh bagels and kosher pickles and black and white cookies wrapped up and ready to go sitting on the counter,
It also meant I saved a lot of calories as a youngster!
Little did I know my mother could have baked them for this black and white cookies recipe for us, as this New York City, not really Jewish cookie, is easy to make!
Often called half-moon cookies, or Amerikaners, these cake-like cookies with half vanilla icing and half chocolate icing were thought to have been created by Glaser's Bake shop which operated in NYC beginning in 1902.
Somehow this quintessential black and white cookies recipe became part of the Jewish deli scene and now it's hard to find a delicatessen that doesn't serve them.
Being a frosting lover, I knew the black and white cookie would be my thing.
And so it was on a trip to Philly that Zoe bought me my first black and white while we perused Reading Terminal.
She couldn't believe I'd never had one!
I vaguely remember them as a kid with lemon zest, lemon extract or lemon juice added to the batter.
Perhaps that is what turned me off, but truly I never remember eating one; perhaps I just had a bite and it didn't cut it for me.
Still to this day, I am not a huge lover of lemon in desserts.
I've also heard these cakey cookies are sometimes spread with apricot jam before frosting.
I, though am a purist, and prefer this fluffy cake-like cookie with a vanilla flavor, as is!
They almost remind me of a Madeleine in texture, but are a bit more moist.
Recently, I did a quick spot on the Colorado Fox Great Day Colorado show on Jewish cookies and just couldn't leave these black and white cookies recipe out.
With their chocolate glaze and white frosting, these delicious cookies really stand out.
And this way you get two of my favorite flavors in one bite by taking a bite straight down the middle.
Take a look at this easy recipe and you will see what I mean!
How To Make this Black and White Cookies Recipe:
Begin by lining baking sheets with parchment paper and preheat oven to 350.
Whisk flour, baking powder and salt in a medium bowl.
These easy cookies are made using the paddle attachment in a stand mixer.
In the bowl of a stand mixer combine softened unsalted butter and sugar at medium speed until light and fluffy, scraping down the bowl as necessary.
Add a room temperature whole egg, egg yolk and vanilla extract and beat until combined.
Turn mixer down to low speed before slowly adding in the flour mixture.
It may become curdled, but as you slowly add the flour mixture in stages, it will even out.
Drop rounded tablespoons of batter, using a cookie scoop or tablespoon, onto the prepared baking sheet, about two inches apart.
Bake in a preheated 350 degree oven for about 13 minutes or until lightly golden around the edges.
Don't forget to rotate your cookie sheet halfway through the cooking time.
Let the cookies cool on a wire rack before frosting.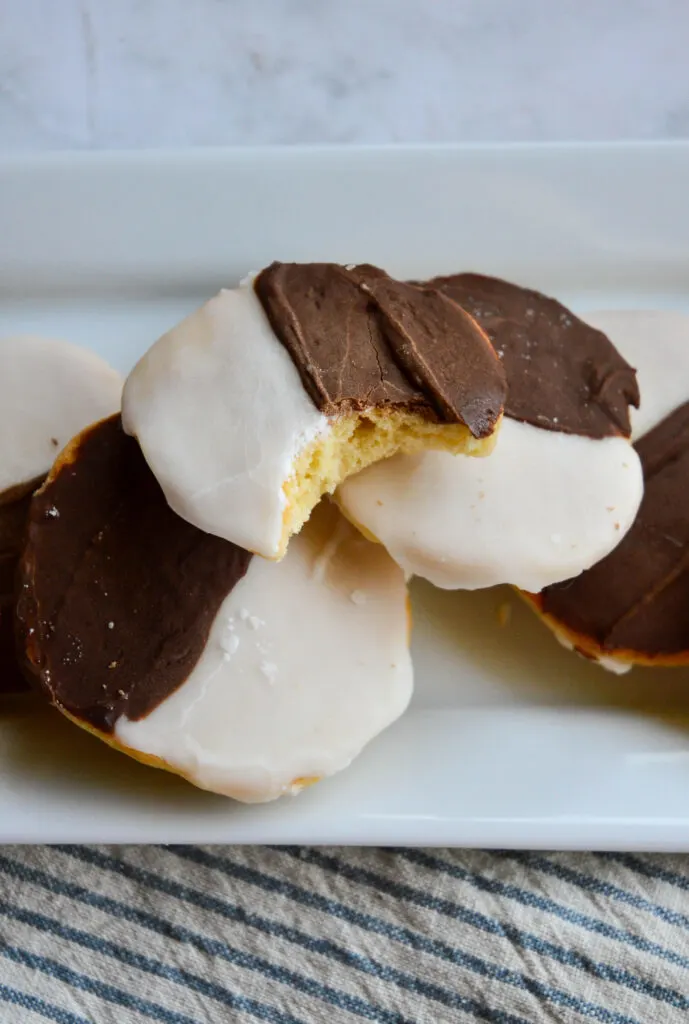 Easy to Make Black and White Cookie Frosting
To make the vanilla glaze: In a medium bowl combine powdered sugar or confectioners' sugar, milk, and vanilla extract.
If you are a purist and want lemon, add 1/4 teaspoon lemon extract here!
Stir until a thick icing forms, however the mixture should still be quite spreadable.
If you need more milk, add it slowly in teaspoons to make it more spreadable.
Transfer half of this to a small bowl and stir in 2 tablespoons of Dutch process cocoa powder, along with a pinch of instant coffee granules, to bring out the flavor of the cocoa.
I usually press the cocoa through a fine wire mesh strainer to avoid lumps.
Once the cookies are cool, place the wire rack over a sheet of parchment paper to catch the drips from the frosting.
Turn the cookies over so you are frosting the flat side of the cookie.
I find the best tool to use is a butter knife or a small offset spatula.
Glaze one half of the cookie with the white icing.
I usually do the entire batch with the white icing first and then do the black icing last.
These cookies were easy to frost and no fancy tricks were needed to make a straight line.
This black and white cookies recipe keeps really well in an airtight container; just make sure to separate the layers with waxed paper after the cookies have fully dried.
I love these half moon cookies and so did Manservant.
Yes, you could buy Trader Joe's black and white cookies, but everyone is so impressed when you make your own.
I promise these homemade black and white cookies are always the first to disappear from any cookie tray.
And now that you know how easy these classic cookies are to make, what's stopping you?
Do not wait for your next trip to the deli!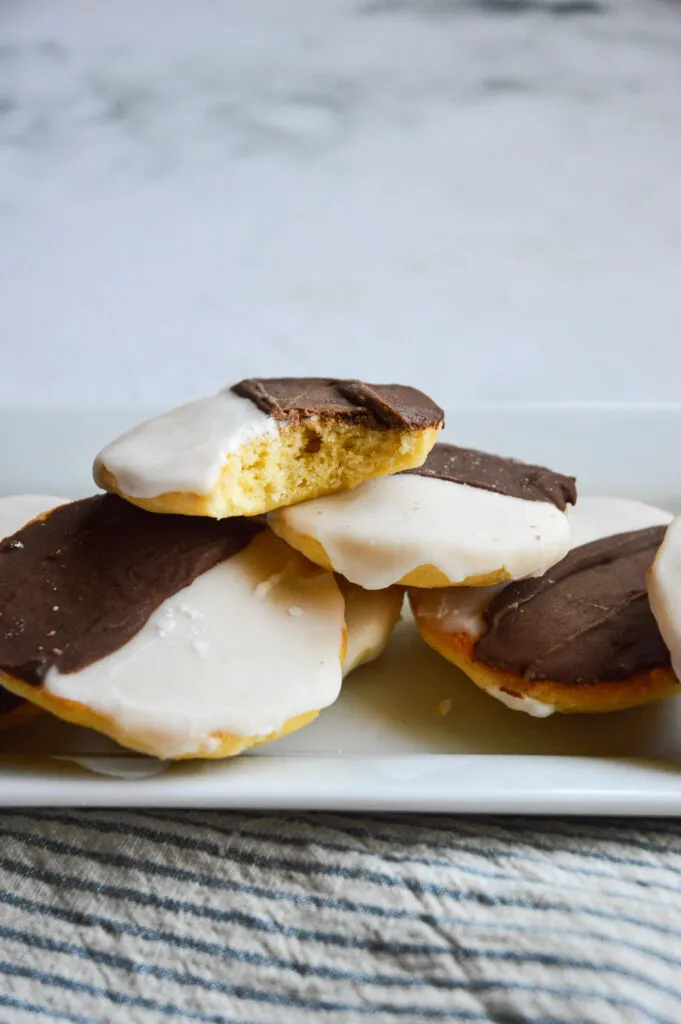 Need Some More?
Print
Best Classic NYC Black and White Cookies Recipe
Author:

Abbe Odenwalder

Prep Time:

30 Minutes

Cook Time:

12 to 15 Minutes

Total Time:

32 minute

Yield:

24

Cookies

1

x

Category:

Cookies/Bars

Cuisine:

Jewish
---
Description
This simply delicious black and white cookie recipe satisfies my cookie craving with both chocolate and vanilla in one bite!
---
1.5 cups all purpose sifted or whisked flour
1/2 t baking powder (1/4 t at elevation)

1/2 t kosher salt

6 T unsalted butter, softened

2/3 c sugar

1 egg plus 1 egg yolk at room temperature

1/2 c milk

1 t vanilla extract

1/4 t lemon extract (optional)

Icing:
2.5 cups powdered sugar
3 T milk, plus more as needed

1/2 t vanilla extract

2 T Dutch process cocoa, sifted or pressed through a fine wire mesh sieve to avoid lumps

1/2 t instant coffee granules
---
Instructions
Preheat oven to 350 and line 2 baking sheets with parchment paper.
In a medium bowl, whisk together the flour, baking powder and salt.
In a stand mixer beat together the softened butter and sugar at medium speed until light and fluffy.
Add whole egg and egg yolk, milk, vanilla and lemon extract if using. Beat until combined. Batter may appear lumpy but it will even out. Add the flour mixture slowly on low speed, beating briefly after each addition, scraping down the bowl as necessary to form a soft batter.
Drop rounded tablespoons onto the prepared baking sheets and place one sheet in the oven at a time, rotating the sheet halfway through the cooking time. Bake until light golden around the edges but pale on top. Remove carefully from sheet and place on a wire baking rack to cool.
Make Icing:
In a large measuring cup, combine the powdered sugar, milk and vanilla extract. Stir until a thick icing forms, adding more milk as needed to make the icing spreadable.
Transfer half of the vanilla icing to a small bowl and add the cocoa and coffee granules and stir to combine. If necessary add more milk to achieve the right coonsistency.
Turn cookie over so the flat side is up. Frost half of the cookie using a small offset spatula or butter knife with the vanilla icing. Then go back and do the other half with the black icing. Let dry and store in an airtight container with wax paper between each layer.
---
Notes
Thanks to the Jewish Cookbook for this recipe.
Keywords: black and white cookies recipe, black and white cookie, Trader Joe's black and white cookies, black and white cookies, new york black and white cookies,