Mexican corn in a cup makes a great side dish, but it also makes a great appetizer. This street food is totally amazing!
This Mexican corn or corn in the cup, with lemon and chile is totally addicting. Combining the sweetness of corn, the heat of chile, the zestiness of lemon, and some salty cheese, puts this over the top.
Don't let the simplicity of this recipe fool you. This corn is killer!
Ages ago we used to take the kids over to North Federal on hot Saturday afternoons and order New Mexican food at Jack n' Grill, a restaurant that is sadly, no more.
It was easy to believe we were in Mexico as we watched the hot rod cruisers speeding and dodging down the street while the aroma of gas fumes mixed with the aroma of corn tortillas.
The patio with its wobbly chairs wasn't fancy, and nor was the food, but what incredible food it was. Spicy, fresh roasted green chili, massive homemade burgers, and corn in a cup, were just a few our our faves.
Besides the kids growing up and leaving the nest, Jack I think, flew the coop, too! But our fond memories of Jack n' Grill still linger.
However one thing we did take away from Jack was his famous corn in a cup.
I've been making it for years now and this Mexican corn is the perfect side dish when there aren't any fresh veggies in the house.
Well, actually it is always the perfect side dish, even if the fridge is full!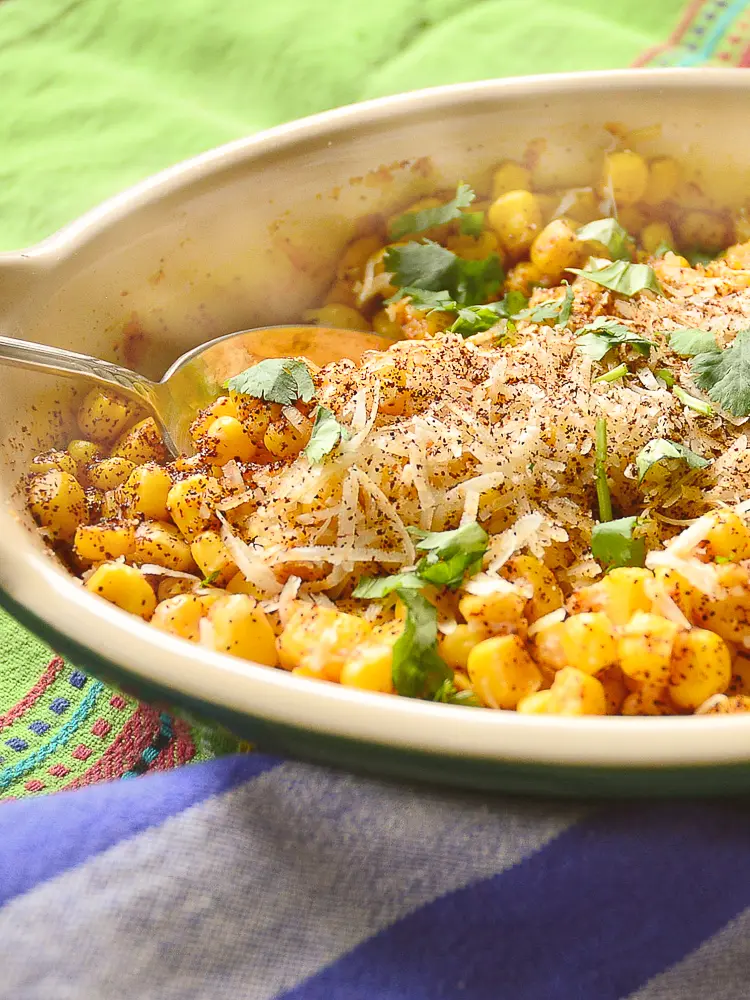 I know what you are thinking. Well, I think I do.
It isn't often that I open cans in my kitchen. Besides tomato sauce, tomatoes and maybe some beans, I don't keep much canned food around around.
However as a parent who had kids in the house, it is hard to escape canned corn. I love corn any which way and I have no qualms about the form it comes in.
Corn is comfort food to me. So it is I have been making my version of Jack's corn for a lot of years. I don't know how he does it, but I can sure share what I do.
Jack n'Grill's corn came in a big styrofoam cup with a lot of spoons. If you worry about germs I suppose you could spoon it onto your plate, but we just passed the cup around.
It was a great way to stave off hunger until the enchiladas or burgers surfaced.
At our house I make this corn in a big bowl. I've brought it to potlucks and served it at bridal showers and generally make it to go with burgers or dogs.
It is as easy as opening a can and though it could be made with fresh corn, cut from the cob, why bother when this is so easy.
The other corn option is frozen corn and now they make roasted corn that would also taste great in this dish.
So how do you make Mexican corn in a cup?
Corn in a cup is quickly made by combining the corn with lemon juice, chile powder, hot sauce, cheese and butter.
Feel free to use canned corn, frozen or fresh corn, however you may have to adjust the cooking time.
I see many recipes that call for lime juice but Jack swore it was lemon and so I've stuck with it. We know what we like!
Use a good salty cheese to offset the spice and the sour. Parmesan is great but Cotija is more traditional.
Many Mexican corn recipes also use mayonnaise or sour cream, but this is similar to Jack's recipe and he did not. Maybe it's because Jack featured New Mexican recipes…who knows?
Truth is this simple corn dish always receives accolades, which I guess is why I've been making it for easily 20 years or so.
Well that and the fact that it's easy to open a can when one is rushed and hungry and the kids are screaming.
I may miss Jack-n-Grill, but I must admit, I miss those screaming kids more.
Mexican corn. Corn in a cup. I don't care what you call it. We just call it good.

Print
How To Make Mexican Corn (In A Cup!)
Author:

Abbe Odenwalder

Prep Time:

5 Minutes

Cook Time:

3 Minutes

Total Time:

10 Minutes

Yield:

2

-

4

Servings

1

x

Category:

Side Dish

Method:

Microwave

Cuisine:

Mexican
---
Description
Mexican corn in a cup is street food so you can bet it's good. Loaded with chile and cheese and lemon, this corn is killer!
---
1 15 oz can of sweet corn, drained

1/2 of a lemon squeezed

1 t ancho chile

1/2 T sriracha or Cholula

2 T Parmesan fresh or even from the can

1 T butter

More ancho chile and Parmesan for garnishing

Cilantro (optional)

---
Instructions
In a microwaveable bowl large enough to hold a can of corn, combine corn, lemon juice, chile, cholula or sriracha, parmesan and butter. Stir well.
Cover and microwave for 2-3 minutes or until hot.
Carefully remove lid and sprinkle with more parmesan and chile powder.
Garnish with cilantro.
Don't forget to pass the spoons!
---
Notes
Please note that all ingredients can be adjusted to your own tastes.
Keywords: corn in a cup, cup of corn, Mexican corn in a cup, How to make Mexican corn