The best French Toast recipe without vanilla is a great way to get creative with something as simple as French toast. We love this bananas foster version, but feel free to come up with you own. And no need for vanilla!
Making a French toast recipe without vanilla is pretty easy.
Though vanilla extract is considered a staple when it comes to making French toast there is no reason to worry if you don't have it.
Recently I made brinner for Manservant and I and made this superb Bananas Foster French Toast.
I whipped it up the night before and somehow we didn't get around to baking it until that evening,
No worries. It was absolutely fabulous, especially when I served it with Millionaire's bacon and a bowl of fresh fruit.
It was hard to decide which was better.
With Manservant's roots, putting a Bananas Foster twist on French toast suited us just right.
And if you are like me, I often have bananas around that need a home which makes this French toast recipe without vanilla a perfect venue for using them up.
French Toast is one of the most loved breakfast foods around the world.
It's a delicious breakfast recipe that usually combines stale bread slices soaked in an egg mixture and cooked until golden brown.
The classic french toast recipe involves soaking bread in an egg custard and then frying it in butter.
My overnight version is just as simple but no need to fry this recipe; just put it in the oven to bake.
This simple recipe yields the best results if you use really good bread.
In my case, I used a thick-sliced croissant bread that I have never tried before, for my French toast.
Usually I use challah, but I've also been known to use white bread, French bread, or even stale bread.
The best bread for French toast uses thick slices of bread.
Using fresh bread can result in soggy French toast, but I've never had a problem using challah bread or even this croissant bread.
If you are worried your bread will become soggy, just pop it in the oven at 300 and bake for about 5 minutes.
How to Make this French Toast Recipe Without Vanilla
Deciding to make this bananas foster style, I used a splash of rum and some banana extract to up the flavor of the bananas.
Rum extract would have worked too. And don't ignore almond extract, orange or even lemon extract, if you are out of vanilla.
However since bananas foster was my theme, I stuck with rum and banana.
It's incredible how a basic French toast recipe can be adapted so many ways!
How to Make Overnight French Toast Bananas Foster
Begin by melting butter and then stirring in the brown sugar, heavy cream, ground cinnamon, and a bit of rum is optional but good.
Add sliced bananas and stir to coat.
Arrange in a greased 13 x 9 baking dish in a single layer. Top with about 12 bread slices, but this depends on how your bread is cut.
To make the egg custard, combine whole eggs, whole milk, coconut milk or almond milk, sugar, banana extract, and a bit more rum in a medium bowl or large measuring cup.
Whisk the mixture until everything is well combined.
Pour the mixture over the bread slices and cover with plastic wrap while pressing the bread so the custard soaks in.
Place in the refrigerator overnight.
Preheat the oven to 375 and remove the baking dish from the fridge to come to room temperature while oven heats.
Bake until a knife inserted comes out clean, about 40 minutes.
If you want it more golden. bake a bit longer, but remember when serving; you will be flipping the French toast squares over so that the banana side is upright.
Let stand about 5 to 10 minutes before serving.
Manservant liked his French toast with a warm drizzle of pure maple syrup; I thought mine was fine without.
However a sprinkle of powdered sugar sure does look nice and festive.
The good news is that you can make Overnight Bananas Foster French Toast in advance and bake it the next day.
It's delicious French toast that can be made with most any type of bread.
You can reheat the cooked French toast in the toaster or oven or microwave for a quick and easy breakfast on a busy weekday or a lazy weekend morning.
Overnight Bananas Foster French Toast is a delicious breakfast recipe that requires simple ingredients and is easy to make.
By following this easy French toast recipe, you can make the perfect French toast with extra flavor and no need for pure vanilla extract.
You could even serve this as dessert with a scoop of French vanilla ice cream plus a drizzle of warm maple syrup and perhaps some chopped pecans on top.
Whether you're celebrating Mother's Day, Easter, or simply enjoying a weekend breakfast, this classic recipe is sure to be a hit.
Of course you could also add a cup of cafe au lait and a glass of fresh orange juice, to really impress.
But no need to over do it, right?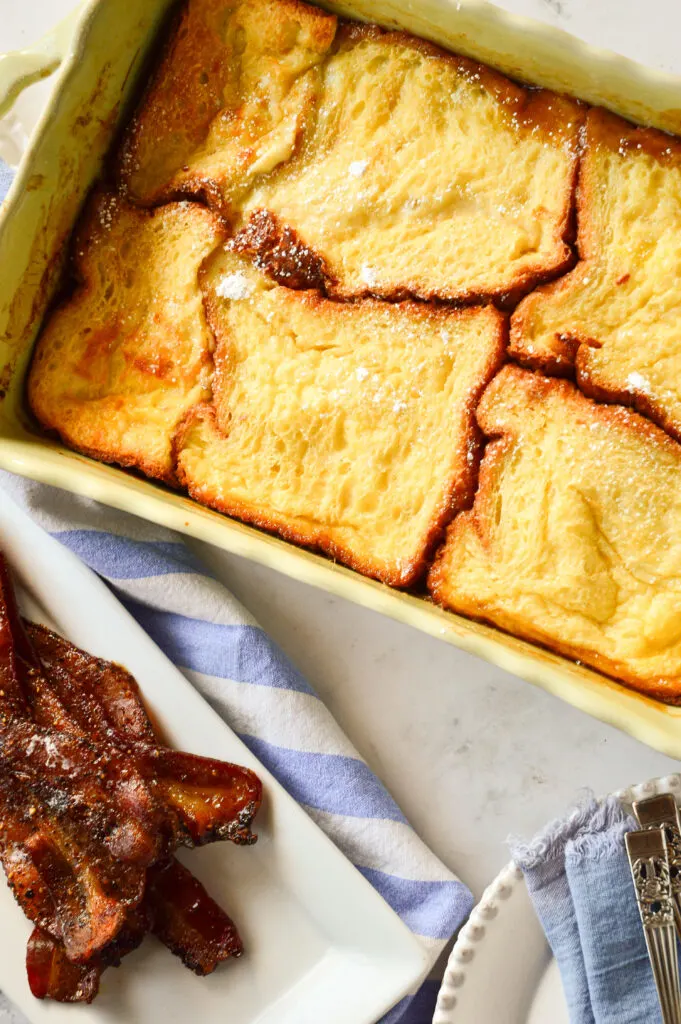 I'll Take Seconds Please!
Overnight Praline French Toast
This post contains affiliate links from which I may or may not receive a small commission at no cost to you!
Print
Bananas Foster French Toast Recipe Without Vanilla
Author:

Abbe Odenwalder

Prep Time:

10 minutes

Cook Time:

35 Minutes

Total Time:

45 Minutes

Yield:

6

-

8

Servings

1

x

Category:

Breakfast

Cuisine:

American
---
Description
This easy Bananas Foster French Toast Recipe is perfect for brunch or just a simple special breakfast for the family.
---
1/2 c butter sliced
2/3 c packed brown sugar
1/2 c heavy whipping cream
1 t ground cinnamon
1 t banana extract
1 T rum
5 large bananas, sliced
12 thick slices of challah, brioche, or croissant bread (about 3/4 lb)
1 1/2 c whole milk
4 large eggs
1 1/2 T sugar
1 t banana extract
1 T rum
Powdered sugar and maple syrup
---
Instructions
Place butter in a microwave safe 13 x 9 casserole dish and microwave 1 minute at power level 7 while covered to melt butter.
Whisk in brown sugar, heavy cream, cinnamon, banana extract and rum. Stir in sliced bananas and coat well. Spread in the bottom of the baking dish evenly.
Top with slices of thick bread, cut to fit the baking dish.
Mix custard in a medium bowl or a large measuring cup. Combine the milk, whole eggs, sugar, banana extract and rum. Pour evenly over bread. Place plastic wrap directly on top of the bread and press custard into the bread.
Place in refrigerator for 8 hours or up to 24.
When ready to bake, remove from fridge and removed the plastic wrap. Preheat oven to 375. Bake for 35 to 40 minutes in a preheated oven until a knife inserted into the center comes out clean. Let stand 5 to 10 minutes before serving.
Top with powdered sugar and drizzle with warm maple syrup to serve.
---
Notes
*Does not include refrigerated time
Keywords: french toast recipe without vanilla, bananas foster french toast, how to make french toast without vanilla, overnight french toast, overnight french toast recipe