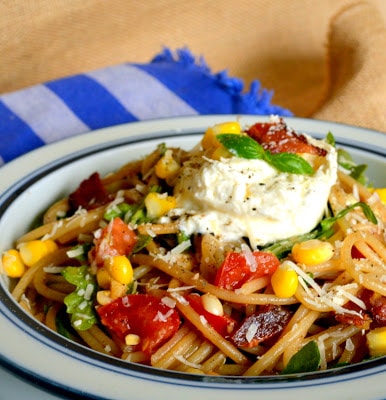 Summer Corn Pasta with Burrata
There are many days I find myself getting caught up in being busy. Sometimes, busy for busy's sake, and that's not good for any of us. But last week, I did clean the garage by taking everything out and sweeping and then power washing the floor. Impressed, huh? Well, then you must be easily impressed. I also cleaned the basement which I hate more than cleaning the garage. I just feel so accomplished. Not!
It is on days like that that I find myself at the dinner hour wondering what to make to please the old rabbit catcher. Yeah, he's still at it and his methods are working. But I don't like them and let's just leave it at that. But my flowers are growing and that I am happy about. Last week on a chillier day it was pasta that was calling out to me. When I'm stumped on what to make I can always rely on my friend, pasta. And this is one of my favorite seasons to make a simple pasta dish. With tomatoes and corn and basil added to pasta, I am a very happy camper.
This dish is a great one, standard as it is. One does not need the bacon if one so chooses. But one does need the burrata. I just discovered this glorious gob of goodness about a month ago in the cheese section in Phoenix. The person that alerted me to this was my blogger friend John at from the Bartolini Kitchens. He has several great posts about this cheese on his blog. He even has a video of how it is made. Check it out and check out a burrata which is basically a sheet of mozzarella stuffed with curds and cream and formed into a pouch. Tell me that doesn't sound luscious.  Upon examination  I can tell you that they also aren't overloaded with calories.
It took me a bit of searching to find a burrata in Denver but now that I know where to get them I will happily go back. They make any dish special and  are like little magical blobs that when cut open release their cream and richness. Trust me on this. If you can't find one, fresh mozzarella balls placed on top of the pasta will suffice, it just won't be the same.
Summer Corn Pasta with Burrata (Serves 2-3)
1/2 pound of spaghetti cooked in salted water according to package directions
2 ears of corn
6 thick slices of bacon cooked crisp (optional)
3 chopped garlic cloves sauteed until limp in 1 T butter
1 chopped tomato
1/3 c fresh shredded basil
1 c arugula
1/2 c freshly shredded parmesan
Freshly ground pepper
Olive Oil for drizzling
2 burrata balls
Start your water boiling for your pasta. Cook corn in boiling water until it just turns bright yellow. Cool under running water and slice off of cob. (This would also be great grilled and then sliced.) Now cook your pasta and save a big ladle of water for your sauce.
Cook bacon until crisp and then break into large pieces. (I usually cook my bacon in the microwave so I don't make a mess.)
Cook your garlic in butter. I usually do this in the microwave too, in a glass measuring cup. I cook it in intervals for 2 minutes, power level 6, until it has reached the desired degree of doneness. (I don't like to wash to many dishes…)
Now drain your cooked pasta but save a a good ladle of pasta water if you want a more liquid type sauce. To the drained pasta add most of the parmesan cheese. Now add, tomato, corn, arugula, garlic and basil. If you want to add the pasta water, now is the time.
Stir in or top with crisp bacon. Spoon onto plates. Drizzle olive oil on top and grind some fresh pepper over the pasta. Top each plate with a ball of burrata. Let diner cut into buratta and mix into pasta. The magic will happen as the cream and curds ooze out. It is just sooo cool!
Other great dishes:
Lotsa Garlic Pasta
Spaghetti Bolognese
Ziti Al Fresco
Porcini Mushroom Lasagne