This Easy Sheet Pan Lasagna Recipe without Cottage Cheese requires no layering. Just spoon this onto a sheet pan, dollop with ricotta cheese and this easy lasagna recipe can be dinner tonight.
If you love a classic recipe for lasagna but dread the time-consuming process of layering it, then sheet pan lasagna is the answer to your prayers.
This easy lasagna recipe contains all the delicious flavors of a classic lasagna, but simplifies the process by using a sheet pan, instead of a traditional baking dish.
With just a few simple steps and minimal cleanup, you can enjoy a mouthwatering lasagna that is perfect for weeknight dinners or entertaining guests.
Another one of Giada's famous recipes, if you enjoyed her bolognese sauce, I figured you might enjoy Giada lasagna!
If you are a lasagna lover, I thought this might be a good alternative to the classic lasagna recipe.
It has more texture than a skillet lasagna and is made for those who are in love with the crispy edge pieces.
You know who you are.
Don't get me wrong.
My favorite classic lasagna is one where I make a bechamel sauce, but that is one that takes a bit of time to get on the table.
And if you don't love cottage cheese, this easy sheet pan lasagna recipe without cottage cheese might be more to your liking.
This comfort food recipe is made with a jarred marinara sauce just to keep things on the simple side.
I like Rao's when I don't have time to make my own. I used to use Bove's of Vermont, but haven't seen it lately.
I use jars of Rao's from Costco and those jars contain about 3.5 cups of sauce.
Rather than open another entire jar, for just one half cup, I stirred in a small can of tomato sauce.
Though Manservant would have loved more meat in this easy homemade lasagna, that can easily be remedied.
What makes this sheet pan lasagna recipe without cottage cheese different?
Instead of layering the lasagna, one takes the broken boiled lasagna noodles and combines them with the sauce and mozzarella cheese.
This mixture is then poured onto a large sheet pan and dolloped with ricotta cheese that I mixed with a bit of basil pesto.
Giada used spinach, but I prefer the flavor that pesto gives and it also saved me the step of cooking the spinach!
To make sheet pan lasagna, you need common lasagna ingredients such as mozzarella cheese, ricotta cheese, Parmesan cheese, marinara sauce, olive oil, garlic, Italian sausage and lasagna sheets.
The key to making the best sheet pan lasagna lies with the best ingredients you can find.
You could substitute cottage cheese for ricotta, but honestly, I prefer ricotta.
Fresh mozzarella or regular?
I used a combination of both in my cheese mixture.
In Colorado, I use spicy Boulder Italian sausage.
Truly, I don't know what I'd do without it.
Remember to par-boil the noodles. They will finish baking in the oven.
No need to cover this easy sheet pan lasagna with aluminum foil.
And no need for eggs.
This is an easy recipe that creates the crusty, golden, crispy pieces that are similar to edge pieces in the standard lasagna recipe.
How To Make Sheet Pan Lasagna Recipe with Ricotta Cheese
Using cooking spray, spray a large 17 x 12 sheet pan. Set aside.
Brown 1 pound Italian sausage in a large skillet with the olive oil over medium heat.
Add the chopped onion and chopped garlic cloves and cook a few minutes more.
After the sausage has browned stir in the pasta sauce and set aside.
To satisfy Manservant, next time I will probably add another half pound of sausage or perhaps some ground turkey to make a very hearty sauce!
If you'd like to add some more Italian seasoning, fresh ground black pepper or even garlic powder, now is the time.
Boil noodles that have been broken into pieces, in well-salted boiling water for just 4 minutes.
After pasta has finished cooking, ladle 1/2 c of pasta water into the pasta sauce.
Drain the al dente lasagna noodles and stir into the meat sauce along with the divided mozzarella cheese and parmesan cheese.
Pour the mixture onto the sheet pan and spread evenly across the pan.
Combine the ricotta cheese with 1/4 c of basil pesto and stir with a wooden spoon to combine.
Dollop cheese mixture over the sheet pan lasagna, then sprinkle with remaining mozzarella and parmesan cheese.
About 30 minutes of bake time is what's needed until the pasta is tender, and the sauce is bubbly.
If this sheet pan lasagna recipe without cottage cheese is not browned to your liking, place it under the broiler for a few minutes,
Remove from oven and let lasagna cool 5 minutes before slicing.
I garnished my lasagna with fresh parsley and chopped, fresh basil leaves.
This made A LOT of lasagna.
No, it isn't as thick as those pretty layered lasagnas, but it sure did please us.
Store leftovers in an airtight container so it doesn't dry out.
Leftover lasagna can be reheated in the oven after spreading more ricotta cheese over the top of the noodles, along with bit more prepared sauce.
Frankly, I thought the leftovers were better than the original.
Perhaps the flavors had a better chance to meld together.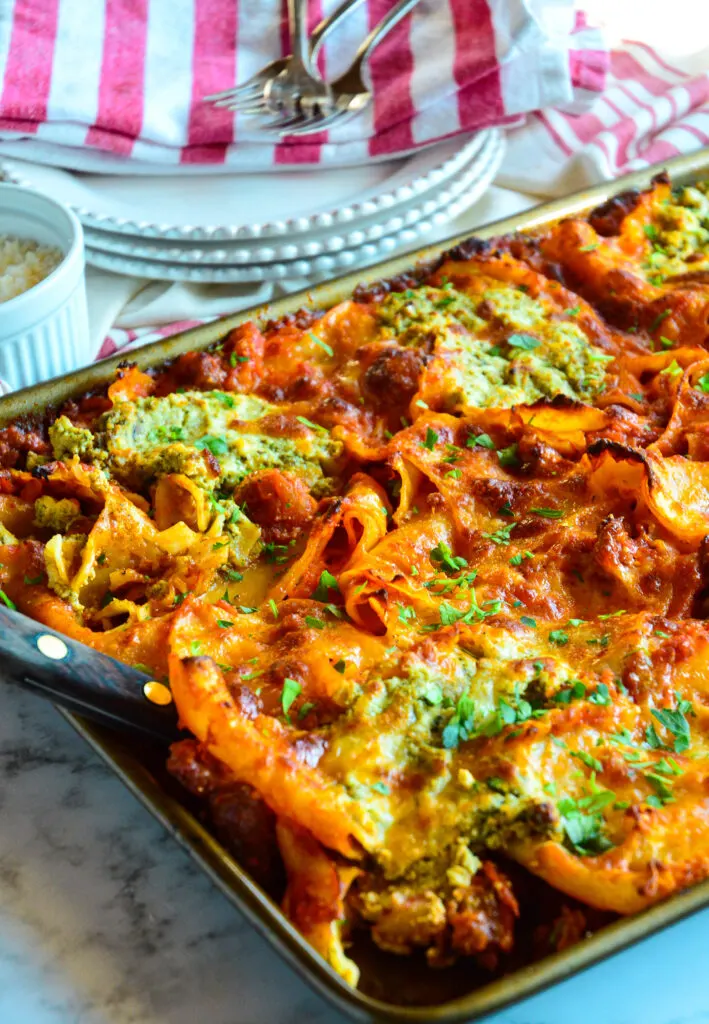 What to Serve with this Simple Sheet Pan Lasagna?
The standards, of course!
I love garlic bread and this Italian dressing iceberg lettuce salad which is so easy to make and full of flavor!
For dessert I'd definitely serve this strawberry balsamic dessert which takes 5 minutes to throw together!
There are so many different versions of lasagna, but this one caught my eye.
I think you will enjoy it so give it a try and let me know what you think!
Still Hungry?
Buffalo Chicken Lasagna Recipe (My fave!)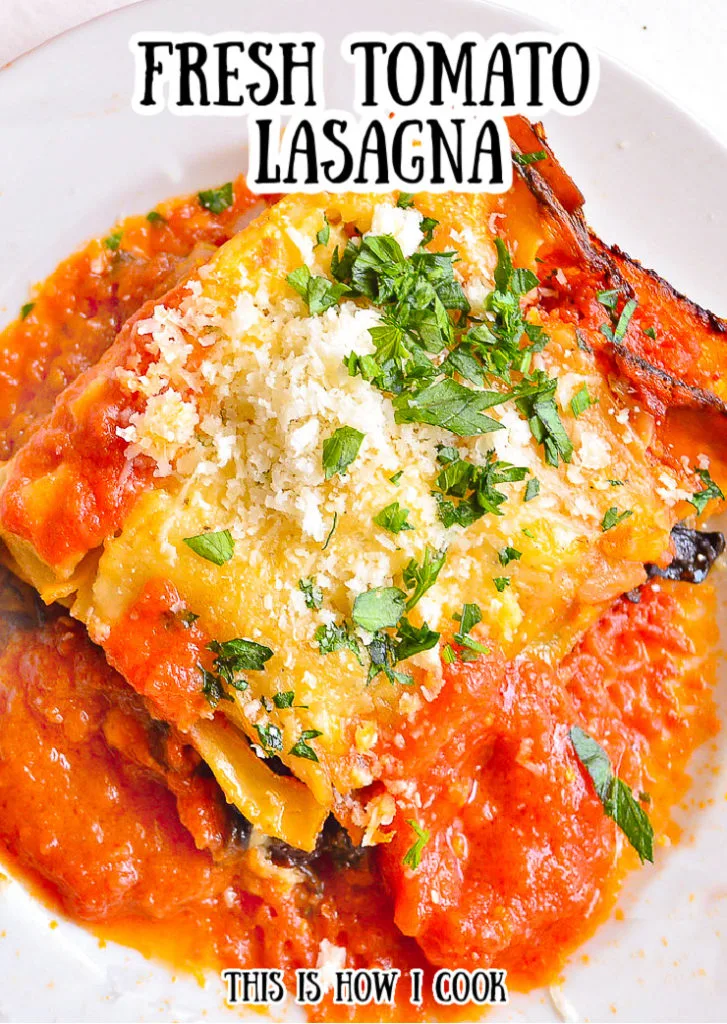 This post contains affiliate links from which I may or may not be paid a small commission at no cost to you.
Print
Sheet Pan Lasagna
Author:

Abbe Odenwalder

Prep Time:

30 Minutes

Cook Time:

30 Minutes

Total Time:

1 hour

Yield:

6

to

8

Servings

1

x

Category:

Main Course

Cuisine:

Italian/American
---
Description
This easy lasagna recipe with ricotta cheese, requires no layering. Just one big sheet pan, this cheesy lasagna version is simple and good.
---
4 T Olive Oil, Divided

1/2 t salt plus more for pasta water

1 lb lasagna broken into pieces

3 cloves chopped garlic

1/2 t red pepper flakes or to taste

1 c ricotta cheese

3 T basil pesto

1 to 1.5 lbs Italian sausage

1 onion diced

4 c Marinara Sauce

2.5 cups Mozarella cheese shredded
1.5 c Fresh grated Parmesan cheese, divided
---
Instructions
Preheat oven to 425. Using 1 T olive oil, grease a 12 x 17″ pan and set aside.
Add 2 T olive oil to a large skillet and brown the sausage over medium heat, about 5 minutes. Stir in garlic cloves, red pepper flakes to taste, and the chopped onion. Cook until onion is soft, about 3 minutes.
Bring a large pot of very salty water to a boil. Add lasagna pieces and stir so it doesn't stick together. Cook 4 minutes. Reserve 1/2 water before draining pasta.
While the pasta is cooking, add the marinara to the browned sausage, along with the pasta water, the cooked pasta, 1.5 cups of mozzarella, and 1/2 c Parmesan.
Mix the ricotta cheese with the pesto.
Stir well and spoon pasta mixture onto the baking sheet, spreading evenly. Dollop the ricotta evenly over the pasta mixture. Sprinkle with remaining 1.5 c mozzarella and 1 c Parmesan. Bake until the pasta is cooked, the sauce is bubbly and the cheese is browned. (I ran mine under the broiler for a few minutes to brown it some more.) Bake 30 minutes, remove from oven and let rest 5 minutes before serving.
---
Notes
This lasagna is not layered-merely baked on a sheet pan. And if you are a lover of the corners of a regular lasagna, you will love this version!
Keywords: giada lasagna, giada lasagna recipe, sheet pan lasagna, lasagna with ricotta cheese, lasagna without cottage cheese