"Who doesn't like spaghetti and meatballs? Especially red wine meatballs that are full of garlic and cheese and perfect on pasta or sandwiches or even on toothpicks!"
Now it must be said that I prefer meat sauce and not meatballs on my spaghetti. However, I suppose that depends on the meatball. AND who said one can't have both? No one has ever offered me spaghetti in that way. In any case this spaghetti with red wine meatballs is a winner whether the meatballs on the spaghetti are being stabbed with a toothpick, which at the sip and see is how they met their demise.
I don't know what I was thinking when I bought 4 pounds of meat. Let's just say that's a lot of meatballs. We had few leftovers from the sip and see, but we did have meatballs. That's OK because they keep well in the freezer and are perfect for this divine spaghetti. I crave pasta when the weather is cold and it's been getting chilly around here. Ah well-who am I kidding? I always crave pasta!
Spaghetti brings out the best in folks. As does garlic bread. However maybe it's the red wine we always drink when we eat spaghetti. Red wine does nice things to folks like me. As it turns out we had the most perfect red wine to drink while we slurped our spaghetti. Not long ago we were invited to visit the Bonacquisti Urban Vineyard and not being one to turn down a good thing we went. Che figata! Cool! Or literally what a fig. But I like cool better.
Courtesy of Bonacquisti Wine
Courtesy of Bonacquisti Wine
Courtesy of Bonacquisti Wine
I've been to plenty of breweries but never an urban winery and this was… che figata. Opened in 2006 and obviously in a neighborhood not close to me (or I would have been there before this)…Paul Bonacquisti has been creating easy drinking wines that I could drink every night of the week. If I lived closer I could partake in their wine on tap program and keep refilling the growler they sent me home with. Somehow it's easier polishing off a growler, instead of a bottle. Perhaps I think too much about a bottle, whereas a growler just keeps saying I'm here for you to drink…NOW!
If I lived closer to SunnySide I could join their wine club which would allow me to receive three bottles every three months, without any membership fees. I'd also be able to attend a quarterly wine pick up party and be able to taste whatever I wanted-free- and get 10% off all purchases and more off on cases. Bonacquisti also helps support community development and local art in addition to educating all who want to know about wine. Wine for the people is a motto of theirs and one can sense the vibe the minute they walk in whether it is Vinyl Thursday or Fridays Uncorked with $5 apps and live music.
Did someone say appetizers? They have a few small offerings and all are meant to complement the wine. No, they don't have spaghetti but they do have some savory paninis with Italian sausage and a great make your own charcuterie board. Their almonds roasted in duck fat are divine and easily consumed. It's a fun space for a party and wine sommeliers are there to help choose your wine. They have lots of great holiday gift ideas and some open houses coming up. Check it out. Conosco i miei polli. I know my chickens! OR, I know what I'm talking about!
But back to red wine meatballs. This recipe makes about 40-50 small meatballs but please make them whatever size you want. And serve them as appetizers or on spaghetti. Or even in a sandwich. The kids will love them. And they go perfect with wine. Remember…I know my chickens!
Product was provided for this post but all opinions stated are my own.
More To Try: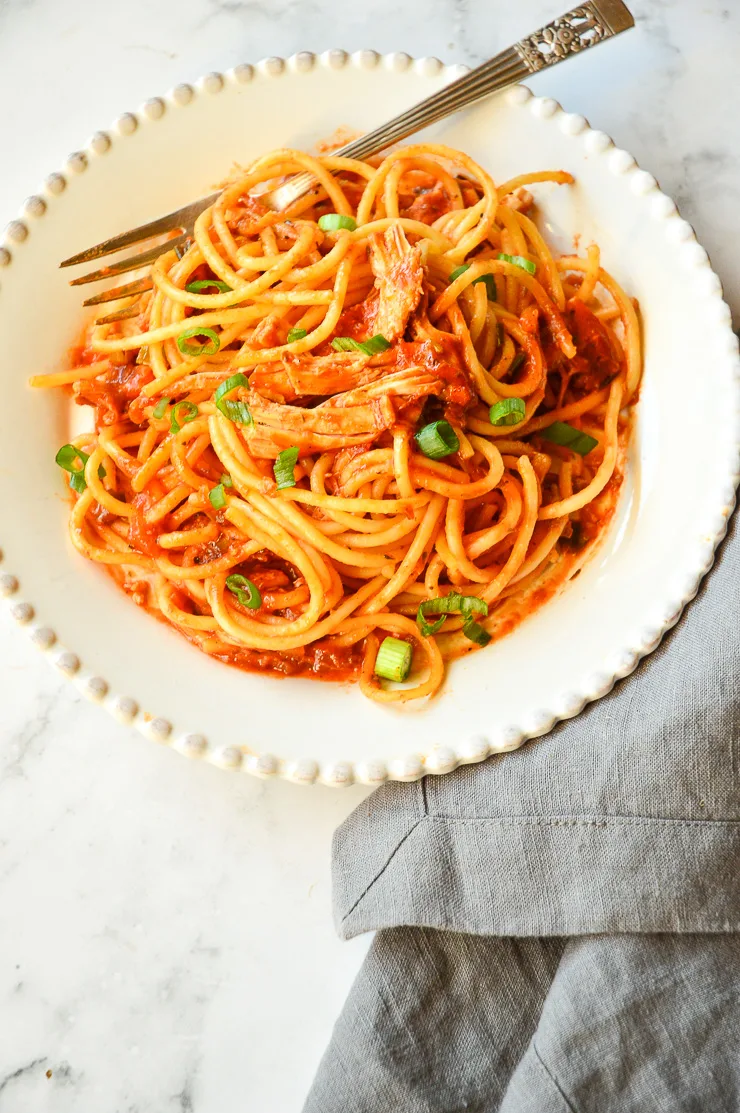 4 Ingredient Fettuccine Alfredo
1 Pot Pasta with Artichokes, Mushrooms and Cheese
Sharing Keeps My Blog Going!

Print
Spaghetti and Red Wine Meatballs and #BonacquistiWine
Author:

Abbe Odenwalder

Prep Time:

45 Minutes

Cook Time:

45 Minutes

Total Time:

90 Minutes

Yield:

About

25

Meatballs

1

x

Category:

Main Course, Appetizer

Method:

Stove Top

Cuisine:

Italian
---
Description
Who doesn't like spaghetti and meatballs? Especially red wine meatballs that are full of garlic and cheese and perfect on pasta or sandwiches or even on toothpicks!
---
Marinara Sauce
1/4 c olive oil

2 ounces pancetta (sliced thin and then slivered) I buy mine in the deli. Bacon is smoked so I prefer this!

3 T minced onion

4 minced garlic cloves

2 28 oz cans of Italian tomatoes (Buy the best and squeeze them into the pot to crush them.)

6 leaves of fresh basil

1/2 t marjoram or oregano

Salt and fresh Black pepper to taste

Red Wine Meatballs
1 lb lean ground beef

1 pound ground pork or 1/2 lb veal and 1/2 lb pork

2 large eggs

1 c fresh grated Pecorino Romano Cheese

2 T minced Italian Parsley

4 minced garlic cloves

Salt and Pepper to taste

2 c fine dry bread crumbs

1–2 t marjoram

Up to 2 c red wine

About 1/2 c olive oil
---
Instructions
Marinara Sauce
Heat the oil in a large pot over medium low heat. Add the pancetta and saute until crisp. Remove from pot. (I saved these cracklin's and use them on salad.)
Add onions and saute for about three minutes or until translucent. Add garlic and saute until soft.
Add tomatoes with juice and bring to a boil. Reduce heat to low and simmer until sauce is slightly thickened, about 45 minutes. Season with basil, oregano or marjoram, salt and pepper. Cook for another minute and taste for seasonings.
Red Wine Meatballs
In a mixing bowl combine meats. I do this with my hands. Messy but it works. Add eggs, cheese, parsley, garlic and salt and pepper.
Add bread crumbs and mix well. Slowly add up to 2 cups of red wine, 1/2 c at a time, until the mixture is moist. You may not need all the wine. Shape into 1 1/2″ meatballs.
Heat the oil in a large saute pan over medium heat. Being careful not to crowd the pan, add the meatballs and fry until each side is brown and slightly crisp. (About 5-6 minutes on each side.) You may have to do this in batches.
Transfer cooked meatballs to paper towels to drain, then add to the marinara sauce. (You may keep these warm in the sauce. I also made these ahead and then brought them to room temperature as I reheated the sauce. Place them in the sauce for about 10 minutes on low to warm them.) Serve on toothpicks or over pasta or in a sandwich!
---
Keywords: Italian, Meatballs,