Unstuffed Sweet and Sour Cabbage with meatballs is a traditional Eastern Jewish dish. Hearty and perfect for a cold winter's day, I hope you enjoy this classic.
If you've never had sweet and sour cabbage with meatballs, I suggest it's time you try it!
This classic Eastern European dish is perfect for a cold winter day.
Though I turned up my nose at the soup part when I was a wee one, I did manage to devour the meatballs. Isn't that the best part?
As a child we never ate stuffed peppers and we never had stuffed cabbage.
In fact, I don't remember my mother stuffing anything!
The funny thing about this recipe is that is that the real title is unstuffed cabbage. I imagine that is versus stuffed cabbage.
The meatballs are what I believe would be the stuffed inside the cabbage leaves. Except just as a ground beef mixture.
Well, I don't know about you, but I think this is a whole lot easier than stuffing cabbage leaves and certainly a lot faster!
Sweet and Sour cabbage with meatballs is what many consider a soup.
It thickens quite fast, the softer the cabbage becomes.
So the more it simmers, the thicker it gets. If you want it soupier, just add more liquid.
I have a hard time thinking of this as unstuffed cabbage, when it is really just cabbage and meatballs.
Let's call this what it is! There are so many versions of stuffed cabbage or cabbage soup but this sweet and sour version is simple, filling and tasty.
But what makes it sweet and sour cabbage and why is that so good?
Honey and lemon juice make this unstuffed cabbage recipe mouthwatering good.
Both can be adjusted if you prefer it more sweet or more sour.
I have also seen vinegar used in place of lemon juice.
A few other tips when making this sweet and sour cabbage with meatballs:
I have made the meatballs with turkey but have not tried ground chicken. Ground beef holds together the best.
Use good tomatoes. They are a key component of this recipe. Spend a little more than the store brand!
And whatever paprika you choose to use, please make sure it is fresh.
Smell it. It should smell good. If you can't smell anything, it isn't fresh!
Also, don't forget lots of fresh ground pepper when you serve this.
Sweet and sour cabbage with meatballs popped into my head as something to bring to a friend of mine's mother.
She was out of town and I felt like her mom could use some company.
Being me, meant that I couldn't go empty handed, so I brought this cabbage soup and a giant loaf of artisan bread from one of my favorite bread bakeries.
Holishkes or stuffed cabbage is a popular Polish dish, and my friend's mom is Polish.
Manservant was out of town and I knew this dish wasn't something he would relish, so it was my time to make it and enjoy it without him picking around the cabbage for the meatballs!
This recipe makes a lot, but sweet and sour cabbage can be frozen.
Just don't forget it is in there!
(This is an updated post from 2015.)
This post may contain affiliate links from which I may or may not earn a small commission at no cost to you.
A few things I use to make this soup: Hungarian paprika is always good. And if you want to make it a bit spicier feel free to add hot paprika. A great pot is always good and you know I prefer Le Creuset.
However this one is really good, too!

More Cabbage Recipes:
Okonomiyaki (Japanese Egg Foo Yung)
Kohlrabi Cabbage Fennel Salad
Vietnamese Style Cole Slaw
My Mom's Secret Cole Slaw
Please Pin and Share and if you like this recipe I'd love if you come back and rate it!
Print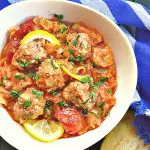 Sweet and Sour Cabbage with Meatballs (Unstuffed)
Author:

Abbe Odenwalder

Prep Time:

20 Minutes

Cook Time:

2:45 hours

Total Time:

3 hours

Yield:

8

-

10

Servings

1

x

Category:

Soup/Stews

Method:

Stove Top

Cuisine:

Jewish
---
Description
Unstuffed Sweet and Sour Cabbage is a traditional Eastern European Jewish dish. Hearty and perfect for a cold winter's day, I hope you enjoy this classic.
---
1 large diced onion

2 lbs green cabbage, cored and chopped

1 15 oz can tomato sauce

1 28 oz can tomatoes with juice

1 c water or more depending on how soupy you want this

1/4 c honey

1/4 c lemon juice

1/3 c brown sugar

1 t Hungarian paprika

1/4 c raisins optional and added after 2 hours of cooking

Meatballs

1 lb ground beef or turkey

2 t Worcestershire sauce

1/2 t salt or to taste

1 egg

1/2 c grated onion

1/2 c uncooked white rice
---
Instructions
Combine all soup ingredients, except raisins in a large stock pot. Bring to a boil.
While mixture is coming to a boil, mix the meatball ingredients together. Shape into walnut sized balls and drop into boiling soup.
Reduce heat, cover and simmer for two hours. Remove cover and add raisins if desired. Continue cooking for 30 more minutes.
This is where you may want to add more water if you like a more liquid soup.
I serve this dish with lots of freshly ground black pepper and lots of bread and butter!
---
Keywords: sweet and sour cabbage, sweet and sour cabbage soup, sweet and sour cabbage recipe, sweet and sour cabbage soup recipes, sweet and sour unstuffed cabbage rolls, sweet and sour cabbage