Boboli Pizza is a regular at our house. This thin and chewy, little bit puffy, perfectly crispy pizza makes our Friday nights!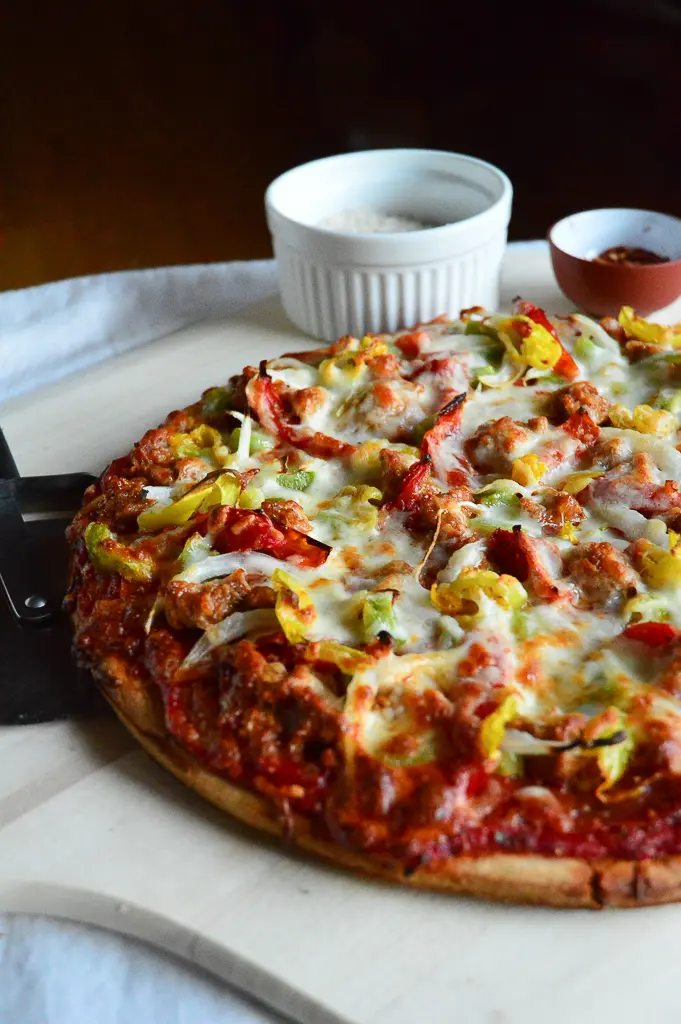 Boboli pizza has been a hit in our home since the kids were wee ones.
I loved that I could easily make individual pizzas with the small crusts and one big one for Manservant and I.
The kids were happy to customize their toppings but somehow Zoe always ended up with cheese and Alex always added pepperoni, with not too much cheese because he tends to have some lactose issues.
My guess is their tastes have expanded since they were 5 years old, but this was way back in the 90's when Boboli first came out.
This thin and chewy pizza crust has a bit more puff in it than if you make your own, however I never seemed to find the time for it way back when.
However now that the kids have flown the coop my shelves now contain a pizza stone and a wood pizza paddle and I've been trying to perfect the art of making Chicago style bar pizza. When I get there, you will be the first to know!
You can find the Boboli crust in the dry goods aisle in the pizza section at the grocery. The original version, which is a bit thicker than the thin, is perfect for grilling season.
How do you bake a Boboli pizza?
We prefer the thin crust which I bake at 450 degrees, directly on the top rack of my oven. I like it nice and crispy and the cheese golden and chewy, but I find if I put it on the middle rack the crust tends to burn.
No pizza pans necessary!
Sometimes when I've overloaded the crust and it drips in the oven, I've even managed to set the smoke alarm off! One reason I prefer a top rack!
You know your oven better than I do, but this works for me.
Homemade Pizza Sauce
As far as Boboli pizza sauce…well, I have the best pizza sauce recipe. Sorry, Boboli. I think yours is a bit sweet.
My homemade pizza sauce is so easy to make, no cooking required, and truly makes your pizza taste homemade. Feel free to adjust the seasonings, but hey, this is how we do it!
As far as toppings go, I've given you ours below. This pizza happens to be missing mushrooms, because I hadn't planned on making pizza, but then life got in the way and pizza saved our dinner!
But mushrooms? Freshly sliced, please!
This pizza crust truly is a lifesaver for me. When I send Manservant around the corner to buy pizza, it just is never as good as this!
Plus it takes as long to place the order, wait for it to be ready, and then drive to get it, as it does to prepare this Boboli pizza recipe.
We've made seafood pizzas by using red sauce and shrimp and scallops as toppings. I've grilled it with a bbq chicken topping and I've even cut it into strips and made crispy garlic bread. Yum!
A word on cheese. Shred your own. It really does taste better and it is so much fresher!
Give Boboli a try. When the kids were younger I often bought the individual sizes and set up a pizza topping bar. It was fun and everyone could make their own.
This is a good idea for parties but most young kids I know eat only cheese and a few may add pepperoni. (See above. LOL!) Which, of course, creates a lot of extra work on your part if the party is for kids!
No sponsored post here. Just a fan of Boboli, you could say.
After all, we all need a shortcut here and there.
A Few More:



Print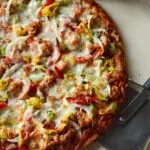 Boboli Pizza
Author:

Abbe Odenwalder

Prep Time:

15 Minutes

Cook Time:

15 Minutes

Total Time:

30 Minutes

Yield:

3

-

4

Servings

1

x

Category:

Main Course

Method:

Baking

Cuisine:

American
---
Description
Boboli pizza is a lifesaver when you need something quick for dinner. This somewhat thin and crispy pizza crust, still has plenty of "chew", but also lots of flavor. And the sauce? My favorite!
---
Pizza Sauce (This makes enough for two pizzas.)
1 15 oz can of tomato sauce

1 T olive oil

1T oregano

1 t chili flakes

½ t sugar

1 ½ t garlic powder

1 T fresh Italian parsley (this really gives a hint of freshness to the sauce) or basil

Salt and fresh ground pepper

Toppings
1/3 c fresh grated parmesan

1 1/2 c grated mozzarella

½ c of red pepper slices or diced

1/2 c diced or thinly sliced onion

Boars Head Pepperoni sliced thin (12 – 15 slices) This is purely your preference.

6 oz Italian Sausage cooked (I use Boulder Italian Sausage.)Place in bowl and cook in microwave about 1 and a half minutes loosely covered. Drain grease.

2 T Pepperoncini drained
---
Instructions
Preheat oven to 450. Set oven rack to highest position.
Open tomato sauce and pour into a big measuring cup. Add seasonings and feel free to adjust to your taste. This makes enough for two pizzas.
Top crust with ½ of sauce. Sprinkle with most of parmesan leaving a little to sprinkle on top when pizza is served.
Top with pepperoni, peppers and onions. Add sausage.
Sprinkle on mozzarella. Throw on pepperoncini.
Place pizza into preheated oven directly on top oven rack. Bake about 10 – 20 minutes until as golden as you like. Take out and let rest for about 5 minutes. Slice and serve with more chile flakes and the extra parmesan.
---
Notes
Feel free to use whatever crust you prefer, but adjust bake times accordingly.
Don't want your pizza too spicy? Cut the chili flakes in half. Want basil instead of parsley? Just sub it in.
Keywords: boboli pizza, best pizza sauce recipe, boboli pizza recipe, easy pizza sauce, homemade pizza sauce