Chilaquiles with eggs is traditional Mexican comfort food. Served at breakfast and brunch, (though Manservant would eat this anytime) it is a mixture of fried corn tortillas simmered in a thick red or green sauce. Throw in your own additions such as chicken or chorizo and you have a hearty and inexpensive meal.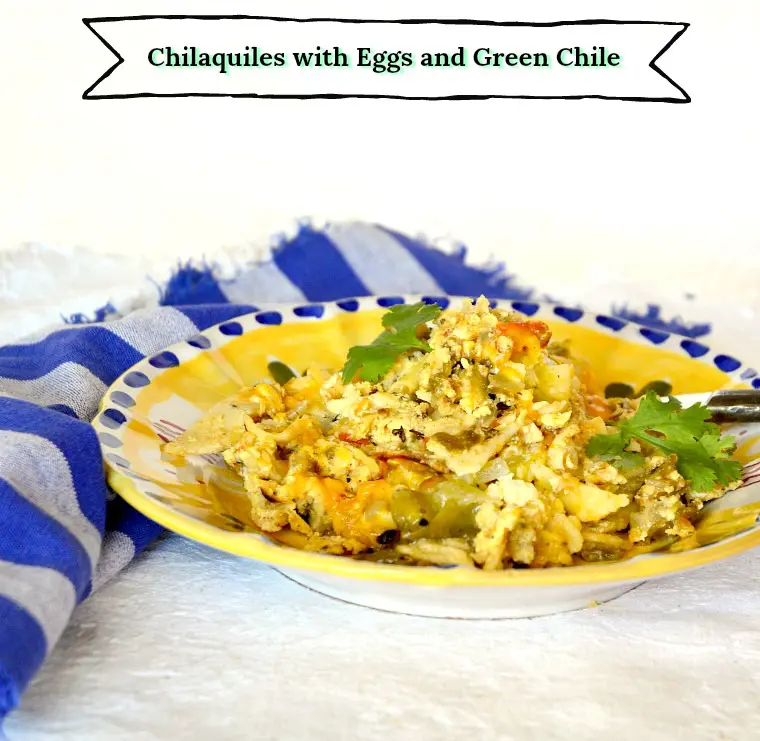 With a lot of fresh roasted green chiles in the house, I am making Manservant very happy. Yes, chilaquiles with eggs are one of his favorites. My mother tells me I post too many Mexican recipes and I'm sorry, not sorry Mom, this is just the way we roll! As you have already realized one does need green chiles for this recipe and though I heartily recommend my own green chile recipe (which I finally updated!) these chilaquiles with eggs can be made with canned green chiles.
I discovered this recipe on a typewritten sheet that I dug out of my overstuffed recipe drawer and think I received this from a green chile vendor years ago. Why it took me so long to make this savory tortilla dish is beyond me! There are a million chilaquiles recipes out there and all of them are a bit different but we love this one!
So what exactly are chilaquiles?
Chilaquiles translates to chiles and greens, which suits my needs perfectly. Chilaquiles are corn tortillas that have been fried and then simmered in a salsa base. One often finds chilaquiles made with a green sauce or a red sauce. Both are great! However we already know I had green chiles in the house. Many recipes have fried eggs added on top, some have meat such as chorizo or chicken added, often there is crema or sour cream mixed in and a variety of garnishes such as cilantro or radishes can be thrown on top.
The key, in my mind, to making good chilaquiles is to use white corn tortillas. Many recipes I've seen use already fried tortilla chips such as Doritos, which totally changes the flavor of this dish, in my opinion. The trick to making chilaquiles is to serve them when they are ready which doesn't take long. You don't want your tortilla chips getting soggy by sitting in the sauce too long. Then the mixture becomes somewhat like polenta and we all know polenta is not a Mexican dish! Though some may prefer crisp chilaquiles with eggs, I like a combination of soft and crispy. In other words, I am going for texture!
This chilaquiles with eggs recipe is exactly that. Rather than placing a fried egg on top, this recipe scrambles the eggs in. Not that you still couldn't place that golden fried egg on top, but it is totally not necessary. Make sure to pay attention to the temperature of your burner, because you don't want the eggs to scramble too hard. Otherwise you lose the soft, lovely texture. I know! SO much info for such a simple dish!
How do chilaquiles differ from migas?
I actually have a recipe for migas on this blog! I make them quite often because they are a good use for the bottom of the bag tortilla chips. Honestly, these are just scrambled eggs with some veggies and tortilla chips or old tostadas. Migas means crumbs, which makes them perfect for using up the bottom of the bag. Chilaquiles are actually fried corn tortillas, simmered in sauce. Now should we get started?
How do I make chilaquiles?
They begin with tortillas. Specifically corn tortillas. The small ones, not made with flour! I like them better than yellow corn tortillas because to me they seem a touch sweeter. Stack the tortillas and slice into strips. Then slice the strips into about 2″ pieces. Heat up the oil on a medium high heat and add the corn tortillas to the pan. They will start to shrink down and soften and if cooked longer, they will begin to crisp. It is great to have a combination of both. Add in some chopped onion, before they are all cooked, so the onion fries up a bit. This takes roughly 5 – 10 minutes. Turn the burner heat down to medium low and add the milk and egg mixture and stir until the eggs are softly scrambled. I then add my green chile sauce and some cheese. Let the cheese melt in and then it is time to dive in!
Can I use jarred salsa to make chilaquiles?
I don't have a problem with it. However I would start with simmering the sauce so that it becomes thicker than when you pour it out of the jar. Red or green? Your choice!
Additions to Chilaquiles?
Feel free to add chorizo when you saute the tortillas and onions. Or stir into the salsa some cooked chicken or shredded pork. Want some more peppers? Add those. Garnish with cilantro, sliced radishes, scallions and a touch of crema or sour cream. Personally, I prefer a simple recipe but chilaquiles are a great way to use up leftovers that may be hiding in the fridge.
So, it's time to get started. Manservant loved this recipe. I served it with hash browns and all was well. As for Mexican recipes? I'm not sure if you agree with my Mom, but I can assure you we will soon be featuring lots of turkey and pumpkin!
Please Pin and Share:
Nee
Print
Chilaquiles with Eggs (Mexican Comfort Food)
Author:

Abbe Odenwalder

Prep Time:

10 Minutes

Cook Time:

10-15 Minutes

Total Time:

20 Minutes

Yield:

4

Servings

1

x

Category:

Breakfast/Brunch

Method:

Stove Top

Cuisine:

Mexican
---
Description
Chilaquiles with eggs is traditional Mexican comfort food. Served at breakfast and brunch, (though Manservant would eat this anytime) it is a mixture of fried corn tortillas simmered in a thick red or green sauce. Throw in your own additions such as chicken or chorizo and you have a hearty and inexpensive meal.
---
6 white corn tortillas, cut into strips about 1/2" wide and 2″ long

1 chopped onion (About 1 cup)

2 T olive oil

5 or 6 beaten large eggs

1/4 c milk

1 c green chile sauce OR 1 4 oz can green chiles OR 1 c salsa of your choice simmered until thick

1 c Cheddar, Montery Jack or Muenster cheese, shredded

Additions of your choice: Chorizo, shredded cooked chicken or pork

Garnishes: Cilantro, Sour cream or Crema, Avocado, Scallions, Sliced Radishes, Tomato
---
Instructions
Heat oil in a large skillet over medium high heat. Add tortilla strips and cook until somewhat softened and a bit crisp.
Add onion after about 5 minutes of the tortillas cooking. Once tortillas are softened and somewhat crisp, turn down the burner heat to medium low.
Stir in the eggs that have been beaten with the milk. (If you are just using plain green chiles and not green chile sauce or salsa, you will want to add some seasonings such as garlic salt, cumin and pepper.) Soft scramble the eggs.
Add green chile sauce and shredded cheese. Stir until cheese melts and mixture is cooked to your liking. If you want it saucier, feel free to add more.
---
Notes
Manservant was very happy when I made him a breakfast burrito with leftover hash browns and chilaquiles. I merely took a large flour tortilla and placed it on a plate, plopped on some cold chilaquiles and then some cold hash browns and then placed it all covered in the microwave for about 1 1/2 to 2 minutes on power level seven. Then I just rolled it up, wrapped it in foil and sent him on his way!
Keywords: chilaquiles recipe, recipe for chilaquiles, chilaquiles with egg, chilaquiles eggs, chilaquiles with eggs, chilaquiles
Need a Few More Breakfast Ideas?