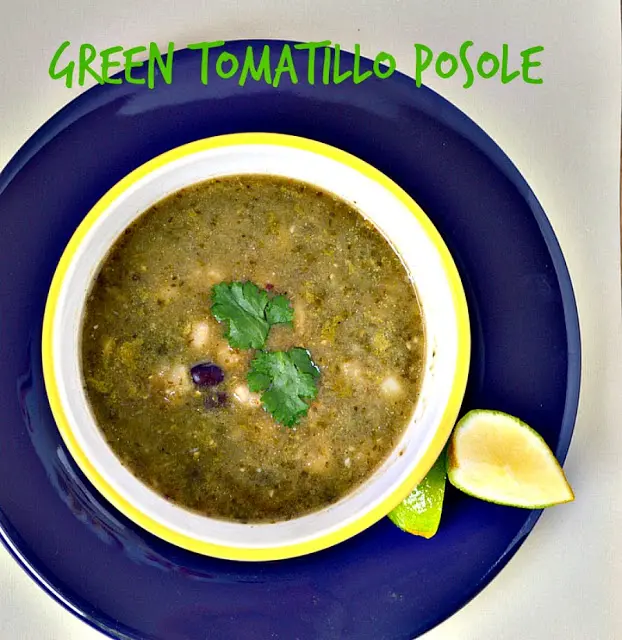 I don't know what has overcome
me. My, oh my. It must be in the beans. In the quest of trying to be healthier
my husband has requested a diet of more beans and less white stuff. I know you
know what I'm talking about. Because, it's like, my favorite category of foods.
Like sugar. And pasta. And rice. Let's not forget about bread. Oh, it pains me
just thinking about it.
But I'm trying to
incorporate more of the good stuff, though in all honesty we didn't overdue on
the bad stuff. It's just that our aging bodies need a kick in the
ass
butt. So
this week without really intending to we started with black
bean burgers on Monday. (They were pretty good and this morning my man ate
them for breakfast with a fried egg on top. Perfect, I was told. I'll give you
that recipe one day.) Last night I came up with a lemon, sage, shrimp, cauliflower, white bean pasta. Light on the pasta. It was
pretty good, too.
And today I made this
green posole with hominy and black beans. That
can of hominy in the pantry was calling my name. When
it comes out of the food processor it is so intensely green that it looks like
it could be too healthy for you. But then it cooks and it turns a bit dull.
Except of course for the flavor. That was superb. Tart and garlicky and corny
and fresh. (I can't believe I just wrote that.) Perfect for any season and that's
the truth. It's not too heavy and the texture of the hominy is so good. Soft
and chewy. Kind of like my favorite chocolate chip cookies but not chocolate. And
not sweet. Just corn like. And I like corn.
Typically the posole I
find in Colorado
is made with red chile and pork or chicken. This is a vegetarian posole though
I do admit I used chicken broth. Feel free to substitute. I don't eat a lot of
meat so this was right up my alley. It comes together pretty fast after you get
it all in the food processor. And it only needs a half hour to simmer. After
pureeing the greens I decided that my kitchen and the puree matched perfectly.
Don't
you agree? Whatever. This is good stuff and good for you.
Green Posole (Adapted from Homesick Texan by
Lisa Fain)
Ingredients:
1 roasted
poblano chile or 1 small can of green chilies, drained
1 11
ounce can of tomatillos drained, (these give tartness)
2 serrano
chilies (seeded and deveined)
½ medium
onion rough chopped
4 garlic
cloves
1 c
cilantro
½ c
parsley
½ c kale
or spinach (my daughter
tells me there is a shortage of kale due to a freeze in CA. This is an unverified
fact.)
1 t
ground cumin
1 t
oregano
¼ t
allspice
2 15 oz
cans chicken or vegetable broth
1 15 oz
can black beans, drained
1 30 oz
can hominy, drained
¼ c half
and half, optional
Garnishes-Thinly
sliced radishes, Crumbled or grated cheese, sour cream, lime wedges
Notes:
I did not need salt. Lime juice is traditional but I thought it was tart
enough.
Directions:
Place
green or poblano chilies, tomatillos, serranos, onion, garlic, cilantro,
parsley, kale or spinach , cumin, oregano, allspice and 2 c of broth in food
processor. Blend until smooth.
Pour into
pot with rest of broth, the hominy and black beans. Bring to a boil then turn
down to low. Let simmer uncovered for 30 minutes. Stir in ½ and ½ before serving.
Serve
with garnishes. Feel healthy yet?
Please Pin and Share:
More To Try: