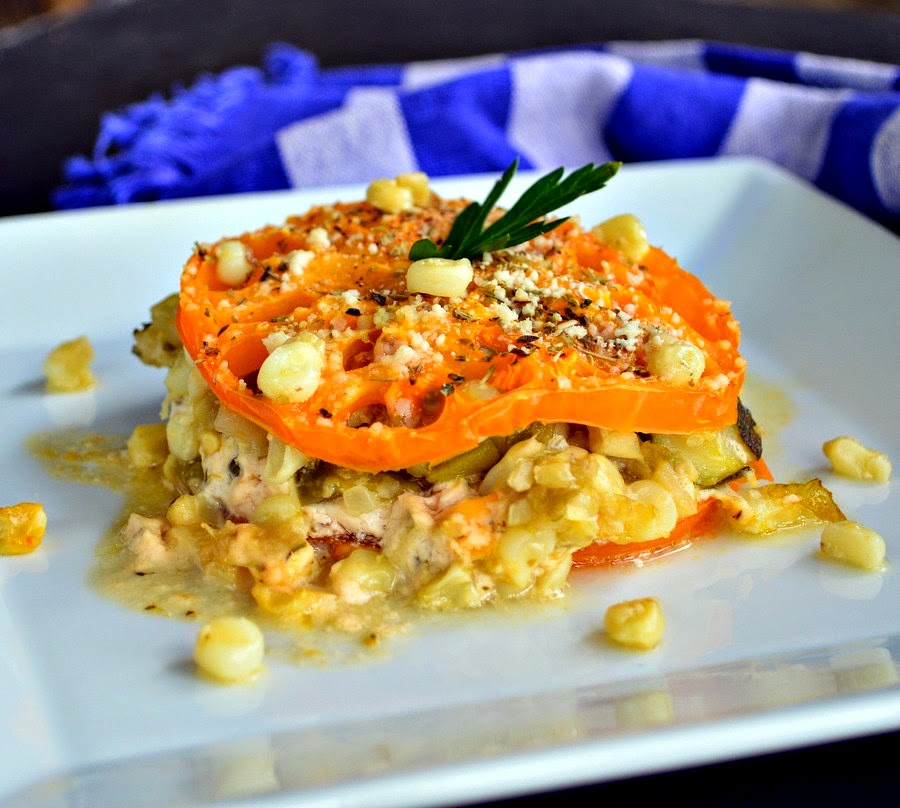 The end of summer is a perfect time to highlight Colorado's glorious produce. And glorious it is. Palisade peaches from High Country Orchards and Kokopelli Farms should not be missed. They were perfect this year. Sweet and juicy, they were some of the best I remember in a long time. Colorado kale from Full Circle Farms and heirloom tomatoes from Dooley Farms were often on my dinner table, along with subtle encouragement to Manservant to eat his veggies. And now I'm trying to get the last of the Olathe corn and sweet cantaloupe.
Boo hoo. I can't believe the end is near and wonder how it came so fast. Oh-summer I will miss you. I will miss your corn and tomatoes and cherries. Your chilies and zucchini and kale. And thank goodness for one last weekend of eating. That's one reason I love Labor Day. I still get a chance to squeeze all of summer's bounty into three last official days of summer. (OK, maybe these are my last official days of summer…) Yes, there's still time to bake a fresh peach cobbler, while making applesauce from the fallen apples from my tree. That tree is certainly a giving tree and I have more apples than I know what to do with. We can't pick them up fast enough! But apples signal Fall, and I'm not quite there yet.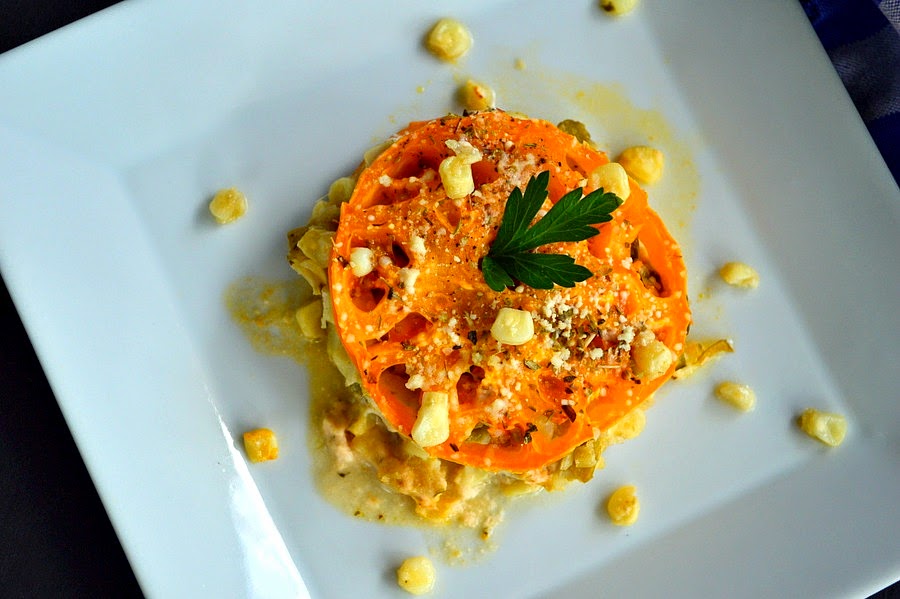 Tomatoes are at their peak and since I'm making up for not eating tomatoes in my childhood years, I decided to give you this great recipe for a unique tomato sandwich. (For lack of a better title, this is what I came up with.) I couldn't decide which tomatoes to buy; there were so many to choose from. I made it easy on myself though. I just chose my favorite colors! Zucchini is everywhere and chilies are beginning their short season. I spotted a few fresh roasted ones last week at Whole Foods and I know if I drove to Federal, the aroma of roasting chilies would be everywhere. Corn is still smelling and looking good, so I thought what better way to end summer than combining many of my favorite veggies.
I know you will like this calabacitas tomato sandwich. My father in law declared it disgustingly healthy, but then was pleasantly surprised to discover its salsa cream cheese filling. It is a pretty dish to serve your family and friends and quick and easy to prepare. I love its subtle spice, and adore the creamy filling. And even if it is disgustingly healthy, no one need ever know!
Calabacitas Tomato Sandwich
Yield: 6 Servings with some leftover filling
Time to make: 30 minutes with an extra 15 minutes to bake
Ingredients:
2 T olive oil
1 c chopped onion
3 minced garlic cloves
4 c fresh corn OFF the cob
4 c sliced and quartered zucchini
1 chopped jalapeno (I left the seeds in!)
2 c buttermilk
1 4 oz can drained green chilies or Hatch chilies
1 t oregano
1 t salt
Fresh black pepper to taste
Salsa Cream Cheese Filling
8 oz cream cheese softened
1 t garlic powder
1 t oregano
1/2 c grated cheddar
1 T salsa
3-4 large heirloom tomatoes, sliced into 12 thick slices
Sprinkle of oregano, salt and pepper
2 T Parmesan cheese, grated
Directions:
Heat 2 T olive oil in a large skillet over medium high heat. Ad onions an garlic and cook until translucent. Turn heat own to medium. Add corn, zucchini and jalapeno and cook about 5 minutes or until veggies have softened. Add buttermilk and simmer mixture on low about 15 minutes. (Vegetables should still have a bit of bite to them.) Stir in green chilies, oregano and salt to season.
Preheat oven to 350. While mixture is cooking, prepare filling. Stir softened cream cheese with seasonings and cheese. Stir in salsa to thin out mixture so that it is easily dolloped on tomatoes.
Slice tomatoes into 12 thick slices. Place 6 slices into an oiled dish. Top each slice with a heaping tablespoon of filling. Then top with a large spoonful of calabacitas, drained if necessary. Top with a slice of tomato. Sprinkle with some grated parmesan, oregano and salt and pepper. Bake for about 15 minutes. The tomatoes will be softened and the cream cheese filling should be warmed and oozing goodness.
Labor Day Feast Recipes:
Apricot, Blue Cheese and Chorizo Appetizer
Buttery Garlic, Parmesan Potato Chips
Red Onion, Blueberry and Pesto Tart
Zucchini Chips
Old Fashion BBQ Chicken
Grilled And Lightly Smoked Peruvian Chicken
Kale Salad with cherries, Almonds and Feta
Farro Summer Salad with Grilled Veggies
Elote Corn in a Bowl
Real Potato Salad
My Mom's Secret Cole Slaw
Blackberry, Blueberry, Basil and Browned Butter Cobbler
Cream Cheese Pound Cake
Texas Chocolate Sheet Cake
Please Pin and Share!