Cream Cheese Pound Cake is perfectly divine. The flavor is tremendous; it gets gold and crusty on the outside and the interior is moist and rich. Perfect as a "slice" or with fruit on top! This has been a family favorite for over thirty years!
I think, if I were a cake, I would be this cake. Don't get me wrong, I love my chocolate, but I would want to be something basic, something reliable, something strong. Something you could dress up and take anywhere or be perfectly happy with having all to yourself. At home, on the couch, or in bed, and especially at a picnic. Yes, I would be this cake. It has withstood the test of time. It has weathered long bouts in the freezer and still makes everyone happy. Its strong, golden crust sometimes crumbles if cu,t but then you can eat the crumbs. Ohh, they are good. It holds up to chocolate sauce, raspberry sauce, ice cream and fruit, and never loses itself in the process. It is a happy cake and makes the house smell good as it bakes.
Plus it is a quick, easy cake to make. And making friends the easy way is this cake's style. It doesn't judge or speak out of turn; it is just happy being in its place on the  cold tile counter and doesn't need a fancy cake plate to make it feel gorgeous. It lasts awhile like good friends should and can even be crumbled and tossed around without its feelings being overly hurt.  It is a good cake and is  proud of that fact. It is moist and rich and fragrant with vanilla. It is complex while at the same time being simple, which makes anything more interesting. It is a cake that has had many opportunities to shine on its own and in the shadow of something else without losing its own identity.
This cake was attributed to  Marsha Hill from an old Junior League cookbook, Posh Pantry, from Kankakee, Illinois. My mom sent me this cookbook in 1981 when I was just married, and I've enjoyed it ever since. I've been making this cake at least thirty years now and am never disappointed. My daughter even baked it in 8th grade for a class which has long escaped my memory, though I do have the video! You can bake it in a bundt pan or do as I do. I bake it in 2 loaf pans and then freeze one.
Moist is its middle name and rich, its last. But not too rich as it shines in many ways. I served this cake last week with fresh sliced, yummy peaches and a scoop of sweet cream ice cream. It seemed like peach cobbler but it wasn't. Just this glorious cake in all its glory. I've served it with chocolate sauce and whiskey sauce and raspberries, but not all at the same time. It does tend to fall a bit in the middle but that only exposes its interior beauty for all to see!
This cake should be in your repertoire. You will find many excuses to serve it. Perfect for a school function or perfect for a book club. Perfect for making your family feel special. And it takes like 10 minutes to mix up. Well, make that 15. Most of the time is in the oven while you are inhaling the aroma of sugar and vanilla and butter. And really what can be better than that – except maybe chicken on the grill?
Print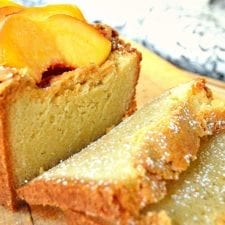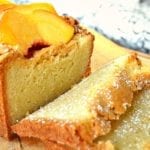 Marsha Hill's Cream Cheese Pound Cake
Author:

Prep Time:

20 Minutes

Cook Time:

90 Minutes

Total Time:

110 Minutes

Yield:

at least

12

1

x

Category:

Dessert

Method:

Baking

Cuisine:

American
---
Description
Cream Cheese Pound Cake gets gold and crusty on the outside and the interior is moist and rich. Perfect as a "slice" or with fruit on top! This has been a family favorite for over thirty years!
---
3 sticks butter at room temperature
1 8oz package cream cheese at room temperature
3 c sugar
pinch of salt

2 t vanilla
6 large eggs at room temperature
3 c all purpose flour
---
Instructions
Grease and flour 2 8×4 loaf pans or one 10″ tube pan. Preheat oven to 325 degrees.
Cream butter, cheese and sugar until light and fluffy. Add salt and vanilla, beating well. Add eggs one at a time, beating after each addition. Gradually beat in flour on low speed, so you don't make a floury mess of your kitchen. Or drape a towel over your mixer while adding. Spoon into pan or pans.
Bake about 1 1/2 hours or until a skewer comes out clean. Do not overfill your pans or some could end up on your oven floor.
Marsha says to serve with red raspberries which I totally concur. Or any berry, or any peach, bananas or ice cream or whipped cream or hot fudge or caramel or a splash of bourbon… I could go on, but I won't!
---
Keywords: Cream Cheese Pound Cake, Cream Cheese Pound Cake Recipe
More Things To Eat:
Martha Mervis's Cake
Sugar Cake
Brown sugar Spice Cake
Don't Lose This Recipe! Please Pin and Share!