Chocolate Texas Sheet Cake is perfect for a crowd.  The frosting is so good you can eat it with a spoon and the cake is so moist it will last a week if well covered…but no worries…I promise, it won't last that long!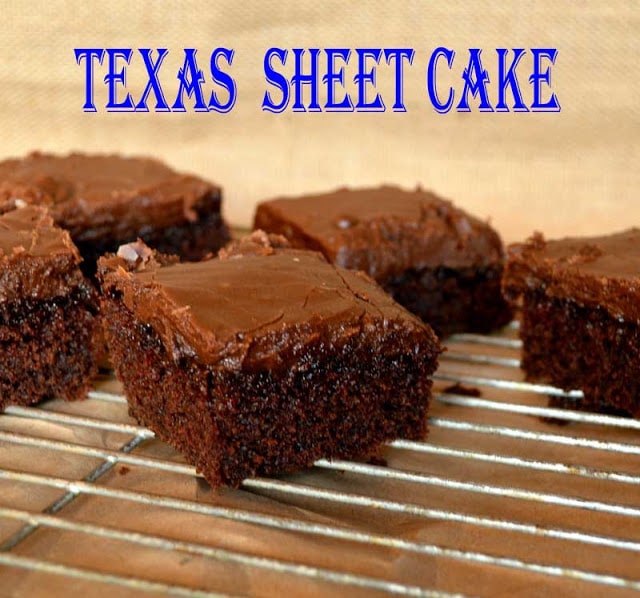 The rabbit catcher is from Texas.
Ho
uston to be exact. A long u please.. That's how they all say it when they talk and catch up, y'all. We met in Colorado where we both moved to escape our various climates and to go to school. Yes, I did go to school kids, even if I met your daddy there. And I did graduate and not just with an MRS, as some like to say. And thirty some years later we are both still here. But I think the rabbit catcher's parents have always blamed me for not getting their boy back to Texas. And what can I say? Well, I may not have brought the boy back, but Texas is still in his DNA.
Now the rabbit catcher loves his bbq. He loves his TexMex. And he loves his beer. And now he loves this cake. But I gotta tell ya'. He had never heard of this cake. When I told him it was a Texas sheet cake, "He said-a what? It doesn't taste like sh–." His hearing isn't so good either. Yeah, the rabbit catcher's humor is surely interesting. When I explained  a Texas sheet cake is called a Texas sheet cake by virtue of the fact that it is baked on a sheet or a large pan, he wondered why he'd never heard of it before. I don't know rabbit catcher, but I'm sho glad ya liked it.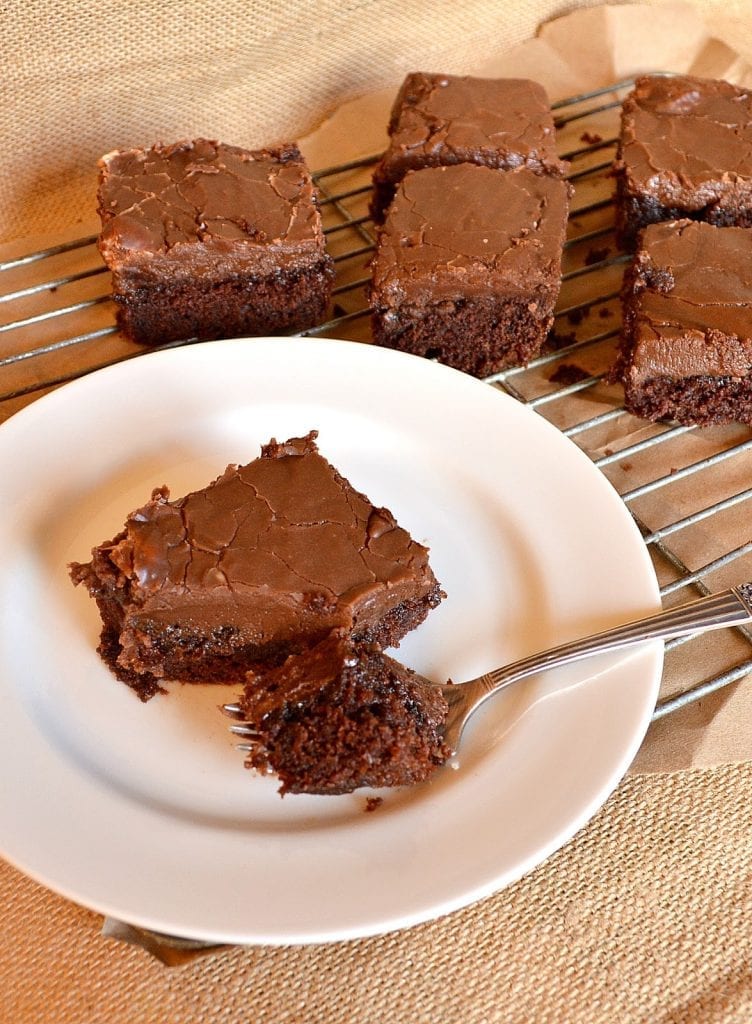 So now I see Father's Day is upon us. I don't have to look at a calendar to know this. When you read a lot of blogs you know what holidays are coming up, by the topics people write about. I can now tell you without a doubt that men like meat. They like bbq and nachos. And lasagne. They love steak and hot sauce. The hotter, the better. My man likes his cigars and his special tequilas. And I mustn't leave out hamburgers or hotdogs. Or brownies or cake or watermelon. Yes, it is pretty clear to me what dads like to eat. FOOD. And as long as it is prepared by someone else, things are pretty, pretty good.
So hell. I'm going to give you another chocolate cake recipe. It took me years (about 30) to make this, but the rabbit catcher was pretty happy. My son liked it, too but he likes everything. But me-well, I loved it! This cake was moist and tender, easy to make, no mixer required and the frosting is killer. Plus, it is meant to be made for large crowds, hence the name sheet cake. No cute three layer cake here, folks. This one is the bake in a pan, take to the bake sale cake. Or take to the potluck, cake. You could serve it with ice cream, but I'm a purist kind of girl. Just give me a glass of milk and I'm happy.
So y'all. If you got a big group gathering this weekend, this is most definitely the cake to bake or make. Or take. Wow, Mondays are so eloquent! And I can attest to the fact that it keeps for a good 7 days not refrigerated, and still tastes sweet and moist and plain old delicious. Make the dads happy. Make anyone happy. If chocolate is their thing, this oughta do.
Please Pin and Share:


Other foods Dad may like:
Print
Texas Sheet Cake
Yield:

12-16 or 8 hungry Texans
---
Description
2 c sugar
2 c flour
2 sticks melted butter
4 T unsweetened cocoa
1 c coffee (room temperature)
2 eggs
1/2 c buttermilk
1 t baking soda
1 t vanilla
1 cup chocolate chips
---
Ingredients
Preheat oven to 400. Grease a 9 x 13 pan
In  large bowl, mix together sugar and flour.
In pot, melt butter. Add cocoa and coffee and heat until boiling. Remove from heat. Pour over sugar/flour mixture. Stir well.
Mix eggs, buttermilk, baking soda and vanilla in large measuring cup. Stir into cocoa mixture.
Scrape into greased pan and bake for 20-25 minutes. Check. Toothpick should come out with tiny crumbs sticking to it and the sides of the cake should be pulled slightly away from the edge of the pan. Sprinkle with chocolate chips. Now pour and smooth icing over the top. Chips will melt into the frosting and cake. Put back in turned off oven for about 5 minutes. Spread again if needed.Take out and place on rack. Let cool. Frosting will harden as it cools.
Frosting
1 stick butter
4 T cocoa
6 T milk
1 t vanilla
1 pound powdered sugar
When cake is almost done, melt butter in large bowl in microwave. Whisk in cocoa, milk and vanilla. Add powdered sugar and beat well. Spread over cake while both are still warm.
---
The rabbit catcher saved these!