A beet heart salad filled with goat cheese, topped with a maple mustard vinaigrette, sprinkled with pomegranate seeds; this salad is pure delish! It may not be Valentine's day candy, but it is sure to win anyone's heart!
I love a salad before or during my meal, so this year I will jazz up the evening with this fancy schmancy beet and goat cheese salad. This beet and goat cheese salad is superb, and the maple mustard vinaigrette is over the top. You will soon be making it to serve on all your greens. This also might be one way to get your kids to eat beets. It's kind of weird that I never served beets to my kids and now they are the rage. Zoe loves beets and what is more perfect for Valentine's Day? I do love all the pink and red desserts that out there, but this is another way to add some shades of red to your meal and make your family feel special, in addition to lovingly providing them with tons of beetroot nutrition!
Besides a delicious salad I also love flowers…particularly roses and every thing is coming up roses-at least that's how it feels in Colorado. Our weather has been incredibly warm and I'm almost not wanting winter to return. I'm sure it will, but in the meantime I swear my roses are starting to turn green; not a good thing so early in the season. Speaking of roses, (great segue, huh?), Whole Foods has a great rose special for your favorite valentine. If you get there fast you can score 1 dozen fair trade roses for $12.99 or two dozen for $20. Last year the Whole Foods closest to me ran out, so this year I hope Manservant gets there early.
If you are thinking roses, you may want to take a look at this chart. Since everyone seems to be talking shades of grey lately, I thought it best that we add in some prettier colors. Rose colors, if you will. During the Victorian era the language of flowers was an important thing to know. Flowers often conveyed messages of love or dislike, so be careful what you choose, Make sure that posy is sending the right message!
Rose Colors Defined:
· Red – true love, passion and respect
· Dark Red – beauty, perfection and adoration
· Pink – romance and admiration
· Deep Pink – appreciation, gratitude and sincerity
· Light Pink – sweetness and gentleness
· Orange – desire, passion and excitement
· White – spiritual love, purity and new beginnings
· Yellow – warmth, joy and friendship
· Lavender – love at first sight
When I look at this list I think I deserve one of each color! But truthfully my favorite shade of roses are pinks. I love the palest pinks and the deepest pinks. What about you?
Saturday night found us at an engagement cocktail party for one of Zoe's close childhood friends. Since it ends at 7 and I'm not sure we are going to want to go out for dinner, we will probably end up at Whole Foods. (Yes, this is a Whole Foods post!) They have some great dinner for two specials, such as salmon or a petite sirloin or even an eggplant Portabella Napoleon; each with truffled mashed potatoes and asparagus. The specials are $24.99 for two which seems like a great deal to me! Add some cheese before hand, a bottle of wine, a little chocolate for dessert and you've got a romantic evening ahead of you. Well, I hope you do!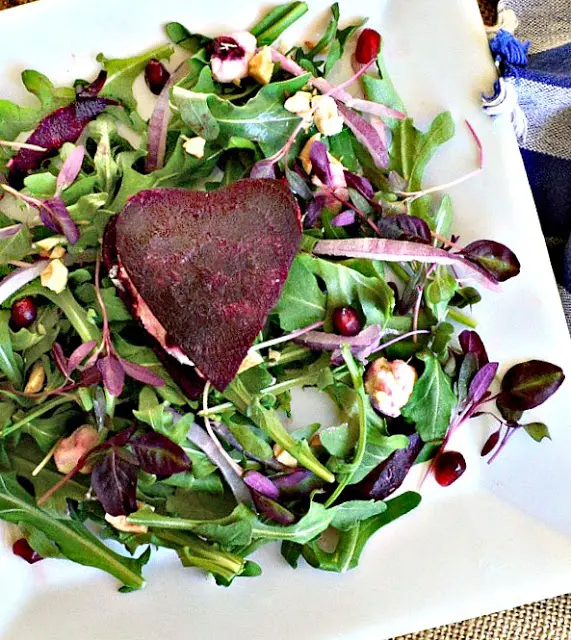 Have a great Valentine's Day and enjoy this salad. With or without the beets, the maple mustard vinaigrette should become a staple in your home. This beet heart salad will not take the place of roses, but will surely win your heart! It may even turn you into a beet lover!
Print
Beet Heart Salad with Maple Mustard Vinaigrette
Author:

Abbe Odenwalder

Prep Time:

15 Minutes

Total Time:

15 minutes

Yield:

2

-

4

Servings

1

x

Category:

Salads/Side Dish

Cuisine:

American
---
Ingredients for dressing:

1/3 c maple vinegar OR 2 T maple syrup and 3 T balsamic vinegar

1/2 t chopped garlic

Juice of 1/2 a lemon

1/4 to 1/2 t salt

a few grindings of pepper

1 1/2 t Dijon mustard

3 T olive oil

1 T mayonnaise

Ingredients for Salad:

2 beets cooked

1 good size handful of your favorite greens (I used arugula)

3–4 ounces of honey goat cheese

1 handful of chopped hazelnuts or your favorite nut

1 handful of pomegranate seeds or dried cranberries, cherries or strawberries

2–3 thin slices of red onion

2 T of pretty microgreens
---
Instructions
Make your dressing by combining vinegar, garlic, lemon juice and salt and pepper.
Whisk in Dijon mustard. (My favorite kitchen tool is my teeny little whisk.)
Now slowly whisk in the oil and get a little emulsion going.
Last, add the mayo and whisk that in too. (This is optional, but it gives the dressing a creamier texture.)
Salad:
Take your cooked beets and cut them into thin slices. Pull out your small valentine heart cookie cutter that is hiding somewhere in THAT drawer. Cut your beets into hearts. Put about 1 T of goat cheese between two beet hearts. Set aside.
On individual plates throw on those greens. Toss on some hazelnuts, pomegranate seeds or dried fruit, a few wisps of red onion and maybe some leftover beet pieces and a little more goat cheese. Last but not least, add a flourish of microgreens. Top with a beet and goat cheese heart.
You could toss this salad ahead of time with the dressing, which you may or may not want to use all of. I like to drizzle it on at the table because I think the salad is so pretty before it is tossed.
---
Keywords: salad, beet heart salad, goat cheese salad, vinaigrette, beet salad, roasted beets, fresh beets,