This outstanding shrimp stew is filled with flavors such as coconut, lime and tomato. Served over coconut rice, this is ready in under thirty minutes!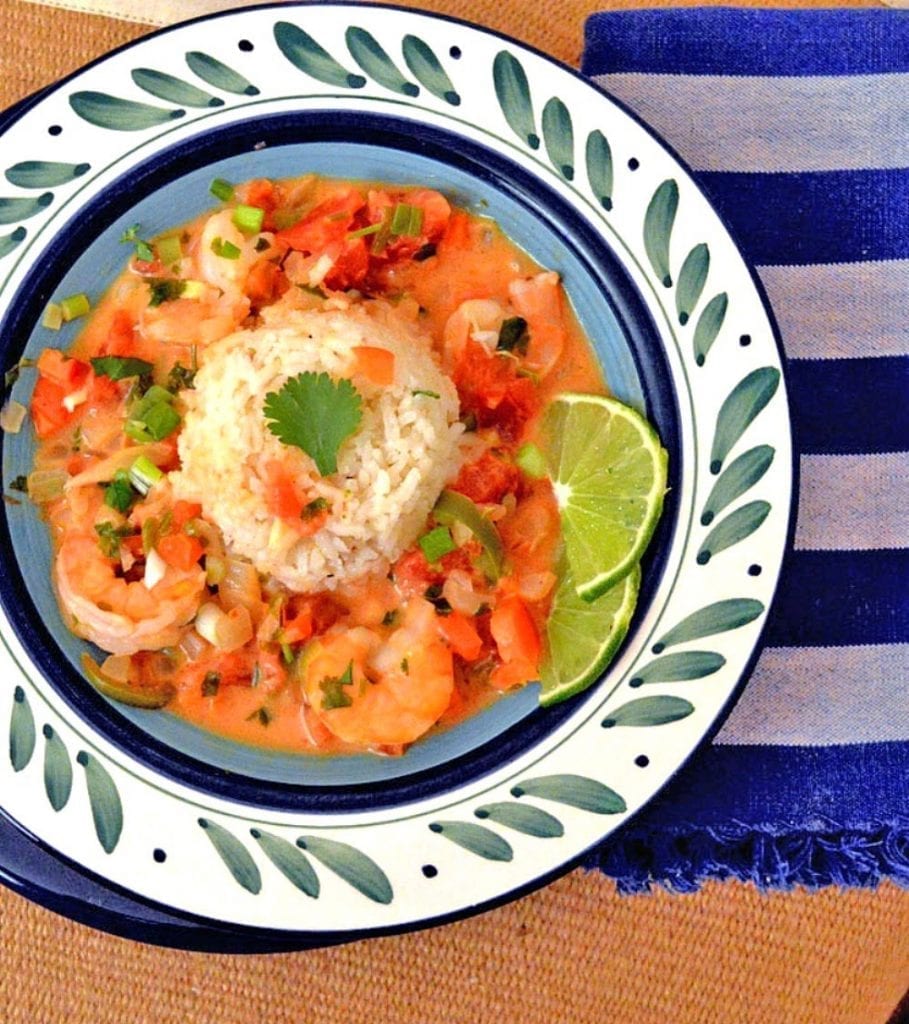 By the time Sunday night
rolls around, I am not in a great frame of mind to cook. I've laid around, with
any luck, over the weekend, and sometimes it is hard to get inspired. Going out
is not an option for us right now as our budget is very tight. I'm not a fast
food person and even if I caved and let my husband go to Chipotle, I'd have a
hard time justifying the $8 or so that he would spend on a burrito. I'm hoping
this changes very soon because I am more than ready for a break; cooking and
otherwise.
In the meantime I guess it
is good that I can cook. I get bored easily when cooking so when someone asks
me what my specialty is I have a hard time answering. Truthfully, it is
whatever I'm cooking that day. I love to read about food, and when times are good
I love to dine out. Somewhere in my odd mind I tuck these food thoughts away
and at other random moments they reappear. I tend to want certain foods based
on when I had them during my travels. Several conferences in Baltimore and New
Orleans during the spring months in the pre kid era, now cause me now to want
crab cakes and Cajun food in the spring. And of course last year I was in Jerusalem, so now I add
Middle Eastern food to the mix. When I was pregnant I had strong cravings for
McDonald's cheeseburgers but that ended about 22 years ago, thank goodness; though
I still crave sesame shrimp and much to my chagrin, that restaurant closed a long
time ago. I still love dim sum during Chinese New Year and my need for
potstickers never disappears. April and this year in March, has me
thinking matzoh and so I need Passover recipes. Summer is entirely filled with
corn and so it goes. I'm sure if you follow this blog long enough you could
spot a trend.
But what does this have to
do with Sunday night? Not much really. But I found a good recipe that has me
escaping to Brazil
at least in my mind. (Denver
does have a good Brazilian restaurant that is fun to try if you ever need
something to do.) Maybe it is a little like I imagine Brazil to be-peppery, rich, but not to rich, and colorful. This was a quick recipe which is good on a Sunday night and
it even gave us leftovers for the week. It is perfect dinner party fodder as
you can get it ready and add the shrimp 5 minutes before you are ready to
serve. I made a coconut lime rice that was perfect and with the addition of a salad, you definitely have a meal that everyone would be happy with. It is a pretty
dish but the light at night doesn't show it off. Well, hopefully you get the
idea!
The strange thing is that
this dish has me singing this song-"You put the lime in the coconut and mix'em both
up. You put the lime in the coconut and drink 'em both together. You put the
lime in the coconut-then you'll feel better." The strange thing is-I think it
might be working! See for yourself.
Serves 4
Time to Make: About 20 minutes
Ingredients:
2T olive
oil
1 c
chopped onion
1 c
chopped red pepper
1 seeded
jalapeno sliced thin
3 cloves
chopped garlic
½ t red
chili flakes
1 15 oz
can chopped tomatoes
¾ c
canned unsweetened coconut milk
Juice of ½
a lime
¼ c
chopped cilantro
¼ c
chopped green onions
¼ t fresh
ground black pepper
1 lb raw
medium peeled, deveined shrimp
Directions:
Heat 2T
oil in large pot over medium heat. Add onions, garlic, peppers and chili
flakes. Saute 5 minutes. Mix in tomatoes, coconut milk and lime juice, cilantro
and green onions. Simmer a few minutes. You can turn this off if you are not
ready to serve yet. When you are, rewarm over low heat and then add shrimp. Season
with black pepper and salt if needed. Let shrimp cook for about 5 minutes or
until they are opaque and have turned color.
I served
this over coconut rice.
Coconut Rice
1 c rice
1 clove
garlic
1T oil
Juice of ½
a lime with a bit of zest
¾ c water
1 c
coconut milk
½ t salt
Saute
garlic in oil and add rice to toast a bit. Then add lime juice, coconut milk, water
and salt. Bring to a boil over medium high heat. Turn down to low and cover
with lid. Let cook for about 15-20 minutes or until when you lift lid water has
evaporated and there are dimples in your rice. Stir in a bit of lime zest and
fluff rice with a fork. Enjoy!
Please Pin and Share: