Galveston, oh Galveston, I still hear your sea winds blowing… OR…Going home to the armadillo… Or….OK Houston, we've had a problem here…Take your choice but tomorrow I'll be there to lend a hand. Yes, I'm heading to Dickinson where my in laws live. They were pounded with rain which led to 30″ of water on their lower level. They were taken out by boat and luckily had friends with a space for them to lie. My father in law has been strong and with the help of my niece, nephews, sister in law and friends, life is quickly starting again. They already have their place cleaned out along with a lot of life's belongings. At 85 years old, they've been through a lot. We hope to go down, try to relax them a bit and come up with a plan for redoing. I think I might be cooking; maybe a little power washing and some hand holding. Hopefully that may drop the stress level a bit. We just bought our tickets late last night and are leaving bright and early tomorrow. I've got some cookies to pack and a few bottles of wine. The important thing is everyone is safe. But I must say it is so hard to see photos like this. And who knows what's in it.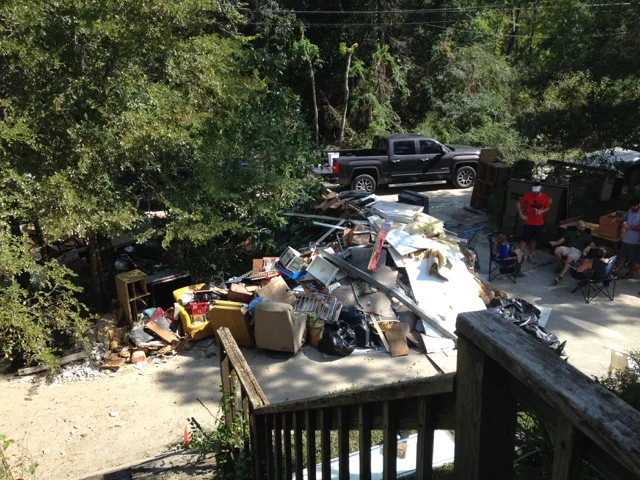 On to my brother in law who lives in Angleton. He was interviewed by the Huffington Post as they filmed a live tour of his house. His house that he just moved into in February. His house that just had received new paint, new floors and new people that loved it. That house? Might be a total goner. Don't know, but his house has so much water that they don't expect it to go down for at least another week. By that time the mold has started and it gets a bit dicey to save anything. If you knew my brother in law, you'd know he's been through some tough times. All of them he's weathered with grace and my guess is he's a lot wiser than he lets on. You never know where you'll go in life, but wherever he's gone he's made an impression…and it's a good one. The man has friends in places I can't even count.. and I can tell they all adore him.
So this is short, but I'm trying to be more considerate of my faithful blog readers and let you know what I'm doing. In this case I'm not sure what I'll be doing, but whatever it is I promise I'll be doing it well. And I'll be grateful that I'm OK and my family is OK and I'll be reminding myself that life is a journey. And one I'm grateful to be on.
Somehow late last night I chose these recipes to serve you. They are old ones and have awful photos but they taste very good. Check them out and for more ideas you can always look under my recipes page. I think I have about 400 right now which truthfully surprises even me!
————————————————————————————————————————–
This smoky pumpkin hummus is a great way to remind us that fall is here. Easy to make, this one is great for hummus lovers.
OK! SO you may not like mussels but everyone loves fries! I've been making these mussels since college and they are still a favorite of ours. An easy meal and well-what meal doesn't go better with fries?
I love dishes that are easy to make. Try this riff on roast chicken. I adore Ottolenghi's recipes and this is a great way to start cranking up that oven.
Here's what I have to say about ketchup chicken. MAKE IT! I could eat this every day!
These shrimp…Garlic and Lime make a sauce that is to die for. One of the first recipes on my blog, this one is a winner!
Well, here's to all the tomatoes I'm leaving on the vine. Think I might even make this in Texas it is so good and I know of at least one lasagna lover down there.
Sounds weird. It isn't. It's just plain good!
So we all need a salad and this is an easy cupboard one. Full of flavor, this one knocks everyone's socks off!
Make this only if you are cool. Or cool to roast chicken, cornbread croutons, corn avocado, dates and a great apple cider dressing. Just sayin'.
Make these because they have pumpkin. And pumpkin seeds. And it's fall!
And if you need a second choice. These cookie like cupcakes loaded with frosting are sinful. So you better skip them!
Please Pin and Share: