Magic Pumpkin Butter Bars are perfect for the fall season. Loaded with pumpkin seeds, white chocolate, toffee and oh yeah…pumpkin butter, these magic layer bars with pumpkin butter are divine!
These magic layer bars with pumpkin butter disappear fast. No wonder with a gingersnap crust, and a pumpkin butter filling, these simply decadent layer bars are not just easy to make , but are even better to eat. Made with a pumpkin butter filling, courtesy of Trader Joe's, these magic layer bars with pumpkin butter are finished off with pumpkin seeds, but feel free to use the nut of your choice. They taste great cold, and are also decadent at room temperature. Sultry and spicy and rich, they are what the season of fall represents, at least to me. Let me warn you, they are also magical, which seems to be the best way to describe my trip!
It is turn around day – meaning unpack, wash clothes and pack again. I'm not used to this! After having had a fabulous time with Zoe exploring the Brandywine Valley, it is now off to Phoenix where my landscape will be a sea of boxes! Though I am still not feeling 100% about my parent's move, I will be happy to have it over with.
So very quickly, as I have way too much to do, I will tell you what makes these bars so magical. It begins with their ease of preparation and ends with their lovely Fall flavor. I brought a batch to Zoe's where I left them in the able hands of her boyfriend. I guess one exchange for the other, if you know what I mean! He happened to text Zoe that they were magical, so you will have to trust him on this. Of course he confessed to me that he also has a cookie and cake addiction, which means we have something in common. What we don't have in common is that he is tall and thin and well….I am just the opposite.
I took lots of "great" pics on the trip and even put a few on Instagram. My daughter finally feels I am entering the modern world! This involved getting rid of my flip phone which now means I need to learn something new! And if you tried to follow me on Instagram I had the follow name wrong. Mine is This_Is_How_I_Cook. What a hassle to type, so I will get a button soon! But I did take lots of photos of us having fun! I've never seen so many pumpkins in my life in PA, nor have I seen so many people picking them!
We also had a super time at the bed and breakfast. Check out Hamanassett, when you have a chance. Glenn and Ashley are fantastic hosts!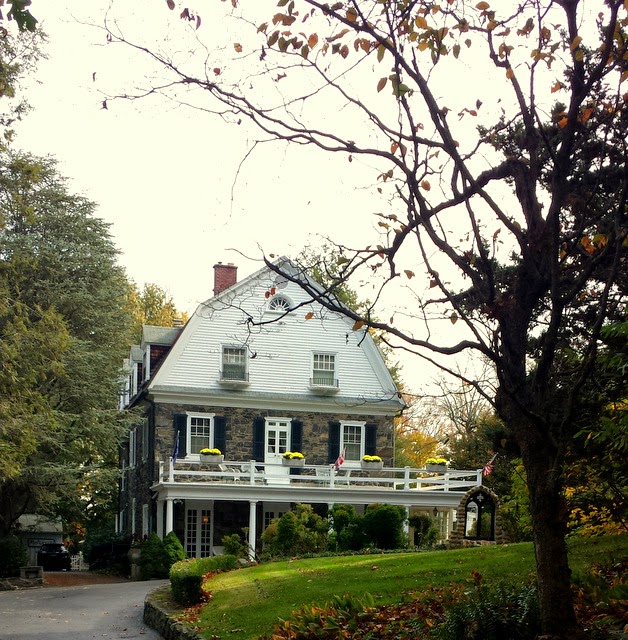 It was a close, quaint getaway from Philly. On the way we stopped and did some apple slinging, and some apple picking. Everyone picks apples carrying their Michael Kors bags, don't they?
We also saw a lot of pumpkins. And oh yeah, we ate these decadent potato chips, too! Aren't they gorgeous?
The next day we explored Winterthur, where we saw the Downton Abbey costumes and the fabulous mansion. And Zoe climbed in the giant bird's nest.
Sunday found us at the Brandywine Museum which contains an outstanding collection of Wyeth paintings that I have adored, ever since my parents had one of their art books on our coffee table. Yes, we ate a lot and also visited a store called
Terrain
that is owned by Anthropologie, and is a remarkable landscaping, garden and home goods store, that has a cafe I could live in. I've already checked out their great site and signed up for their blog. Wouldn't you just love to dine at this table?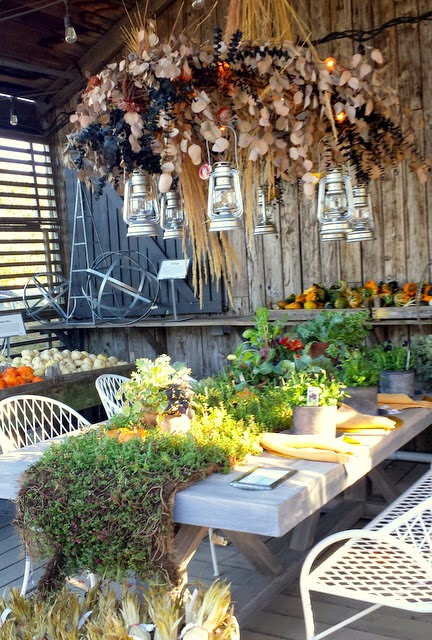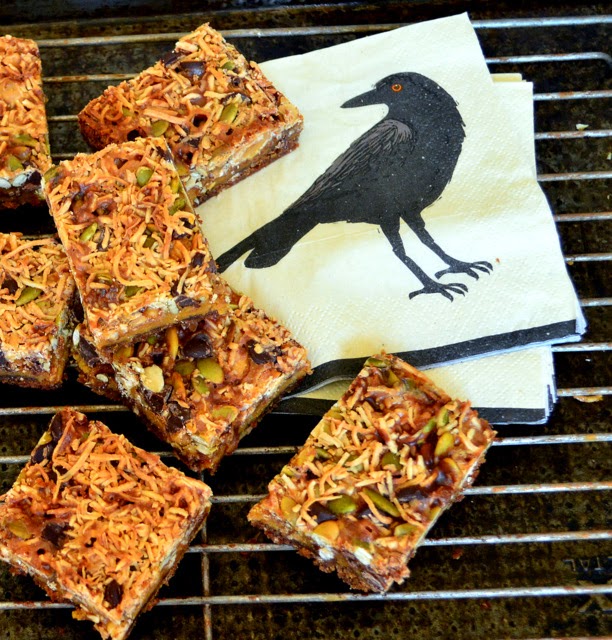 Print
Magic Pumpkin Butter Bars with Pumpkin Seeds and a Gingersnap Crust
Author:

Prep Time:

20 Minutes

Cook Time:

45-60 Minutes

Total Time:

65 Minutes

Yield:

1

13 x 9 pan

1

x

Category:

Dessert

Method:

Baking

Cuisine:

American
---
Description
Magic Pumpkin Butter Bars are perfect for the fall season. Loaded with pumpkin seeds, white chocolate, toffee and oh yeah…pumpkin butter, these magic layer bars are divine!
---
2 1/4 c graham cracker crumbs or gingersnaps crushed to make 2 1/4 c
1 stick butter
8 T pumpkin butter or 3/4 c pumpkin mixed with 2 1/2 t pumpkin spice
1 can condensed milk
1 c Heath toffee chips
3/4 c white chocolate chips
3/4 c semisweet or dark chocolate chips
1/2 c green pumpkin seeds
1 c shredded coconut
1/4–1/2 t coarse salt
---
Instructions
Preheat oven to 350. Line 13 x 9 pan with a sheet of parchment paper.
Mix butter with crumbs in a bowl and pat into the bottom of a 9 x 13″ pan.
In small bowl mix pumpkin and spices or pumpkin butter with condensed milk. Pour over top of crumbs.
Top with toffee, then white chocolate chips and then the dark chocolate chips. Sprinkle on the pumpkin seeds. Last, but not least, add the coconut. Then sprinkle with a bit of coarse salt.
Bake at 350 for about 45-60 minutes. Let cool and refrigerate. Lift parchment out of pan and cut bars into size of your choice. Serve cold or at room temperature.
---
Keywords: 7 layer bars, 7 layer bars recipe, magic 7 layer bars
Sharing and Pinning Keeps My Blog Going!