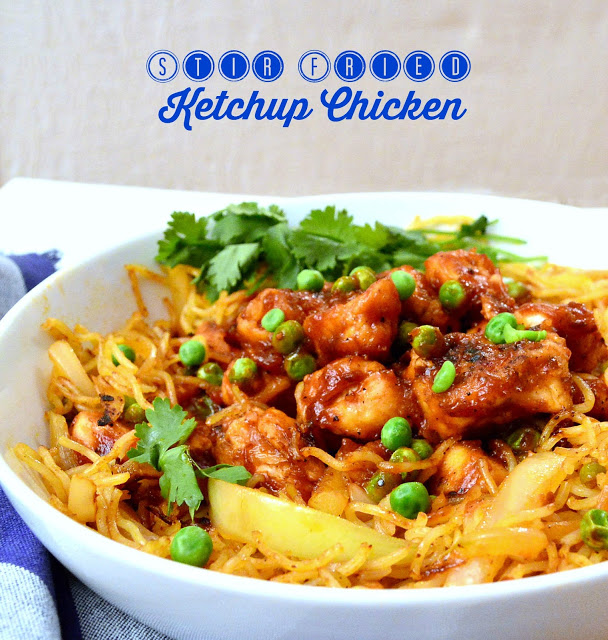 Ketchup chicken, where have you been all my life? Honestly people, being a ketchup lover, I can't believe I haven't discovered this before now. Truly Mark Bittman has been holding out on me! I ate ketchup on everything as a child. It always held an important role on our table and was used recklessly on chicken and steak and even scrambled eggs. Back then there wasn't such a thing as jarred salsa and who had ever heard of sriracha? The closest we got to condiments was Heinz 57 or Worcestershire for one's steak. But I was simple. Ketchup floated my boat.
As a child my mother used to make ketchup sloppy joe. She never made it for my father. She only made it before they abandoned us wee ones at home. We didn't care because we had ketchup sloppy joe. It wasn't really sloppy joe. I think all she did was brown the beef and add ketchup. That was our bribe for not giving the sitter a hard time when they departed. My parents were the social type. They went out a lot. If I recall there was always golf in the summer, theatre tickets or the numerous cocktail parties. I think parents did a lot more socializing without kids back then. But what the heck? We ate like kings when they were gone. Many times we were bribed with Swanson's TV dinners-the ones with the Salisbury steak, corn and the brownie. We also adored their chicken pot pies. And get out-who doesn't love Jeno's pizza rolls and Sara Lee brownies for dessert? There was no powdered macaroni and cheese or spaghetti o's in our house, and I still don't know the reason why. Nope. My mom preferred freezer meals!
But back to ketchup chicken. Such a glorious dish certainly should bear a better name, but alas, this says it like it is. Ketchup chicken, I love you.
_________________________________________________________________________________
I served my ketchup chicken over yakisoba noodles. I guess I still have a yearning for Chinese! In any case this chicken would also be great over potatoes or rice or spaghetti. Kids love it. Adults love it and it takes minutes to prepare. While cooking the ketchup color deepens and sightly caramellizes. One could adjust this with other flavors and make this into a Chinese meal or Italian or even Mexican. But the truth is it is the simplicity of this that makes it so lip licking good. And oh yeah. The peas are strictly for color. They do taste good, but the original recipe lacks veggies of any kind. But feel free to throw the peas on, if it makes you feel healthier!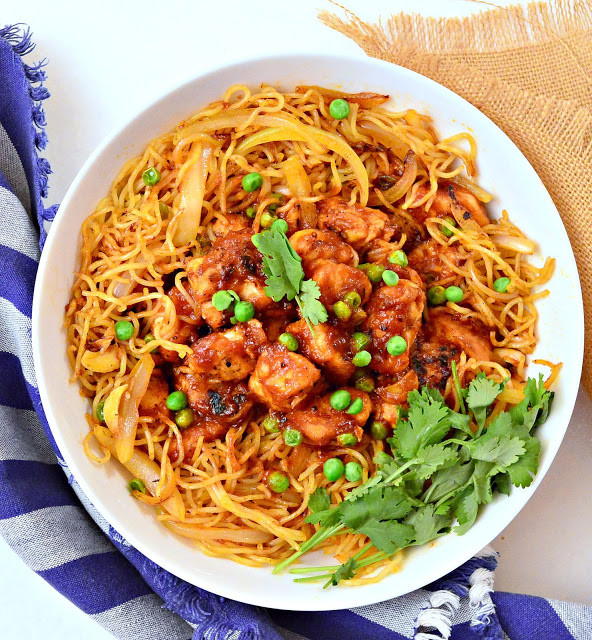 Ketchup Chicken
Serves 4
Time to make: 20 minutes
Ingredients:
1 1/2 lbs boneless chicken cut into 1″ chunks (I used white meat, but Mark prefers dark)
1/2 c flour or as needed
4 T canola oil
Salt and Pepper
2 T slivered garlic
1/4 t cayenne or sriracha mixed with:
1 c ketchup
Directions:
Toss chicken with flour so that it is lightly dusted. Put 2 T oil in a large skillet, preferably nonstick, and turn heat to high. When oil smokes, add chicken in one layer. Sprinkle with salt and pepper.
When chicken browns on one side, turn or toss and cook on other side. This shouldn't take more than 5-10 minutes. Remove from pan. Turn off heat and let pan cool for a few minutes.
Add remaining oil to pan and turn heat to medium high. Add garlic and cook, stirring for about 2 minutes. Add ketchup and stir; cooking until ketchup bubbles and darkens slightly. Return chicken to pan and stir to coat with sauce. Taste and drool.
(Once removed the chicken from the pan, I tossed in some slivered onion and cooked that briefly. I then added a package of yakisoba noodles and stirred then around until warm. This picked up the flavors of the ketchup and garlic and was yummy with the chicken.)
More to Eat:
Lemon Garlic Roast Chicken Sloppy Jose Fudge Brownies w/ Filling