This post may contain affiliate links. Please read my disclosure policy.
Garlic shrimp is for shrimp and garlic lovers. Or should that be the other way around? This Mexican version with lime always brings me back to happy days on Mexican beaches. I hope it does the same for you!
Garlic Shrimp, Mexican style with lime, a standby recipe in our home contains most of the staples I always have on hand. I keep shrimp in the freezer, garlic and lime always in the fridge and of course, there is no lack of butter or oil in our home. Cilantro or parsley is always available as are chilies in every form. What I am sharing with you today is my daughter's most requested recipe. She has called me from London just to get this recipe. She has called me from other places, too but now I am preserving it in written form so she will now have to call me for something else. But thank goodness I have a daughter that calls a lot, so I am not worried.
A few notes about this dish. You must love garlic. You must love lime. And you must love spice in the form of chili flakes. You also must like a quick, easy to fix recipe that doesn't require a lot of time in the kitchen. I had been searching for this dish for years as it reminds me of the lobsters I always order in Mexico that were slathered and drenched in garlic butter. Now this is not lobster, nor am I in Mexico, and I also don't have a waiter serving me-but despite all of that-this is a favorite go to recipe. And if you don't eat shrimp you could try it with chunks of tuna, swordfish, or of course lobster, instead of shrimp. You might also try it with cubes of chicken, but truthfully I have never made it past shrimp.
I get to use two of my favorite tools in making it, but these are not required. I love my Milagro Tequila (https://www.milagrotequila.com/) lime press which was the best gift that I have ever received from a tequila distributor. Not that I have received any other gifts from tequila distributors. Truly it is a great lime squeezer and my husband informs me that the tequila is very good, too. I also still use my Grandma Fanny's garlic press which always makes me think of my Grandma Fanny and how I wish she could have lasted as long as her garlic press has; though she probably wouldn't have used it for a recipe like this.
What should you know about choosing shrimp:
I always choose IQF's which means that each shrimp is individually frozen. I also try to look for sustainably farmed or fished shrimp which generally means they are freshwater shrimp.

The size of the shrimp can vary from small to colossal so the number of shrimp per pound determines the size. If I tell you to get 25's this means they are jumbo shrimp and you get about 16-25 per pound. Whatever you are making should determine the size of shrimp for that dish. You may not want giant shrimp on a shrimp salad sandwich or teeny shrimp in your favorite pasta dish.

How do you tell if a shrimp is fresh? Well, I think this is obvious, but please never buy a shrimp that smells like ammonia or that is slimy and limp. And keep in mind most shrimp are frozen so if you are buying from the seafood case those shrimp are probably just thawed. Watch out for freezer burn. Shrimp that have been refrozen or poorly handled may show white spots that are freezer burn. Stay away from those!

I thaw my shrimp by putting them in a strainer or colander and run cold water over them. Easy peasy and fast! Dry them on paper towels.

Preferably buy shrimp with shells on and split. Shells help protect the shrimp when frozen and the shells can be used in stock if you choose.

It's easy to peel a shrimp, especially those that are split. Just hold onto the legs and then unwrap the shrimp from its shell. Pinch off the tail last. There are a million ways to peel shrimp on You Tube but this has always worked for me.

No. I do not buy cooked shrimp. It is just so easy to cook your own.

Do you devein your shrimp? That is up to you but I recommend it since that is the digestive tract of the shrimp. Generally though, most shrimp now are already deveined.

What color shrimp should you buy? I like white shrimp which tend to be found in the Atlantic, Asia and Latin America. They are sweeter than brown shrimp and I prefer their texture.
Garlic Shrimp can be served over pasta or rice or even couscous. They can even be served as an appetizer but I guarantee you won't be able to make enough to satisfy the crowd. This garlic shrimp saute is a great change from Italian dishes and should be served with flour tortillas on the side to soak up all that extra garlic butter. And if you want to add a little extra butter at the end to make it saucier, well, I see no harm in that.
Chiles are left up to you. If you have whole Arbol chilies on hand by all means use them. But if not a pinch of chile flakes or more, totally gives this garlic shrimp recipe a bit of extra punch. I would not leave them out. Just don't overdo it because you want the garlic and lime to shine.
We've enjoyed this recipe for many years. It is simple and quick and totally satisfies the garlic urge. And the smell while cooking is totally sublime. This was one of the first posts I ever published so I figured it was long overdue for an update. Good recipes never die!
Need a few more shrimp recipes? I've got them:
Please Pin and Share: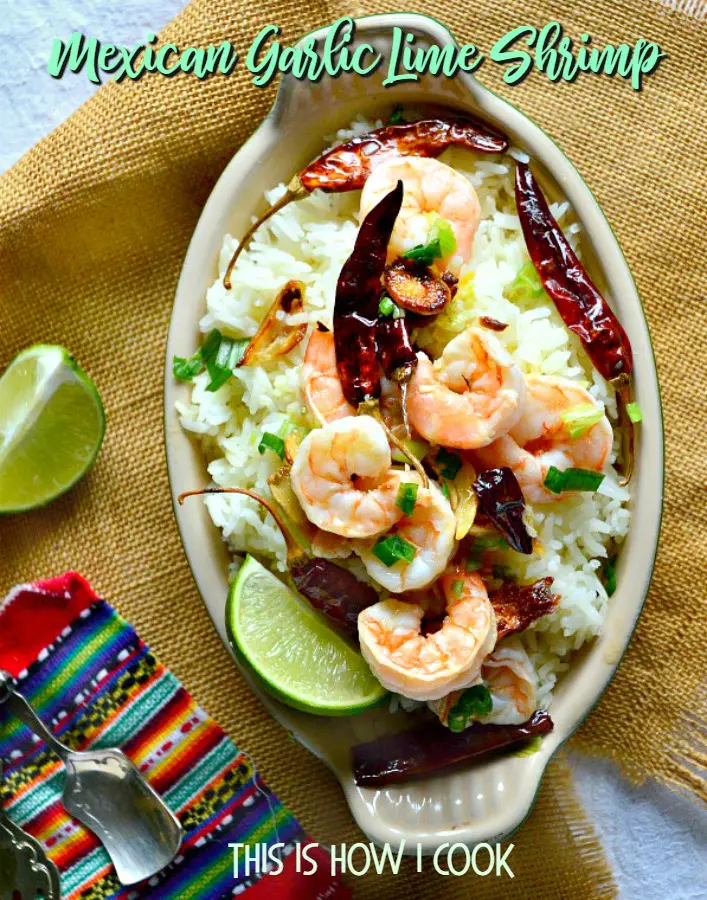 Print
Mexican Garlic Lime Shrimp
Author:

Abbe Odenwalder

Prep Time:

15 Minutes

Cook Time:

5 Minutes

Total Time:

20 Minutes

Yield:

4

Servings

1

x

Category:

Main Course

Method:

Stovetop

Cuisine:

Mexican
---
Description
Garlic shrimp is for shrimp and garlic lovers. Or should that be the other way around? This Mexican version with lime always satisfies.
---
1 lb frozen shrimp thawed, peeled and deveined (I use 25's)

1 large head garlic- separated into cloves and peeled
1 t coarse salt
2 limes worth of juice
Freshly ground pepper (this adds a lot of flavor in addition to the chiles)
3 T olive oil
3T vegetable oil
20 dried arbol chilies (I use about 1 t dried chili pepper flakes, but you may want to test this)
1 T butter or more
2 T Cilantro, rough chopped
Rice or couscous or pasta to serve shrimp over
---
Instructions
Crush 2 cloves of garlic to a paste with salt in a medium bowl. Stir in the lime juice and a good grinding of pepper. Add shrimp and toss to combine. (I let this stand 5 to 15 minutes, because I don't want the shrimp to cook in the lime juice.)
Crush, slice or chop the remaining cloves. Add 1 T of each oil to pan and heat over medium heat until oil is rippling. Add garlic and cook for about 2 minutes until golden. Add chilies or chile flakes and cook for another minute being careful not to scorch chilies. Remove from pan and place in small dish.
Add remaining 4 T oil to pan until oil ripples. Add shrimp with juice and cook until they change color about 2-3 minutes. Add back the garlic mixture and cook about another minute. Stir in 1 T butter or more to enrich sauce.
Stir in cilantro if you like . Serve over rice, pasta or couscous. This will serve 4 but everyone always wants MORE!
---
Notes
Adapted From Zarela's VeraCruz
Keywords: garlic shrimp, garlic butter shrimp, garlic shrimp recipe, garlic shrimp saute
I'm partnering with Amazon to help keep this site afloat. I may earn a small commission at no cost to you, which I use to help pay for costs of keeping this blog going.
Though the citrus squeezer and garlic press are not what I have, they are very similar. I couldn't live without them!