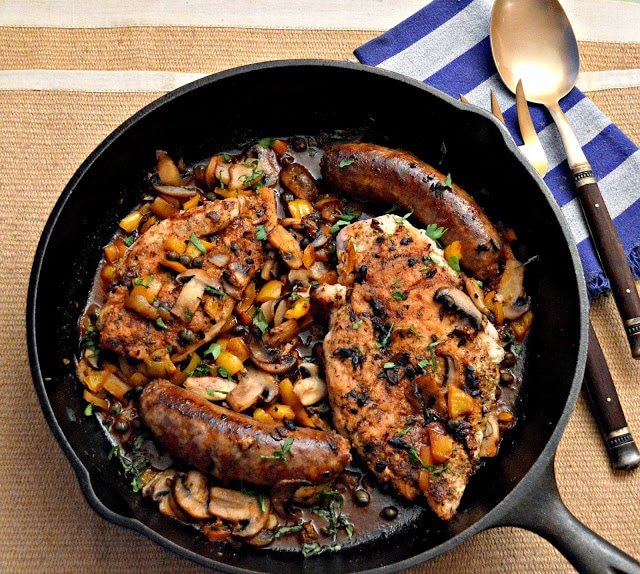 As of yesterday I'm not sure I had ever heard of Chicken Scarpariello, though I have heard of chicken with Italian sausage and peppers. In any case I'm not sure this is either. It appears that Chicken Scarpariello is a dish that contains chicken and hot peppers. Maybe mushrooms. Maybe wine. It is an Italian American dish and that's about as far as I got. Doesn't matter. What matters is this-it is over the top delicious! I love Chicken Vesuvio but that takes a fair amount of time. This is much, much quicker.
I know I told you what a simple Sunday it would be, well, it really wasn't. I made a recipe of
macaroons
and
matzoh toffee
to send to my daughter, did a load of laundry and then cut the caramels from the day before. I then started decipering the chicken recipe for this dish and found it contained a cup of butter. OMG! Even I know that is not good for you unless it is in the form of a cookie.
After starting my new original recipe I ran over to the neighbor's house to see their new black lab puppy, Ellie. If that dog ever disappears they will know where to look. She is such a cute puppy and soo smart. Still needs to work on that house training thing but she's only like 12 weeks old. After almost an hour and a half of feeding her doggie treats and having her lick my face and a few glasses of wine I went home where my dogs totally inhaled me. They were surely upset that I didn't bring them!
So it was back to dinner and then I spent 2 hours wrapping
caramels
. I am not kidding. They took me literally 15 minutes to make AND clean up but 2 hours to make them pretty with little purple bows. I just want her to sell them to
make some money for her run
. By the time I finished it was 10:30. So no-it wasn't a really simple Sunday. But I'll keep working on it!
And back to chicken. I've been doing a lot of chicken lately and I can assure you this dish is a keeper. I don't show you them unless they are. This is drenched with a garlic, peppery taste. Not black pepper but more a vinegar, winey like taste. My husband, Mr. Technology Capitalist, declared it really good. Like when will I make it again good. Trust me. This will make Monday great!
Please Pin and Share:
Chicken Scarpariello
Serves 2-4
Time to Make: About 40 minutes
Ingredients:
2 pounded boneless, skinless chicken breasts
1 T flour
1 T butter plus 1T butter
1 T olive oil
4 cloves garlic chopped
1 c sliced mushrooms
1 yellow pepper diced
2 Italian link sausages (Mild or hot) about 1/4 lb
2 T sliced pepperocini or chopped pepperocinis ,drained
2 T capers drained
1/2 c white wine
1/2 c chicken stock
1 1/2 T tomato paste
1/2 t oregano plus more for seasoning chicken
Pinch of red pepper flakes
Directions:
Heat 1 T butter and 1 T olive oil over medium heat in cast iron skillet. Add garlic and cook until slightly light gold.
Season your pounded boneless chicken breasts with lots of dried oregano and salt and pepper.Lightly dust both sides with flour. Put into hot skillet and brown them on both sides. Add the sausages and brown. Remove from skilllet.
Add peppers and mushrooms and cook a few minutes. Remove from skillet.
Add 1 T butter. Melt and add pepperocini and capers. Cook a few minutes and then add wine, stock, pinch of red pepper flakes and 1/2 t of oregano. Whisk in tomato paste. Cook a few minute and then add back chicken and sausage, mushrooms and peppers. Spoon a little sauce over chicken before putting in oven.
Bake for about 20 minutes at 375. Garnish with fresh parsley. Serve over egg noodles for a perfect dinner. Add a salad and you have a one dish dinner! Yay!
P.S. You can make this for more people if you'd like. I figured half of a chicken breast and one link of sausage per person. You do the math! Feel free to use spaghetti or a pasta of your choice to serve this over. Orzo would also work and I think it would also be great with polenta. Ummm. I think I'll try that next!