It only took me 33 years to discover Chicken Vesuvio. Pretty pathetic, I know. After all I grew up off of I57, spent numerous years trailing my parents to various restaurants in Chicago and yet had never had Chicken Vesuvio. I think they were holding out on me. It took going back for a wedding 21 years ago to bring it to my attention. And it has held it ever since.
Chicken Vesuvio is a Chicago dish filled with lots of garlic, oregano and wine. And, of course, chicken. And I didn't mention the potatoes; my
first favorite food among many. Golden brown crispy potatoes covered with garlic and oregano and wine. The smell alone could kill you. And it is a smelland a taste that stays with you. After all, I've been making it ever since.
It's a story that began with an invitation to my Uncle's daughter's wedding which must have been about 22 years ago because my kids were a year old. We had just moved into a home about 30 minutes away from our first place that was caving in under the addition of two more. The only babysitters I knew were teenagers who lived near our old place. And then the wedding invitation came and my mother said you have to be there. Now, it is not that I didn't want to be. I mean the thought of escaping from 2 roving, almost one year olds was appealing. And unpacking boxes in a new house – well, those could wait. So I made the airline reservations and began to pray. I mean leaving my two children with two teenagers in a strange
neighborhood, in a strange house and missing their first birthday – well that would equate to child abuse today. But I did it anyway. And I missed Zoe's first steps and of course there are no 1st birthday photos with those cute little pointed birthday hats and those cute little faces smeared
with chocolate frosting. But I did get the recipe for Chicken Vesuvio. That will have to do.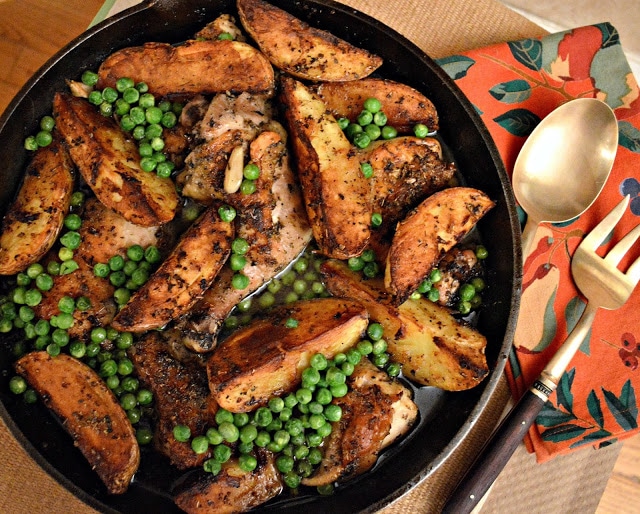 The rehearsal dinner was held at Harry Carey's in Chicago. I was seated at a table with someone I had been fixed up with on a blind date many years before. We each introduced our spouses to each other. What fun. But that fun was quickly replaced with little cast iron pans of – you guessed it- Chicken Vesuvio being placed before us. I thought I'd died and gone to heaven. I'm still not sure if the thought of eating and only feeding myself was contributing to this exhilarating feeling but whatever it was has never left. I still love Chicken Vesuvio even if it leaves my cook top a giant greasy mess.
 You can go online to find links too many dishes that say they are from Harry's and maybe they are. Mine
is very close and I'm not sure that it is that different. But it is mine. You decide. I will tell you the bonus recipe of Chicken Vesuvio hash is mine
because I so totally made it up. It is almost better than the real thing but you have to go to the real thing to get to it. I will also tell you that
Chicken Vesuvio is a great dish for Shabbat. You can get it ready ahead of time and throw it in the oven when you desire. It is perfect for a winter's night and it makes your home smell warm and inviting. All be it – Italian.
But I almost forgot. The wedding? It was fabulous. And my cousin is still married. And her youngest will soon be having a Bar Mitzvah. Just maybe they will serve Chicken Vesuvio. Wishful thinking, perhaps?
Ingredients:
1 4 lb chicken cut up into 8 pieces
4 potatoes peeled and quartered lengthwise
10 cloves of garlic
Salt, pepper, oregano, garlic powder
1/2 c olive oil
1 ½ c white wine or vermouth (I prefer vermouth)
1  ½ c chicken stock
1 c frozen green peas
3 T chopped fresh Italian parsley
Directions:
Preheat oven to 400 degrees.
Put ¼ c olive oil in your favorite cast iron skillet and heat over medium heat. (No,
you don't need cast iron, but I do bake my chicken in this. Otherwise you may
have to transfer it to a pan.)
Add 5 cloves of garlic to oil. Then add chicken and brown on each side. You may have to do this in stages. And don't crowd the chicken, it takes longer that way. If your garlic cloves start to burn take them out. After chicken is browned, remove from skillet and do the same with potatoes. If at any time you think you need more olive oil feel free to add it. When potatoes are brown remove from skillet.
 Now use your vermouth or wine and deglaze your pan. Let simmer a minute and scrape the bottom of your pan. Now add the other 5
garlic cloves and and chicken stock. Let t simmer about 5-10 minutes to thicken until reduced by half.
Add back chicken and potatoes that have now been WELL SEASONED with garlic powder, oregano and salt and pepper and place in hot oven. Place the potatoes on top of the liquid so they stay crisp! Otherwise you will get soggy potatoes. Bake for about 45 minutes until chicken
and potatoes are well browned and crisp. Add frozen peas during last 5 minutes of baking.
When chicken is cooked, removed from oven sprinkle with 2 T vermouth or wine mixed with the parsley, and 1 minced garlic clove.
 Light the candles and eat.
BONUS RECIPE:  Chicken Vesuvio Hash (Since there are now just two of
us eating enough chicken for four)
½ cup chopped onion
1 red pepper chopped
1 T olive oil
Leftover chicken from above with skin and bones removed, chopped
Potatoes, chopped
¼ c white wine
Salt and Pepper
Fried eggs optional
Ketchup, possibly!
Heat oil in pan and add pepper and onions. Saute until soft. Add chicken and potatoes
and cook until golden. Use wine to deglaze pan. Add rest of Vesuvio mixture, like
the sauce and peas to pan. Let brown some more and get a little crusty. It is
ready to eat, fried egg or not!
More to try: