Chicken Scarpariello is a tasty skillet dinner made with chicken, sausage, peppers and mushrooms. Prepared on the stove top and then baked for 20 minutes, this chicken scarpariello recipe is a great Italian dish!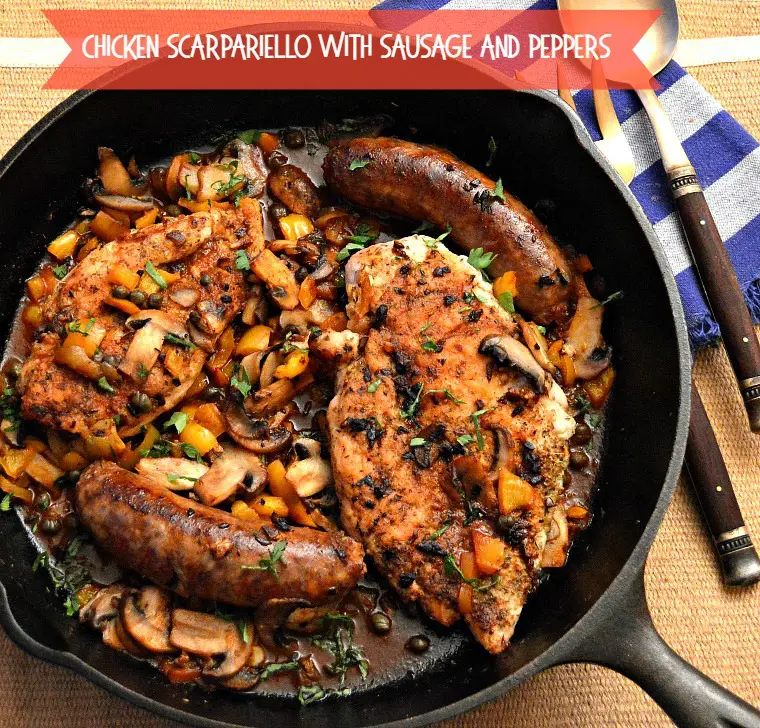 As of yesterday I'm not sure I had ever heard of Chicken Scarpariello, though I have heard of chicken with Italian sausage and peppers.
It appears that Chicken Scarpariello is a dish that contains chicken and hot peppers. Maybe mushrooms. Maybe wine.
It is an Italian American dish and that's about as far as I got. There are many versions of chicken scarpariello.
There is Rao's chicken scarpariello and Giada's chicken scarpariello and Mario Batali's chicken scarpariello. Well, you get the picture. And each recipe is a bit different than the next.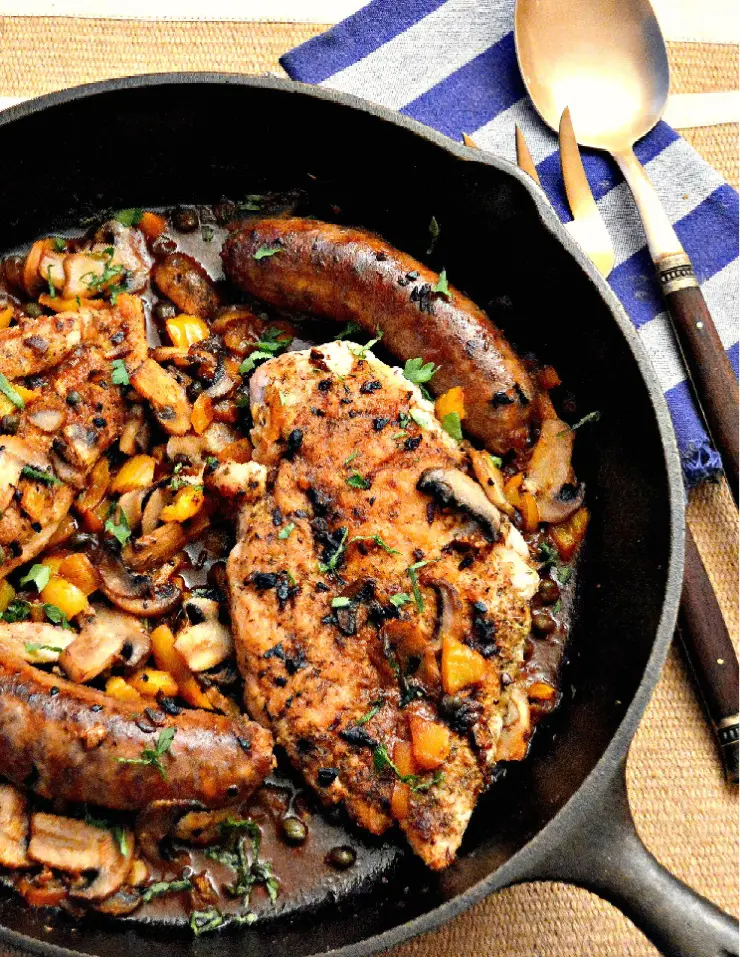 So now it's time for Abbe's chicken scarpariello!
Scarpariello means "shoemaker" in Italian, but yet this is considered an Italian American dish and apparently not found in Italy.
Though I do not know how this dish got this name, I can tell you that this is a great meal to have after a long day at work. You can even prepare it ahead and then just pop it in the oven for 20 minutes when you get home.
This makes one tasty dinner.
What is in Chicken Scarpariello?
Like I mentioned there are many versions of chicken scarpariello. Most contain chicken, sausage and peppers.
Many contain some hot pepperoncini, which I also love. I added capers and mushrooms and a touch of tomato paste.
For simplicity, I make this recipe with boneless chicken breasts. One could also use boneless thighs.
My chicken scarpariello recipe is full of umami which makes this skillet dinner an amazing meal that will quickly become a family favorite. Seasonings vary from recipe to recipe. I've spied rosemary in some, but I used oregano in mine.
What do I serve with Chicken Scarpariello with sausage and peppers?
Since chicken scarpariello contains vegetables and lots of protein, I think I'd keep this simple. Some spaghetti tossed with olive oil and garlic would be perfect, but then again so would polenta or even mashed potatoes.
A green salad would offset the rich flavors of this dish and no one would turn up their nose at garlic bread. But bread is totally not necessary.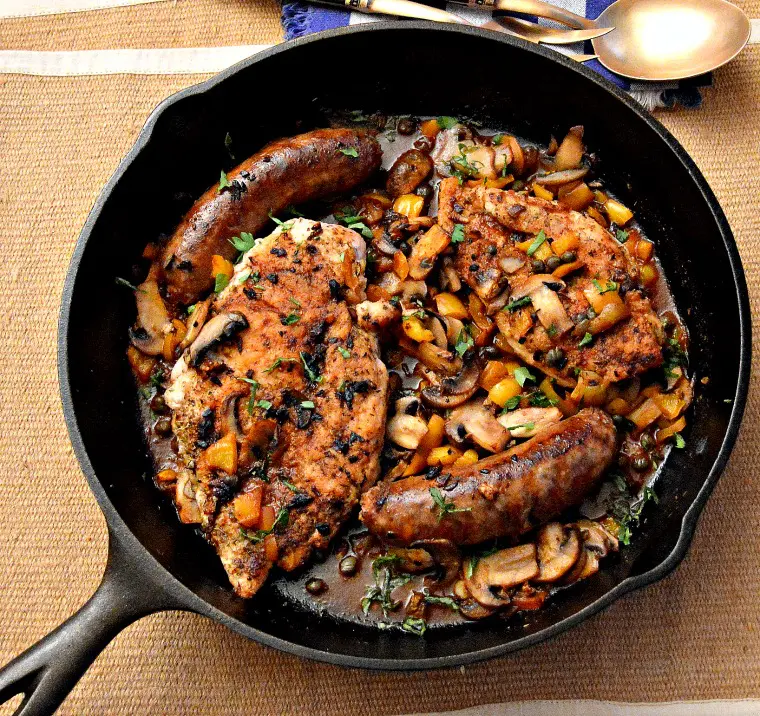 I know I told you what a simple Sunday it would be, well, it really wasn't.
I made a recipe of macaroons and matzoh toffee to send to my daughter, did a load of laundry and then cut the caramels from the day before. I then started deciphering the chicken recipe for this dish and found it contained a cup of butter. OMG! Even I know that is not good for you, unless it is in the form of a cookie.
After starting my new original Abbe's chicken scarpariello recipe, I ran over to the neighbor's house to see their new black lab puppy, Ellie. If that dog ever disappears they will know where to look. Such a cute puppy and sooo smart.
Still needs to work on that house training thing, but she's just 12 weeks old. After almost an hour and a half of feeding her doggie treats and having her lick my face and a few glasses of wine, I went home where my dogs totally inhaled me. They were surely upset that I didn't bring them!
I then spent 2 hours wrapping caramels. I am not kidding. The caramels literally took 15 minutes to make AND clean up, but 2 hours to make them pretty with little purple bows. As long as she sells them to make money for her run, I'm OK.
By the time I finished it was 10:30. So no-it wasn't a really simple Sunday. But I'll keep working on it!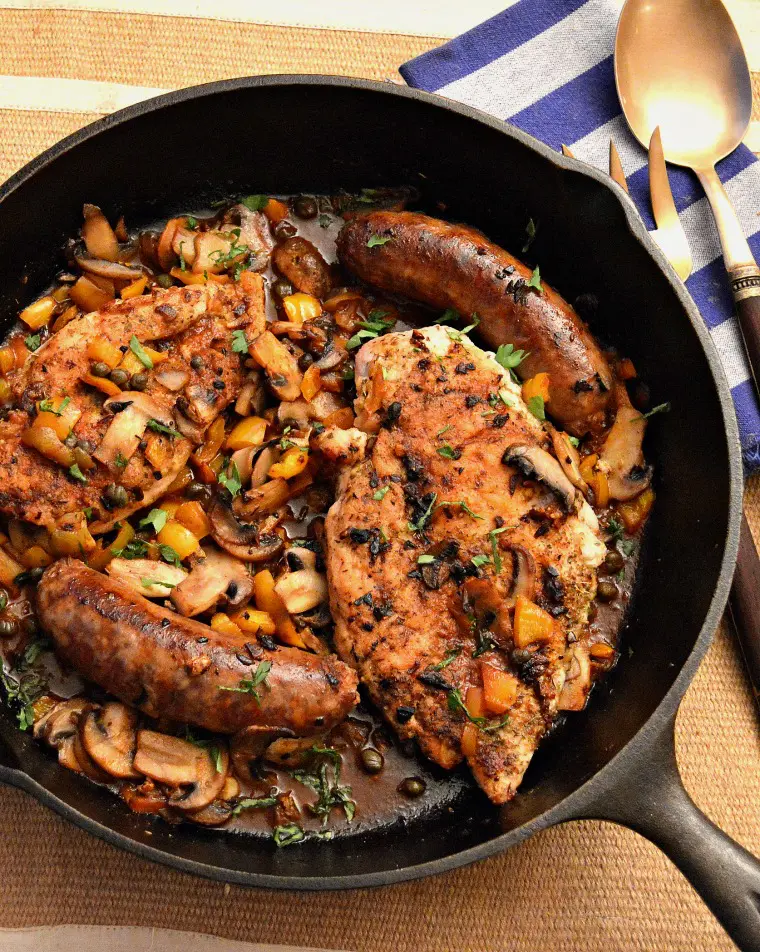 Can I prepare chicken scarpariello ahead?
This recipe is easily made ahead. Just stop right before you need to pop it into the oven. Place it in the fridge, bring it back to room temperature while your oven preheats and then bake the chicken scarpariello for about 20 minutes.
I've been making a lot of chicken lately and can assure you this dish is a keeper. This chicken scarpariello recipe is loaded with a garlic, peppery taste. Not black pepper but more a vinegar wine like taste from the pepperoncinis and the wine.
Manservant, Mr. Technology Capitalist, declared it really good. Like when will I make it again good. Trust me. This will make any day great!
Need a great simple pasta dish? This is one of my simple faves. It was also one of my first posts, so please ignore the photos.
Here's one of my favorite chocolate cakes. Quick, simple and delicious. No mixer required. Perfect for dessert.
Please Pin and Share:
This is an updated post from 2013. I know you will enjoy it!
Print
Chicken Scarpariello
Author:

Abbe Odenwalder

Prep Time:

20 Minutes

Cook Time:

20 Minutes

Total Time:

40 minutes

Yield:

2

-

4

Servings

1

x

Category:

Main Course

Method:

Stove Top/Oven

Cuisine:

Italian American
---
Description
Chicken Scarpariello is an Italian American dish made with chicken and sausage and peppers. This is a winner!
---
2

pounded boneless, skinless chicken breasts

1

T flour

1

T butter plus 1 T butter

1

T olive oil

4

cloves garlic chopped

1

c sliced mushrooms

1

yellow pepper diced

2

Italian link sausages (Mild or hot) about 1/4 lb

2

T sliced pepperoncini or chopped pepperoncinis ,drained

2

T capers drained

1/2

c white wine

1/2

c chicken stock

1 1/2

T tomato paste

1/2

t oregano plus more for seasoning chicken
Pinch of red pepper flakes
---
Instructions
Heat 1 T butter and 1 T olive oil over medium heat in cast iron skillet. Add garlic and cook until slightly light gold.
Season your pounded boneless chicken breasts with lots of dried oregano and salt and pepper. Lightly dust both sides with flour.
Put into hot skillet and brown them on both sides. Add the sausages and brown. Remove from skillet.
Add peppers and mushrooms and cook a few minutes. Remove from skillet.
Add 1 T butter. Melt and add pepperoncini and capers. Cook a few minutes and then add wine, stock, pinch of red pepper flakes and 1/2 t of oregano. Whisk in tomato paste. Cook a few minutes and then add back chicken and sausage, mushrooms and peppers. Spoon a little sauce over chicken before putting in oven.
Bake for about 20 minutes at 375. Garnish with fresh parsley. Serve over pasta for a perfect dinner. Add a salad and garlic bread, if you'd like.
---
Notes
P.S. You can make this for more people if you'd like. I figured half of a chicken breast and one link of sausage per person. You do the math! Feel free to use spaghetti or a pasta of your choice to serve this over. Orzo would also work and I think it would also be great with polenta or mashed potatoes. Ummm. I think I'll try that next!
Keywords: chicken scarpariello, chicken scarpariello recipe, chicken with sausage and peppers, boneless chicken breast recipe, chicken scarpariello recipe with sausage, rao's chicken scarpariello recipe, chicken scarpariello with sausage and peppers
F YOU HAVEN'T HAD ENOUGH OF ME, I'D LOVE IT IF YOU FOLLOW ME!
INSTAGRAM.COM/THIS_IS_HOW_I_COOK
FACEBOOK.COM/THISICOOK
PINTEREST.COM/THISISHOWICOOK
BLOGLOVIN.COM/BLOGS/THIS-IS-HOW-I-COOK
TWITTER.COM/AODENWALDER
THANKS SO MUCH. YOU ARE APPRECIATED!