Vietnamese Caramelized Ground Pork is addicting. Perfect for topping a rice or noodle bowl, making lettuce wraps, or even stuffing between a bun, this garlic, peppery, sweet and sourish pork is beyond tantalizing.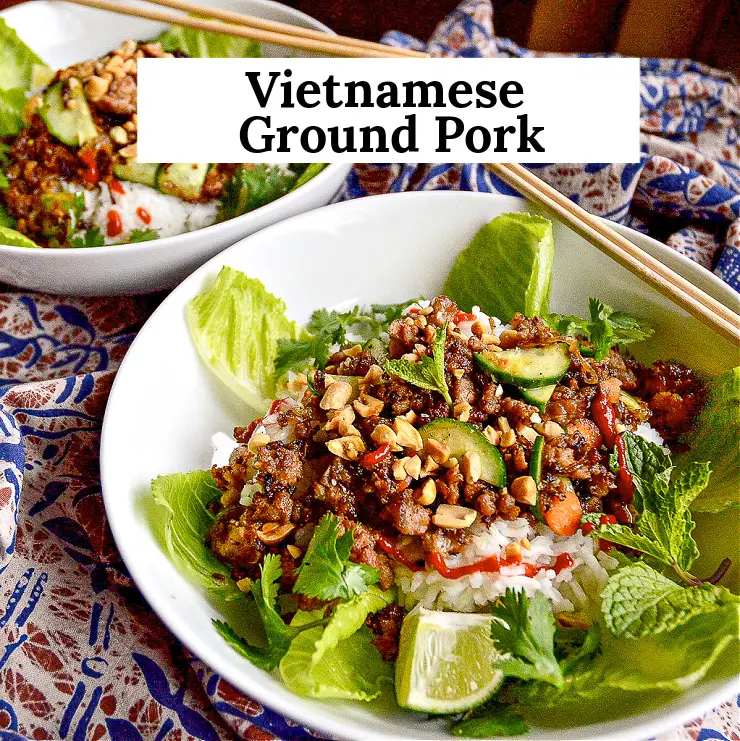 Vietnamese Caramelized Pork , one of my favorite ground pork recipes, is made in a skillet, and combines the Vietnamese flavors of fish sauce and pepper, garlic and lemon grass, plus a bit of sugar.
Cucumbers are then mixed in, which gives this dish a healthy crunch. This tantalizing combination when topped with peanuts and cilantro, mint and a squeeze of lime is something I often crave.
This is such an easy dish to make at home that I often satisfy my Vietnamese cravings with it, or Goi Ga, Vietnamese Chicken salad.
I'll be honest. I've only seen ground pork in Vietnamese restaurants used in meatballs or meat patties. I can't recall ever seeing just ground meat used in a dish, so this may not be totally authentic.
However, this Vietnamese pork recipe is totally sublime. I'd totally add this to your recipe box and file under ground pork recipes!
Serve this caramelized pork in steamed buns or even a regular bun and make it into Vietnamese sloppy Joe. Keep it traditional and serve it over rice noodles or just plain rice with Vietnamese salad accompaniments.
I love to cook a variety of food, from simple to exotic, from Mexican to Asian, and everywhere in between. I love to bake. I love to grill. I love to stir fry.
It truly is hard to summarize This is How I Cook, because sometimes I feel like I'm all over the map. Literally. Having been on many global adventures, it's hard to resist trying some of these dishes at home.
I started cooking in college. Great conversation was made around chile con queso, chips and beer. Sometimes I switched things up with artichoke dip.
I learned to make lasagna and spaghetti and cookies. And all this with garage sale pots and pans, until I splurged and bought a set of pans from a traveling salesman for a whopping $30.
The set, a gorgeous chocolate brown, came with a Dutch oven, three different sized pots and two skillets. They were with me a long time and I fondly remember having to always screw on the handles and hope they didn't fall off when I lifted a pot.
I think I had that Dutch oven until a few years ago, when my mom gave me a Le Creuset and I thought I'd died and gone to heaven. That lightweight brown Dutch oven is now packed away in Alex's box, awaiting the day he returns to the states.
When I got married I invested in some Calphalon, until my mom parted with her All Clad pots, that I still have. I also have two cast iron skillets and one large non stick saute pan with a lid that I use a lot, too.
Besides two good stock pots, a small saute pan, a Chinese wok and a hidden paella pan, I think that is the extent of my cooking collection. I'm certainly not a collector of cookware, but I do adore GOOD cooking ware.
After all, it stays with you a long time. I did finally part with a few good pans that unfortunately were banged upon once too often with utensils of wood and metal, on countless New Year's eve's, when some well meaning kids welcomed midnight. I got tired of them wobbling on my cook top.
Which brings me to my latest addition. She's a beauty, isn't she?
Hestan Cookware
Hestan cookware contacted me about trying some of their new nanobond technology and I heartily agreed. In the 1970's Hestan's founder pioneered hard-anodized aluminum cookware, which led to the non-stick cookware that many of us use today.
Today Hestan is used at The French Laundry, so by cooking in this pan I'm probably about as close to Thomas Keller as I may ever get! This beautiful skillet is manufactured in Italy, has an aluminum core, and is totally surrounded by stainless steel.
It is highly scratch resistant, easily cleaned and has 5x the lifespan of normal stainless/aluminum-clad cookware with 20% more cooking surface. Basically, I'm sitting on an heirloom! Get ready to fight over this, kids!
Nanobond Technology
So what the heck is nanobond technology? Well those 2,000 special layers of alloys and titanium protect the stainless steel by creating a dense, impenetrable layer so the stainless steel can cover the aluminum, which conducts the heat really well. Enough technology.
Where can you get this incredible skillet? Learn more at Hestan Nanobond and check out Hestan nanobond.
Welcoming a new skillet is a bit like getting a new car. One has to learn how to come to terms with it.
In this case I actually read the driving manual use and care guide! Hestan does not recommend using their cookware over high heat, so I turned the knob down to medium high, and then to medium and realized that this baby conducts heat quite differently than my other pans.
I thought I'd test out this beauty with this Vietnamese Caramelized Ground Pork. I love using ground pork in place of beef and this is one of my favorite ground pork recipes!
I've been making this recipe over a year now, but have always used a non-stick skillet.
Testing anything with sugar is a challenge, because sugar sticks and burns quite easily. My pork caramelized as always, and with a lot less energy. Additionally, this pan cleaned up like a dream.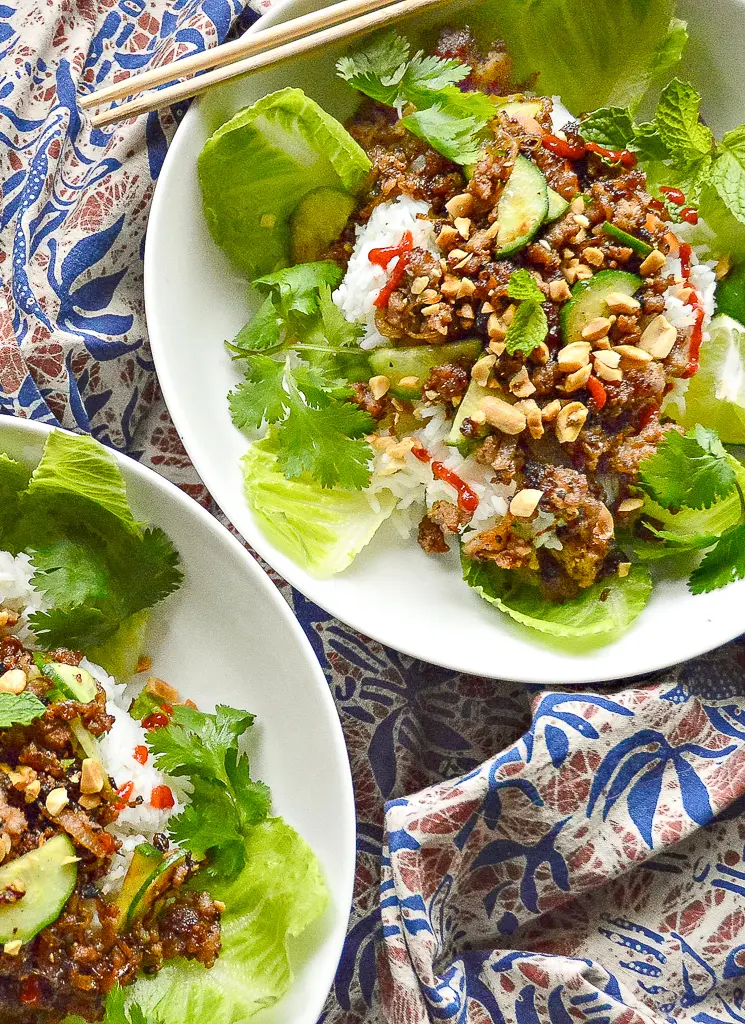 In other words – it still looks brand new. I did use the professional stainless steel cleaner and no one was the wiser.
But regardless of whether you have a Hestan skillet or not, this Vietnamese ground pork recipe is a staple in our home. I love this dish.
Try it. Let me know your favorite way to serve it. I shot the pics in a rice bowl, but notice those lettuce leaves hanging out? Yep. This Vietnamese pork would also be a perfect filler for lettuce wraps.
However you choose to serve it, this Vietnamese ground pork comes together in minutes and that's good…because I'm hungry!
A few more to try:
Please Pin and Share:
"Product in this post was provided by Hestan, but no compensation was given. All opinions expressed are my own."
This is an updated post from May, 2017.
Print
Vietnamese Caramelized Ground Pork
Author:

Abbe Odenwalder

Prep Time:

10 Minutes

Cook Time:

15 Minutes

Total Time:

25 Minutes

Yield:

3

-

4

Servings

1

x

Category:

Main Course/Salads/Appetizer

Method:

Stove Top

Cuisine:

Vietnamese
---
Description
Vietnamese Caramelized Ground Pork is addicting. Perfect for topping a rice or noodle bowl or even stuffing between a bun, this garlic, peppery, sweet and sourish pork is beyond tantalizing.
---
1 European Cucumber
2 T rice vinegar
Pinch of salt
1 t of sugar
1 t lemon grass paste (from a tube)
1 lb ground pork or chicken
2 T peanut or canola oil
1 medium onion, sliced into thin slivers
2 cloves minced garlic
1 T sugar
2 T fish sauce
1/2 to 1 t ground black pepper or more (You want to taste the contrast of garlic, sweet and pepper.)
Garnishes: Mint, Basil, Cilantro, Chopped Peanuts, Sriracha, Lime quarters
Steamed Rice or Rice Noodles for 4
---
Instructions
Slice cucumber into thin rounds. Combine rice vinegar, salt, sugar and lemon grass in a bowl. Add sliced cucumbers and set aside.
Heat a wok or large skillet until a drop of water dances on the surface and disappears. Add 2 T peanut or canola oil and toss in the onion and minced garlic.
As soon as it is fragrant, add the ground pork and 1 T of sugar. Stir fry, tossing every few minutes for 10-15 minutes, until the pork has crisped into crispy browned bits.
Take the wok or skillet off the heat and stir in fish sauce until completely absorbed. Stir in black pepper. Use a lot!
Mix the cucumbers with liquid into the pork. Spoon over 1 cup of rice. Serve with garnishes and create your own favorite bowl.
---
Keywords: pork, Vietnamese recipe, noodle bowl, Vietnamese Caramelized Pork, Vietnamese recipes, Vietnamese pork, Lemongrass pork, Ground pork recipes, ground pork, Pork stir fry