Though this isn't the classic Ma Po Tofu found drenched in red chili oil, it is still made with Szechuan peppercorns, is totally spicy, and is amazingly comforting.
It seems only fitting after my big announcement that I come back with a Chinese recipe.
It seems I've been gone a bit and I haven't even left home. The last few weeks have been so busy with Manservant getting ready to leave for his European journey.
He will be gone until around 4th of July and after having him home for a bit, I'm not sure I'm so excited about his going.
Then again, life is sure a lot more peaceful around here when he's gone-but also a lot more quiet…
He promises my punch list will be met, before I venture across the sea to see him, but a lot of our budget will be going to the three week journey to China in September, so we are carefully watching our spending.
Well. I am carefully watching our spending. We are supposed to hear from the company about the rules of travelling wives, but as of yet those documents seem to be lost in space.
Manservant seems to take it all in stride. Anyone know anything about Dusseldorf?
Spring chores have also been in full swing. Between adding on to our sprinkler system so we can plant some new trees and fixing the swamp cooler that was working before shutting it off in the winter, patching the waterfall leak, putting a few more boards on my folly and keeping the weeds at bay, plus looking for someone to mow the lawn this year- it is always rush rush before you know who leaves.
Fill the prescriptions, get a haircut, wait to make hotel reservations until the day before, pay the bills, find repairman, get the toilet snaked for tree roots, figure out the trees to be planted and that budget and oh my-the man just drives me crazy.
He is trying to get a lot done before he leaves, (I think tomorrow,) still hasn't made his flight arrangements, and the weather totally sucks.
Gray and rainy and downright cold which perhaps has put my mood in a bit of a funk.
Even though he will be back in July, he will then go and probably finish out the year over there-somewhere-which may or may not be in Dusseldorf, where I may or may not see him.
Are you beginning to see why I've been picking up my mind all over the place?
And oh yeah. Geordie particularly loves the trench that skirts the perimeter of our property that will soon hold the new irrigation tubing.
It appears muddy ditches are highly attractive to low lying, white, long haired dogs of the Skye terrier breed.
As is the rain. Rain seems to remind him of Scotland-not that he's ever seen Scotland, but I believe it's in the genes.
Then there is the matter of my friend.
My friend has also been preying on my mind as I closely monitor her progress with twice weekly visits and batches of soup and snacks for her visitors and cookies for her nurses, as I've watched her become a warrior in the true sense of the word.
She has been a warrior for 16 years and the time finally came for her blood to meet her sister's.
Undergoing a bone marrow transplant is no easy task, but my friend does it with such grace and humor and dignity that she is my hero in every which way.
After sending out a photo of her freshly shaven head with the caption, "I told them just an inch!" makes this woman appreciate just what that really means.
My friend brought her own French toile tablecloth to cover the ugly brown melamine table in her hospital room, and my friend who brought yards of hot pink tulle to drape above her bed is the bee's knees.
Looking at this gray soggy weather might seem depressing but being cloistered in a hospital room for around thirty days, makes gray and soggy seem pretty sunny.
So I've made batches of chicken soup and artichoke soup and wild rice chicken soup, and split pea soup, and this chicken casserole which she and her husband, and me and my Manservant adore.
I've made Saigon Chex mix for visitors and crunchy seedy bars that she loves and I don't, and fresh frozen applesauce.
I've brought in those cute little fruit lozenges for her to suck on and chocolate pudding and chocolate bars and truffled marcona almonds and I don't know what else.
We still have a few weeks to go and this week she can't eat and is really battling through this like a trooper, so I need some new ideas for next week.
She doesn't care for pasta but I have brought mashed potatoes and mashed potato soup.
Her taste buds aren't affected, but comfort food seems to be hitting the spot. I need ideas, my friends. My brain is a bit fried, too! What do you eat when you aren't feeling well?
Yeah, this is where I've been without leaving home. I've been roaming in a million places with a million thoughts, counting my good blessings and hoping for more. For all. For peaceful warriors everywhere…
———————————————————————————————————————-
I've been eating ma po tofu for a number of years now. It is comfort food for me.
Soft and luscious from the tofu, spicy and numbing with Szechuan peppercorns, it isn't for everyone, but you don't know until you've tried.
It is said to have been invented by a pockmarked (Ma tzi) old woman or grandma (Po po).
Certainly not the most appetizing thought, but this woman sure could cook. Hailing from the province of Szechuan, this is a classic Chinese preparation.
I've made a number of versions but this latest one is from Ruth Reichl's newest book, "My Kitchen Year."
It's kind of ironic to me that she describes it as warrior food.
"The smooth white blandness of the white bean curd-the sharp red intensity of the peppercorns"… Truly this is a dish that warms the insides, makes you sweat, brings tears to your eyes and has you begging for more.
Though this isn't the red, oily version found in Chengdu, where the tofu cubes are floating in red chili oil, it sure is good!
More to Try:

Fresh Fried Rice with Jerky and Potato Chips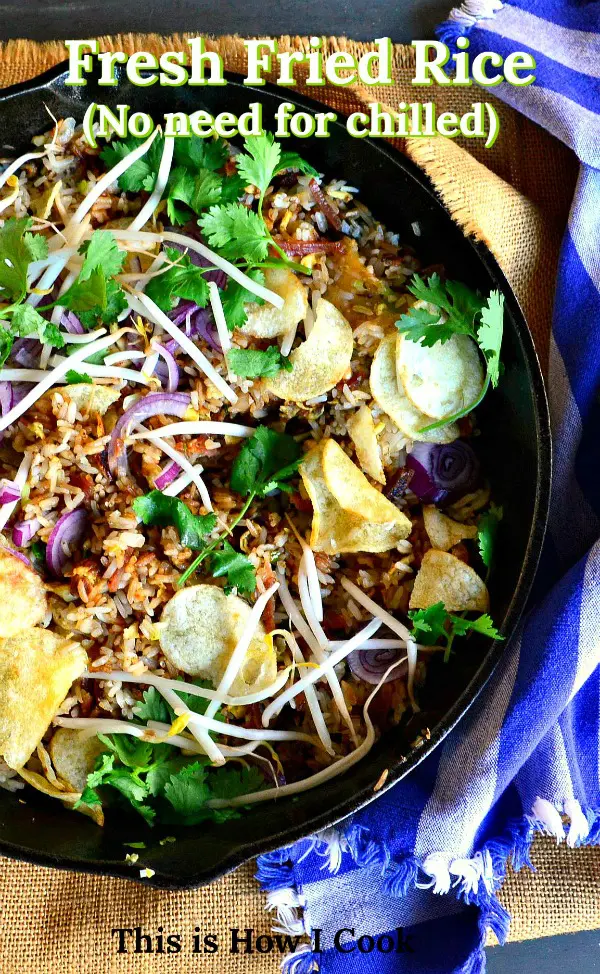 Print
Ma Po Tofu – a Warrior's Meal
Author:

Abbe

Prep Time:

10 minutes

Cook Time:

15 minutes

Total Time:

25 minutes

Yield:

4

1

x

Category:

dinner

Method:

stovetop
---
Description
Ma Po Tofu is pure Chinese comfort food. Flavored with a bit of ground pork and garlic, and a bit of Szechuan peppercorns, the soft tofu contrasts well with the heat. I love it when it is made right!
---
1

c chicken stock

2

T Chinese Black Bean sauce with chilies

2

T soy sauce

1

pound soft tofu, drained and cut into

1

" cubes

1

T cornstarch mixed with 2 T of water

2

t Szechuan peppercorns

2

–

3

T peanut oil

4

scallions, chopped fine, green and white parts separated

2

T minced garlic

1

knob fresh ginger or

1

–

2

T

1/2

lb ground pork
Drizzle of toasted sesame oil
White Rice for serving
---
Instructions
Pour chicken stock into a large measuring cup. Add the black bean sauce and soy sauce. Set aside.
Mix the cornstarch in a small bowl and stir in 2 T of water to make a slurry.
Toast the peppercorns in a hot, dry wok for a minute or so or until they are fragrant. Allow to cool and grind to a powder. I usually put them on a paper plate-top them with some wax paper and bang them with a meat cleaver. They will be more coarse, but that is good enough for me. Wipe out wok.
Before cooking make sure all ingredients are prepped and placed by the stove. Chinese cooking is quick!
Heat your wok or large skillet with 2-3 T of peanut oil until it is not quite smoking. Toss in the garlic, the white part of the scallions and the ginger, tossing quickly until fragrant. Add the pork and cook quickly until the pork is gray and not pink. Add the chicken stock mixture and the tofu. Cook for a few minutes until the tofu begins to fall apart. Stir in the cornstarch mixture and allow the sauce to thicken. Add a splash of sesame oil and the green chopped scallions. Toss together and sprinkle on the peppercorns. Serve with white rice.
---
Keywords: Ma Po Tofu, tofu recipes