Larb is one of my favorite summer foods. Light and tangy, this chicken is great on its own or served as part of a rice or noodle bowl.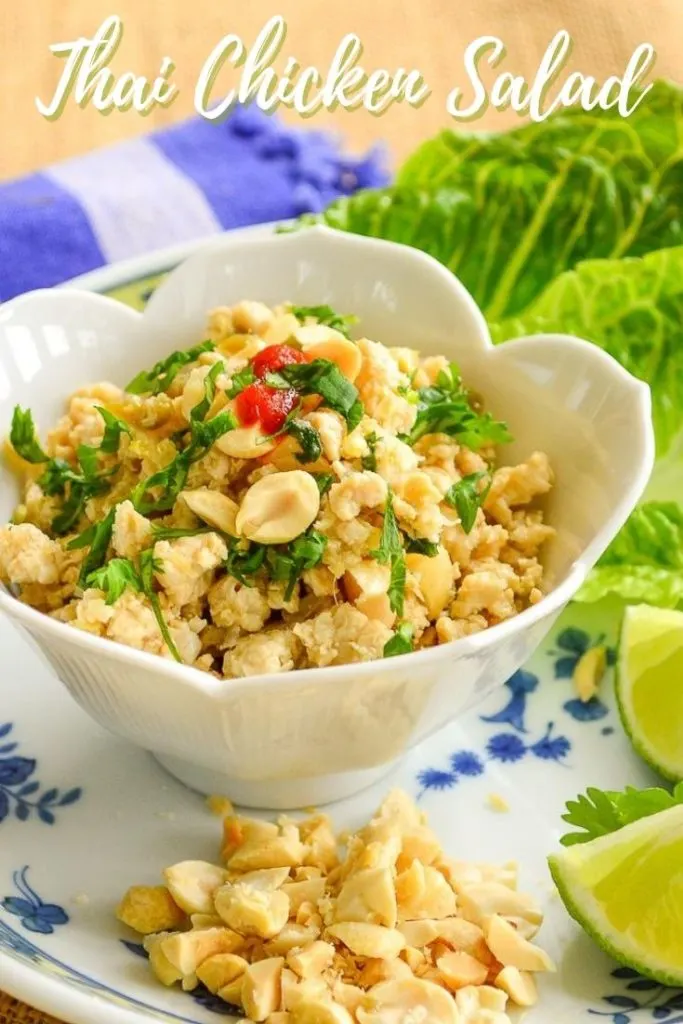 Larb is a minced meat salad from Thailand. Flavored with lime juice, fish sauce, chile and a touch of sugar, it has that whole spicy sweet and sour thing going on!
Topped with peanuts, it is the perfect filling for lettuce wraps or the star when placed on a bed of greens or rice. You will love it!
I know this ground chicken larb isn't an easy sell when it comes to its name. Really Hollywood does a much better job promoting second rate actors.
But after one bite, you will love me. I promise. This is a great dish. Now if one could just think of a better way to promote it.
A minced meat salad, often thought to be from Thailand; it is actually the national dish of Laos. Frankly, I don't care where it's from, as long as I can eat it.
This is a great summer dish and so easily prepared. It is perfect to keep in your fridge for something healthy and easily snacked on. I even caught someone spooning it onto a tortilla chip!
Dice up a few mangoes or cucumbers for a side salad, and one has a perfect meal on a hot summer's day!
Feel free to use any ground meat in this dish. You could use already ground chicken, beef, pork or turkey if you want to skip the food processor, but I like grinding the chicken with all the spices in the food processor. Easy and quick!
This dish has lots of salty tanginess and frankly, makes the best lettuce wrap I've had in awhile.
Larb often contains toasted rice in the dressing. To me that is just one more step, and truthfully I didn't feel it was necessary.
Want more herbs? Besides cilantro, mint is also good as are scallions or thinly sliced onions.
This larb recipe tasted great straight out of a container that sat in the fridge for a few days. Nothing was lost in translation!
Add a squirt of sriracha and a few ground peanuts, and you may not need air conditioning any more!
A Few More:
Goi Ga (Vietnamese Chicken Salad)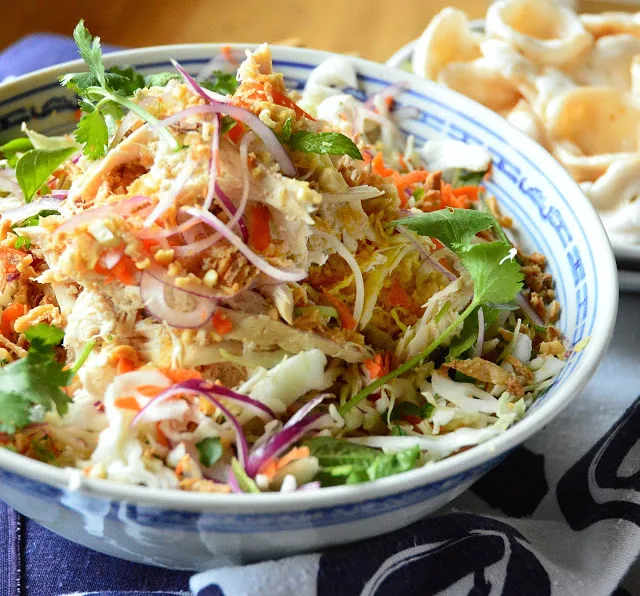 Poached Chicken with Pineapple Salad
Please Pin and Share:
Other great Asian dishes: