This Heath bar bundt cake is one of the best bundt cake recipes I've come across. Perhaps it's a bit like Mom's, only this one is doused in caramel sauce!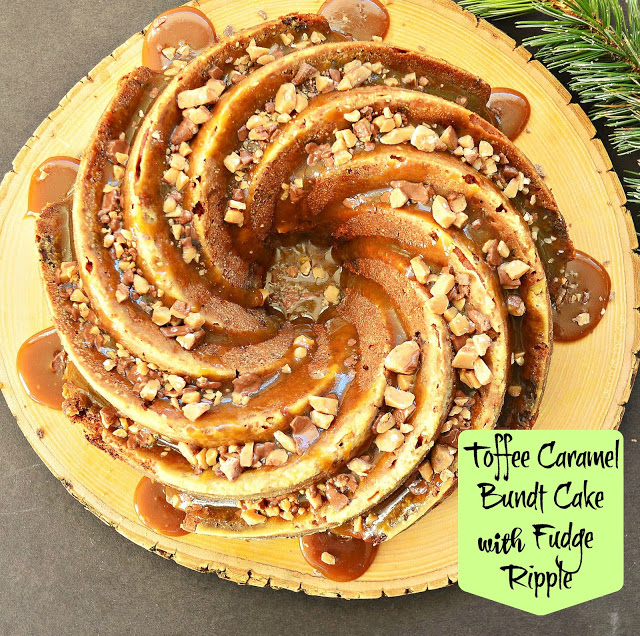 It's not often that Dorothy and Toto come for a visit, but January found me being a good host and baking one of the best bundt cake recipes ever!
I had lots of fun showing Dorothy around and hearing her stories and imagining all the places she's been.
It was cold back in January so she brought a lot of warmth into our home and we all enjoyed the visit.
By now you may be a bit confused, but Dorothy looks like a bundt pan and Toto is the book that accompanies her on her journeys.
I had signed up to receive her from Jenni Field of Pastry Chef Online and the Peoplehood of the Travelling Swirly Pan who is sending Dorothy almost around the world and then gathering her stories.
I'm not sure what she intends to do with them, but I thought it would be fun to contribute. Reading about her journeys and all the great things that were baked in her glorious shape, was quite entertaining.
She arrived soon after our journey to Costa Rica.
Yes, my favorite China Boy was still home. He ate heartily of Dorothy's cake and even brought an extra loaf to his grandparents in Scottsdale.
I also baked a jalapeno cheese bread in Dorothy's inner recesses, (from Paul Prudhomme) that was super spicy and super good.
That was served with piquant shrimp on play off day along with this luscious cake.
I decided to make this Toffee Cake, because as a child, my mom often made a cake with Heath bars.
I do recall her making bundts, and but she often used a 13 x 9 pan for the famous Heath bar cake.
Not having her exact recipe I used a variety of recipes and came up with what I consider one of the best bundt cake recipes ever!
I couldn't help myself, so I then added a fudge ripple and to take it over the top embellished it with a caramel glaze.
Well, you do know that all good things come with a fudge ripple and caramel, right?
I do have an old Bundt pan that I bought way back, when I was in college.
I made a few good things with it, but mainly it is lurking in the recesses of my lower cabinet.
Every cake I ever made seemed to stick to the pan, so I took it quite seriously when a few note takers said to grease Dorothy well. Thank goodness I heeded their advice and had nary a problem.
This was a great cake. Moist and rich and gooey enough that Odie San's friends who were watching the Broncos play off game, devoured it along with their beers.
Picnic lovers would love this bundt cake recipe tha is quickly becoming one of my most favorite bundt cake recipes!
Full of flavor and perfect for transporting-without the glaze-this cake will satisfy any chocolate and caramel lover out there.
Dorothy soon went on her way accompanied by her beloved Toto.
It was fun entertaining her and looking back I wish I had snapped a few more photos. Alas, like any good visitor, the good ones leave too soon!
More Picnic Desserts:
The Best Chocolate Chip Cookies
Magic Cookie Bars
Katherine Hepburn Brownies
Cream Cheese Pound Cake
I'd Love it if You'd Follow Me and Pin and Share!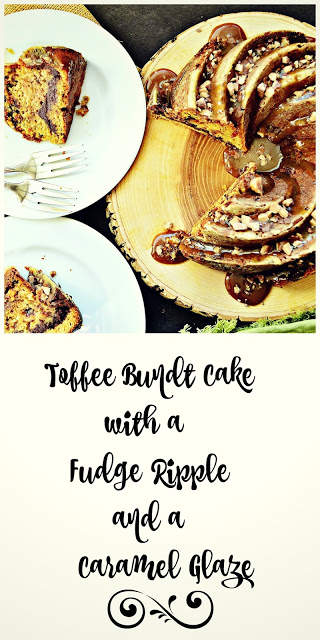 Print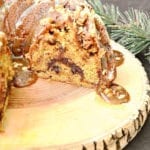 Toffee Bundt Cake with a Fudge Ripple and a Caramel Glaze
Author:

Prep Time:

25 Minutes

Cook Time:

60 Minutes

Total Time:

90 Minutes

Yield:

1

Bundt cake/12 Servings

1

x

Category:

Dessert

Cuisine:

American
---
Description
This moist Bundt cake with toffee chunks and dark chocolate chips also has a fudge ripple and is topped with a thick caramel glaze. Total yum!
---
2 sticks unsalted butter, softened
1/2 c sugar
1 1/2 c dark brown sugar
3 eggs
2 1/2 t vanilla
2 1/2 c flour
2 1/2 t baking powder
1 t salt
2 t instant espresso
1 1/2 c sour cream
2 cups of chopped toffee bars or Bit of Brickle
1 c dark chocolate chips
Fudge Ripple
5 oz cream cheese at room temperature
6 oz melted chocolate chips
1 egg
1/2 t vanilla


Caramel Glaze
1
c
packed brown sugar
1
c
heavy cream
---
Instructions
Preheat oven to 350. Grease bundt pan very well. Flour the bundt pan. If you aren't sure you greased it well enough, give it a second coat with more grease and flour!
Cream the butter for three minutes. Add half the sugar and cream for two minutes. Add rest of sugar and cream two minutes more. Add eggs one at a time, creaming well between each. Add vanilla and mix well.
Combine flour, baking powder, salt and espresso. Add 3/4 c flour mixture to the butter and mix well. You may want to cover your mixer with a towel, so that the flour doesn't fly everywhere.
Now add 3/4 c of the sour cream and mix well. Now more flour. Now more sour cream and finish up with the flour.
With mixer on low, add in the toffee chips and chocolate chips.
Now make your fudge ripple by beating the cream cheese with the melted chocolate chips until creamy. (I use my hand mixer for this!) Now beat in the egg and vanilla until well mixed. Set aside.
Pour cake batter into bundt pan until it is about 1/2 full. Add your fudge ripple and spread it over your batter. Top with the rest of the batter until your bundt pan is about 3/4 full. (If you are using the famous Dorothy swirly pan, please note that it is smaller than most bundt pans.
I was able to get an extra 8 x 4 loaf from this recipe. I did use all of the fudge ripple in the bundt pan, though!)
Bake for about 1 hour. Let cool for 10 minutes and then invert on rack to finish cooling. I didn't have any problems with sticking, because I greased this extra well!
While cake is baking combine brown sugar and cream in a pot over low heat. As sugar melts whisk into cream. Let this cook for about 45 minutes on low so it will thicken and form a lovely glaze. It will also harden up after cooling.
After cake has cooled, pour this over cake and garnish with some extra toffee chips.
---
Keywords: bundt cake recipe, best bundt cake recipe, easy bundt cake recipe, cakes with caramel icing