Spicy and hot are two terms that don't always go together. Something can have a lot of spice, but not necessarily be spicy hot. Then again there are those foods that can be both. Personally I like spicy and hot, but I don't like food to be so spicy that all you can taste is the heat. Know what I mean? Too much heat kills the flavor and I'm all about flavor. This shrimp piquant recipe contains 4 or 5 different kinds of pepper deciding on how you count green peppers, so rest assured that this is spicy and hot! Piquant according to Merriam Webster means having a pleasant spicy taste; interesting and exciting; agreeably stimulating to the palate; especially spicy! and engagingly provocative. I have always liked this word-can't you tell? As a side note from the cookbook it says that piquant in Cajun means, "it's hot and hurts like a sticker in your tongue."
Last Sunday when the Broncos achieved their win and had everyone holding their breath, I was busy cooking for my dear China boy. What does one feed to a dear boy when you know they will soon be leaving the nest? AGAIN? Well, in this case I wanted to make something simple so  I'd have time to spend with my boy. That is the boy who a few hours ahead of dinnertime asked if he remembered to tell me that his high school buddy was driving down to see him from Boulder, and could he stay for dinner. About 20 minutes later he asked if it would be OK if his college friend could come over too. Well, this kitchen aims to please and  "no" is not in my repertoire!
Luckily this is the perfect stew to have for company. It is easily put together and it is easy to increase the number of servings by just adding a bit more shrimp. This is a Paul Prudhomme recipe and if you have read me over time, you know that February always signals Mardi Gras and in that case, Paul Prudhomme. This lovely man passed away last year, but he will always have a revered place on my bookshelf. I love his recipes!
Needless to say this man could take the heat. He had a way of stimulating one's senses with everything he cooked. So take care people-this recipe is hot! But in a good way, of course. He said you don't need a silver fork to eat good food and I wholeheartedly agree. In 1975 he became the head chef at Commander's Palace and in 1979 he opened K-Paul's. I believe it was that year that Manservant and I were in N'awlins and ate at both during our trip. In fact we ate at so many good restaurants, that I remember getting on the plane and feeling nauseous. I couldn't have eaten another bite. It was Paul that hired Emeril to help at Commander's Palace, so he would have time to spend at his own restaurant.
And so it is that I cook from his book every February. My Alex Odie San loved this recipe and even suggested that the tomato base would make a great shakshuka. The boy is right! It would be divine. I served this shrimp piquant with cheese grits which took the place of the traditional rice. Frankly, I think it cut the heat better, too. I also made Paul's jalapeno bread. It was simple to make and also full of heat-though when slathered with butter, was perfect. It also made great toasting bread and we ate it several times for breakfast. And last but not least, I served this divine and spicy shrimp piquant with a sweetish cole slaw. It helped take the heat away and was a perfect accompaniment.
One last note. Alex Odie San China boy said this was nowhere near as spicy as some dishes he's had in China. Well, I guess you'll just have to decide for yourself!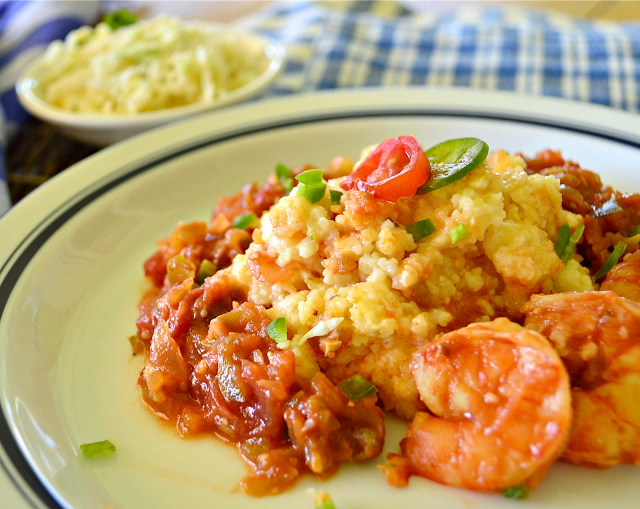 Shrimp Piquant (A great make ahead dish!)
Serves 8
From: Paul Prudhomme's Louisiana Kitchen
Time to Make: 35-45 minutes-including cooking time
Ingredients:
2 T unsalted butter
2 1/4 c chopped onions
1 1 /2 c chopped green bell peppers
3/4 c chopped celery
3 c peeled and chopped canned tomatoes
1 c canned tomato sauce
3 T minced jalapeno peppers (for less spicy sauce, make sure to take out the seeds)
2 bay leaves
5 1/2 t cayenne pepper (Be careful, here!)
1 1/2 t white ground pepper
1 t fresh ground black pepper
1 1/2 t minced garlic
2 1/4 c seafood stock (I use bottled clam broth found in the grocery)
1 1/2 T dark brown sugar
3/4 t salt
2 lbs peeled large shrimp
4 c grits or rice to serve this with
Directions:
Melt the butter in a 4 quart saucepan or Dutch oven over high heat. Add the onions, peppers and celery. Saute about 2 minutes, stirring occasionally. Ad the tomatoes, tomato sauce, jalapenos, bay leaves, ground peppers and garlic; stir well. Continue cooking about three minutes, stirring often and scraping the pan bottom as needed.Stir in the stock, sugar and salt and bring to a boil. Reduce heat and simmer until flavors are married-about 20 minutes, stirring as necessary. At this point you can refrigerate this and add the shrimp another day or you can keep going. One reason that this is a great dish for a crowd as you can do most of it ahead!
Add the peeled shrimp to the hot or reheated sauce and stir. Turn heat up to high, cover pot, and ring mixture to a boil. Remove from heat and let sit covered for 10 minutes. Remove bay leaves and serve immediately over 1/2 c rice or grits. Pour about 1/2 c sauce around the rice or grits and arrange shrimp on top of the sauce.
Please Pin or Share for Future Use:
More Cajun/Creole Dishes: