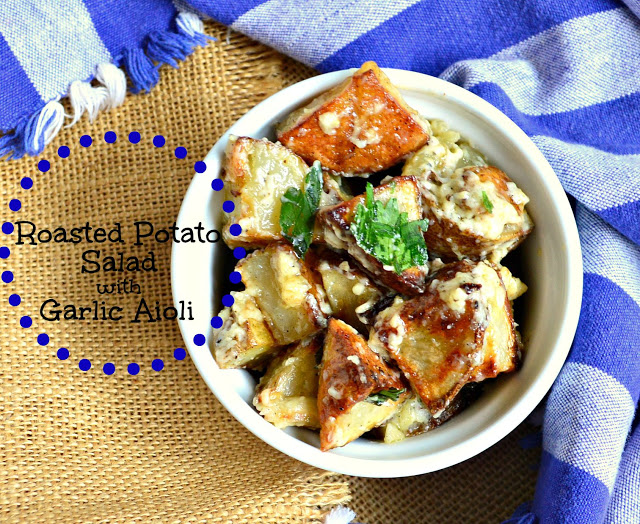 We need to make this short and sweet. However this recipe isn't sweet. It is savory, full of garlic and my very favorite vice – potatoes. I love potatoes. I can eat them fried, baked, hashed, mashed and even boiled. Those I must have with lots of sour cream and chives, please. Manservant complains when I make too many potatoes because of the low or high GI thing. I'm not very good with numbers so I just kind of stay away from white stuff. Well, not really. BUT, I try.
When the Queen came to visit I made her BBQ ribs. Meat isn't really my thing, but Manservant kept pestering for them, so I succumbed because I know the Queen loves them. She thought they were a bit overcooked. I thought they were fine, but I'll blame it on Manservant because he was in charge of the grill. I also made a grilled corn bread panzanella salad that I adored. The Queen had no comment. Then I made this potato salad and the Queen said it was a tad too salty. Then she asked if it would be on the blog. So… I guess it wasn't that salty. I followed this up with a lemon pie because lemon is the Queen's favorite, though it isn't mine. The Queen said it was going to fall apart when I cut the first slice. It didn't. It was fine. But the Queen pointed out that the filling didn't fill the crust. It didn't. But I like crust.
In any case, I took a few quick photos of the potato salad in the dim light, so I could put it on the blog. All while Manservant was so kindly doing the dishes. I've been making it for a few years now and my family loves it. I discovered it on Food 52 and though it isn't a traditional potato salad, it is one of my all time faves. The potatoes are roasted and taken hot, golden and crisp out of the oven, and tossed briefly with this heavenly garlic aioli. It is a potato salad meant to be eaten warm.
If there are leftovers, which there probably won't be, they refrigerate OK. However, this just does not taste the same, as hot from the oven. The aioli can be made ahead and it is very quick and easy to make. Let it come to room temperature while the potatoes are roasting and then toss both together. The aioli melts into the potatoes; the garlic, pepper and mustard make this totally pop.
This weekend is filled with more gardening and then I am taking Geordie to his first puppy show. I was coerced by his breeder because she will have Geordie's brother there and so this is a bit of a reunion! I know she just lassoed me in because we will be good entertainment. Geordie has never done this and either have I. I thought she was going to show him, but she has her guy to show. She told me to just do what she does. I just hope she doesn't trip!
And so I give you one of my favorite potato dishes. Even the Queen liked it. But boy, oh boy. It is sure hard being a princess!
Roasted Potato Salad with Garlic Aioli
From: Food 52
Serves: 4
Ingredients:
1 lb small potatoes are larger potatoes cubed
3 T olive oil
1 1/4 t salt (less if you are a queen)
1/2 t freshly ground pepper
4 cloves of garlic, minced
4 T mayonnaise
1 T fresh lemon juice
1 t Dijon mustard
1 T chopped Italian parsley (optional)
Directions:
Preheat oven to 400. Toss potatoes with 2 T of the olive oil, 3/4 t coarse salt and 1/2 t freshly ground pepper. Roast for 40 minutes, turning about the halfway mark. (Important tip to make sure potatoes are crisp and golden is to not crowd the potatoes on the baking sheet. Air needs to circulate around the potatoes to make them beautiful and crisp. And golden and delicious!)
While potatoes are in oven, make the dressing; or do this ahead. Combine the remaining 1 T of oil, 1/2 t of salt or less, with garlic, mayo, lemon juice and Dijon. Whisk well and set aside until potatoes are ready.
Remove potatoes from oven and toss with the aioli. Stir in parsley. Eat. Imagine when you will make this again!
Don't forget to enter the Whole Foods giveaway!
More Great Potato Dishes:
Hashbrown Spud Cups
Cajun Potatoes
Tortilla Espanola
Patatas Bravas
Potato Kugel
Real French Fries
Truffle Scalloped Potatoes
Real Potato Salad