Frozen hash browns are such a life saver! I love potatoes in every form and these hash brown muffin cups are perfect anytime you want a great potato side dish!
"MONEY IS THE ROOT OF ALL EVIL, AND YET IT IS SUCH A USEFUL ROOT THAT WE CANNOT GET ON WITHOUT IT ANY MORE THAN WE CAN WITHOUT POTATOES." by Louisa May Alcott, novelist (1832-1888)
"Look at that moon. Potato weather for sure." Thornton Wilder, "Our Town"
One thing you need to know about me…I love potatoes.
I never worry about having enough food in the house as long as I have a bag of potatoes and I guess, a bag of dog food.
I love potatoes. Yes, I already said that. Mashed, fried, baked, hashed, steamed, grilled, in salads, the list could go on and on.
And lucky for me Hanukkah features potatoes. I can make latkes with frozen hash browns, boiled potatoes, russets, yellow Finns, sweet potatoes, and the varieties could go on and on. But today's post isn't about latkes, though it does feature potatoes.
You will have to come back later for latkes.
I wanted to give you my handy dandy company quick potato recipe in case you may want to serve something with that decadent make ahead cheese soufflé I posted about a week ago.
These are great because you can make them ahead of time and they look oh so cute tucked into the little muffin cups.
Not to mention easy to serve. Which also makes them easy to eat.
But I want to tell you about my Hanukkah, too. It has been very quiet in our home. But my husband and I have lit the candles every night.
We have sat in our den and watched the glow of the candles without any voices of kids. It is a new experience and one I can't say I truly love.
But the last two nights we did hook up our camera to the computer and we shared the menorah lighting with our daughter who lives in Philly.
It is true that everyone celebrates Hanukkah in their own way. My daughter just bought her first menorah and I must say it suits her style.
My son celebrates a different way. It looks like he was playing dreidel and wagering a bet along with lighting a bowling menorah.?
I'd like one of those for my collection. Yes, he knows how to celebrate. And I hear the Rabbi likes him.
I can't ever remember drinking beer for our Hanukkah celebrations. But maybe it is a HeBrew beer which we did buy him last year.
I miss them both. But I must say that my husband has actually spent the last three nights with me sitting in the den watching our candles burn. It has been mystifying but very pleasant, and I hope the trend continues.
Last night he surprised me with a new cookbook. He has actually been listening to me the last week or so.
At least about some things… Maybe my hints worked.
Like I would really just like one cookbook this year… You don't have to buy me anything else. It is cheaper than sending me back to Jerusalem.
Or it is available on Amazon at a discount. It has a catchy title. The "Jerusalem" cookbook.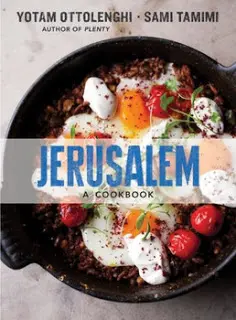 Do not look at it unless you want to drool. Do not cook from it unless you want to devour. And do not tune into my blog unless you want to see some of those recipes in the future.
The truth is that I was lucky enough to spend three weeks in Jerusalem in January. I wish I could make it a tradition. Add that to my "work on wish" list.
But back to potatoes. This is the week.
Latkes are coming. Maybe even donuts. And maybe a few appetizers from this great new cookbook I own.
Look at the moon. Potato season for sure.
Please Pin and Share:

Print
Hashbrown Spud Cups and Hanukkah
Author:

Abbe Odenwalder

Prep Time:

15 Minutes

Cook Time:

45 Minutes

Total Time:

1 hour

Yield:

4

-

6

Servings

1

x

Category:

Side Dish

Method:

Oven

Cuisine:

American
---
1/3c finely chopped
onions
3 1/2 c shredded
potatoes (I use frozen hash browns that I defrost quickly in the microwave. Defrost
in the measuring cup and save a bowl.)
1/2c Parmesan (in or
out of the can, OK! Fresh or not)
1t salt
1/2t pepper
1/2t garlic powder
2T oil
---
Instructions
Grease 6 regular sized muffin cups.
Combine onions, shredded potatoes parmesan and seasonings, along with oil. Mix together well.
Divide mixture into 6 cups. Bake at 375 degrees in lower third of oven for about 45 minutes. Longer if you want them extra crisp.
Feel free to add green chilies, peppers, jalapeno or cheddar cheese, crisp bacon or ham.. Think of these potatoes as your
template to success.
---
Keywords: frozen hash browns, hash browns in oven, shredded potatoes, potato muffin cups. potato side dish
More Potatoes:
Cajun Potatoes Tortilla Espanola Truffle Scalloped Potatoes