Vanilla Soft Serve Ice Cream is made with store bought ice cream and you don't need a machine. It's simple and tastes as good, if not better, than traditional soft serve. What are you waiting for?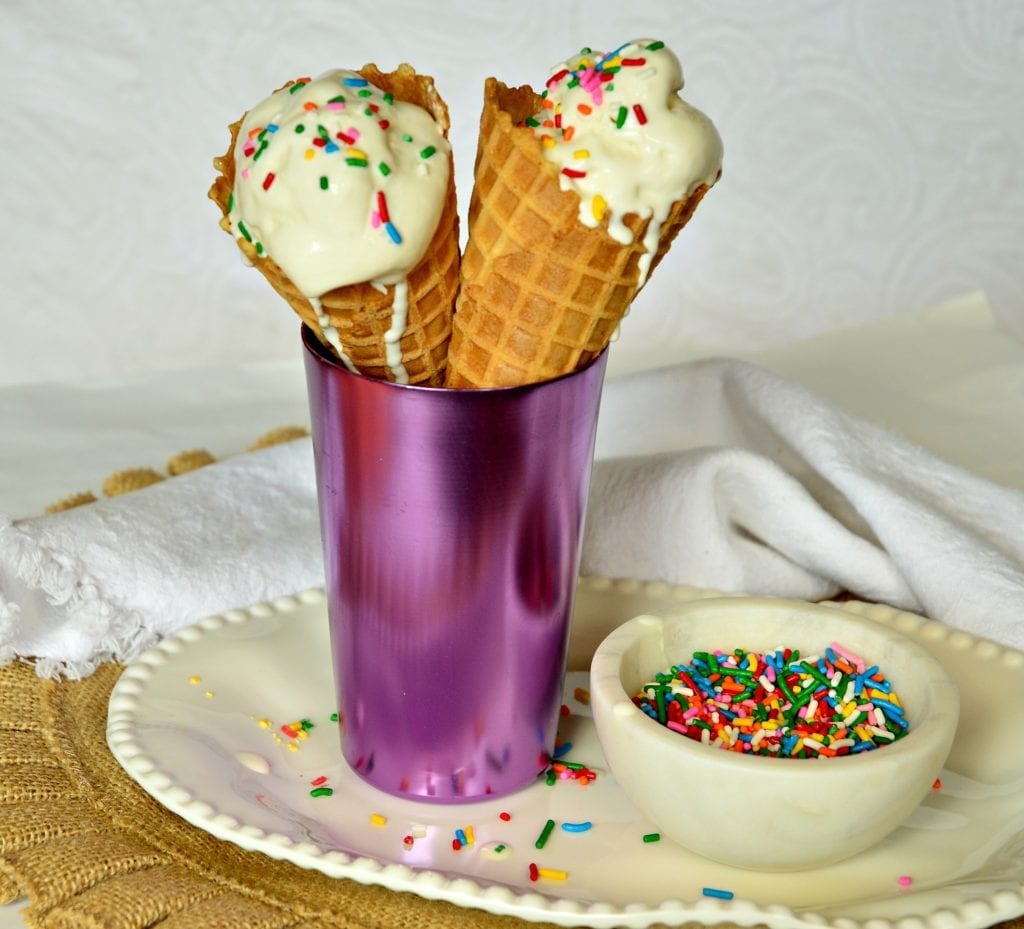 As a child the change to daylight savings time always meant ice cream to me. Dairy Queen in particular. Kankakee didn't have many choices when I was young. So the minute the Dairy Queen opened for the season we were there…thanks to Mom and Dad who I think craved extra daylight too. Or maybe it was soft serve?  I remember long lines as we waited in the late sunshine and I remember excitedly perusing the front windows to see the latest concoctions. I think the fanciest cone I ever got was a chocolate dip, but I sure did love their hot fudge sundaes.
Soft serve is not something I take lightly. Road trips are meant for spotting DQ's and other custard places in the smallest of small towns. And the minute I spot one I have to stop. Many now have food but forget the food…I just want a cone. And if they have a twist cone, so much the better. Our DQ only had vanilla, but that was all right in my book. I'm a chocolate lover, but let's face it, I'm not one to turn down ice cream of any flavor. When my kids were wee ones I continued the tradition. Of course Denver has many more choices for ice cream, but each season we always began with Dairy Queen. Near us was a stand similar to the one in Kankakee that operated seasonally, and only served ice cream. No fancy stuff there but unfortunately it closed a few years ago.
As soon as the weather became warm I remember Alex asking for ice cream. Please Mom. Let's go to Fairy Queen. Yes, he called it Fairy Queen and I thought it was so cute that I never corrected him. I'm not sure when he figured out the real name… For that matter he always called windshield wipers wish wipers and I thought that was cute too! I think now he has it all figured out. Yes, Dairy Queen was a special treat for us and now with the plethora of ice cream and frozen yogurt stores that abound, I'm not sure that Dairy Queen realizes what a  magical event it was in our lives.
In any case imagine my surprise when I discovered I can make my own soft serve. No, it's not Dairy Queen. In fact, it might even be better. Creamy and silky and full of vanilla; it is so easy to make because it begins with store bought ice cream! Soft serve is really regular ice cream with air whipped in. Adding in some heavy cream and extra vanilla turns good ice cream into soft serve and every now and then it feels good to be a kid again. No nothing will ever remove those magic moments of standing in line on a warm spring night, ice cream dripping down my cone, puddling at my feet…but no matter. It was spring and summer was so close by. Well, summer is flying by in my case. Better get that ice cream in!
This vanilla soft serve ice cream is great in a cone, but Zoe would love it with this chocolate peppermint sauce from Saving Room for Dessert. My mother would love it with this microwave caramel sauce from That Skinny Chick Can Bake. I would love it with hot fudge sauce and white chocolate crumbs.
OF COURSE…Vanilla Soft Serve ice cream would also taste great in these
Oatmeal Crunch makes a great topping on soft serve or yogurt.
This quick chocolate cake would taste great topped with vanilla soft serve!
Print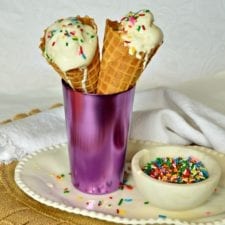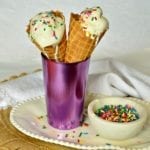 Vanilla Soft Serve Ice Cream
Author:

Prep Time:

15 Minutes

Total Time:

15 minutes

Yield:

6

Servings

1

x

Category:

Dessert

Method:

Freezer

Cuisine:

American
---
Description
Vanilla Soft Serve Ice Cream is made with store bought ice cream and you don't need a machine. It's simple and tastes as good, if not better, than traditional soft serve. What are you waiting for?
---
3 c really good vanilla ice cream, softened
1 c whipped heavy cream
1 1/2 t vanilla
---
Instructions
Scoop the ice cream into the bowl of a stand mixer. Add the whipped cream. Beat slowly until thoroughly blended. This will resemble ice cream soup.
Pour ice cream into a container with a lid. Place in freezer for about 4 – 12 hours. This depends on your freezer and how longs it takes to chill this. If you want to swirl the ice cream, instead of pouring into a covered container, pour into a big zip lock bag and then freeze. When you are ready to serve the ice cream, take the bag out of the freezer and let soften a bit. You can even massage the bag if you'd like. Then cut off one corner of the bag and swirl the ice cream into your dish or cone. This does melt fast, so don't dilly dally!
---
Notes
Use the best vanilla ice cream you can find with natural ingredients. I like Trader Joe's French Vanilla.
Total Time does not include inactive freezer time!
Keywords: ice cream, desserts, vanilla, simple recipe