"Pina Colada 7 Layer, Hello Dolly Bars are filled with macadamias, dried pineapple, white chocolate, coconut and rum. These decadent bars are better than drinking out of a coconut."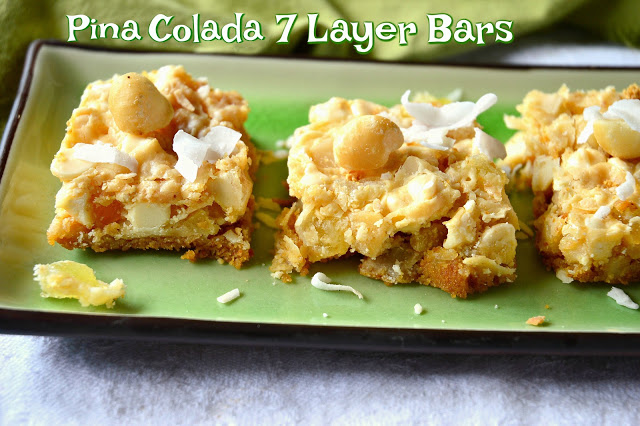 In my never ending quest to fill my body with as much sugar as I can before I die, (just kidding mom) I must admit to loving 7 layer, hello dolly bars. My mother didn't bake many sweets other than a Heath bar cake, chocolate chip cookies and yes….7 layer magic bars. I think those might have even been my first introduction to coconut which I detested, until I devoured these.
I have lots of variations of 7 layer bars that I've baked over the years, but I've never done a tropical version. Last summer I found myself with macadamia nuts that needed to be used and dried pineapple leftover from some granola I had made. With company coming I concocted this quick dessert, served it with pineapple sorbet and it was a winner. Perfect after a BBQ; the kids enjoyed these 7 layer bars just like cookies.
So why now am I sharing these tropical delights? Well, they are a perfect sweet in the dead of winter when one might be dreaming of warm Hawaiian breezes and sand in one's toes. They also are a great bar to serve on a buffet and I suspect some folks out East may be planning something for the Super Bowl. Maybe out West, too! Easily assembled in 15 minutes or less, these are almost like biting into a pina colada. Yes, there is a bit of rum in there and yes, you can leave it out, but frankly I think it cuts the sweetness of the bars.
These 7 layer bars are loaded with macadamias, white chocolate, dried pineapple and coconut. And yes…that touch of rum. Many recipes call for crushed pineapple and maraschino cherries but this isn't the direction I chose to take. I like the crunch of the nuts, the chew of the pineapple and yes…that rum. These are sweet so I like using salted macadamias because it helps cut down the sweet factor just a bit. And the coconut? I prefer to use the dried coconut shavings but any coconut will do. Don't have macadamias? Cashews will work and so will any other nut.
Give these a try. Aloha!


Here are a few more Pina Colada ideas:

Pina Colada Bundt Cake from Inside BruCrew Life
Pina Colada Sorbet from Tidy Mom
Coconut Pineapple Popsicles from Saving Room for Dessert
Please Pin and Share:
A Few More 7 Layer Bars: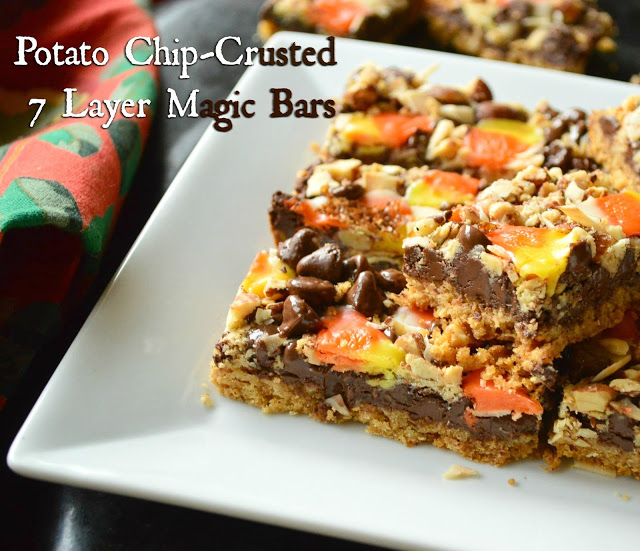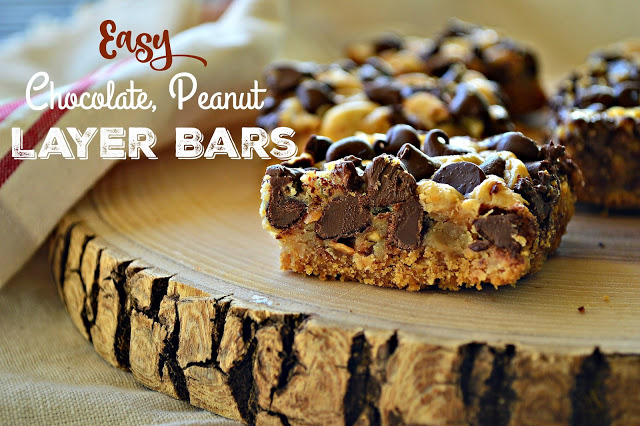 Yield: 1 13 x 9 PanAuthor: Abbe OdenwalderPrint Recipe
Pina Colada 7 Layer Bars
prep time: 15 MINScook time: 25 MINStotal time: 40 mins
Pina Colada 7 Layer, Hello Dolly Bars are filled with macadamias, dried pineapple, white chocolate, coconut and rum. These decadent bars are better than drinking out of a coconut.
ingredients:
1 4 oz stick of butter
1 3/4 c graham crackers crumbs
1 14 oz can condensed milk
2 T dark rum (optional)
1 c white chocolate chips
1 c dried pineapple chunks
1 c chopped salted macadamias
1 c flaked unsweetened coconut
instructions:
Preheat oven to 350.
Place 13 x 9 pan in oven with 1 stick of butter. Let butter melt in pan. This takes about 5 minutes. Don't let it burn!
Slide melted butter around pan and make sure pan is covered with butter. Sprinkle graham cracker crumbs on top of butter and distribute evenly. Pat down gently as this will be your crust.
Mix rum, (if using) into condensed milk. Pour mixture evenly over crumbs in pan.
Sprinkle with white chocolate chips. Sprinkle that layer with pineapple. Sprinkle pineapple with nuts. And finally sprinkle with coconut flakes.
Bake about 25 minutes or until the edges of the pan start turning golden. The bars will be bubbly. I cool them in the fridge before slicing into bars.
notes
I have been know to be generous with the toppings. If you think you want more chocolate or coconut or whatever, don't be afraid. It is perfectly acceptable to add more! Just remember the crust has to hold the weight...unless of course you want to eat these with a fork!
.recipe-inner{text-align:left;max-width:620px;border:6px double #009BFF;padding:20px;background:#f2f2f2;margin: 40px auto;font-family:Lato, sans-serif;}.recipe-inner a{color: #4193f0;}#recipe .recipe-name{font-size: 21px;}#recipe .info{font-size:13px;text-transform:capitalize;border-bottom:2px solid #000;padding-bottom:7px;margin-bottom:20px}.info:after{content:";display:table;clear:both}#recipe .info span:first-child{margin-right:30px}#printbutton{border:0;margin:0;color:#fff;float:right;background:#555; padding:5px;border-radius:3px;cursor:pointer}#recipe .time{text-transform:uppercase;font-size:12px;text-align:center;background:#fff;padding:15px 0;margin-bottom:20px}#recipe .time span:not(:last-child){margin-right:12px}#recipe .time span:not(:last-child):after{content:";display:inline-block;height:10px;width:1px;background:#000;vertical-align:middle;margin-left:12px}#recipe .summary{line-height:1.7;font-style:italic}.ingredients{line-height:1.7;clear:both}.ingredients h3,.instructions h3,.notes h3{font-size:20px !important;font-weight:400 !important;margin-bottom:0;color:#000;text-transform: uppercase;}.ingredients ul{margin:0!important;margin-top:5px !important;}.instructions li{margin-bottom:15px !important;line-height:1.6;text-align:left;}.ingredients li{text-align:left}#recipe .instructions{margin-top: 30px;}#recipe .instructions ol,#recipe .instructions ol li {list-style:decimal !important;}#recipe .instructions ol{padding-left:39px;margin:0!important;margin-top:6px !important;}.posturl{border-top:1px solid #ccc;padding-top:10px;}.ing-section{padding-left:20px;margin: 10px 0;}.ing-section > span{font-weight:700}.recipe-credit{font-size:13px;border-top: 1px solid #ccc;padding:10px;text-align:center;background:#ffffff;margin:-20px;margin-top:15px;}.recipe-credit a{color:blue;text-decoration:none;}.copyright-statement{font-size: 13px;font-style:italic;border-top: 1px solid #ccc;margin-top:15px;padding-top:15px;line-height:1.6;}.notes pre{font-size: 15px;margin: 10px 0;padding-left: 20px;font-family: inherit;line-height: 1.7;white-space: pre-line;}.notes h3{margin: 0}.nutrition-info{font-size: 0;margin: 20px 0;padding: 10px;background: #fff;}.nutrition-info>div {display: inline-block;font-size: 14px;width: 20%;text-align: center;}.nutrition-info>div:nth-child(5) ~ div{margin-top: 20px;}.nutrition-info>div p{margin-top: 0;margin-bottom: 7px;}#recipe .image{text-align:center;margin-bottom:25px}#recipe .image img{max-width:100%}#recipe .recipe-name{line-height:1.6;text-transform:uppercase;margin-top:0;letter-spacing:1px;text-align:center;margin-bottom:20px}#recipe .time{border-top:1px dashed #000;border-bottom:1px dashed #000;border-right:0;border-left:0}#recipe .summary{margin-bottom:30px}#recipe .summary:after{content:";display:block;width:50px;height:2px;background:#000;margin:auto;margin-top:10px}#recipe .instructions{margin-top:30px}#recipe .instructions ol{padding-left:39px;margin-top:6px}function printDiv(a){var b=document.getElementById(a);newWin=window.open(",'printwin');var c=newWin.document.createElement('style');c.innerHTML='html{font-family:sans-serif}img{display:none;}#recipe-pinit,#printbutton,.recipe-credit{visibility:hidden;display:none;}.info{text-align:center;text-transform:capitalize}.recipe-name{text-align:center}.info span{margin-right:20px}.time{text-align:center;padding:10px;border-top:1px dashed #000;border-bottom:1px dashed #000;}.time span{margin-right:20px}.adunit,.adunitlabel,.adunitwrapper,.adunitwrapper,.chicory-order-ingredients{display:none!important}.nutrition-info{font-size: 0;margin: 20px 0;padding: 10px;background: #fff;}.nutrition-info>div {display: inline-block;font-size: 14px;width: 20%;text-align: center;}.nutrition-info>div p{margin-top: 0;margin-bottom: 7px;}';newWin.document.getElementsByTagName('head')[0].appendChild(c);newWin.document.getElementsByTagName('body')[0].innerHTML = b.innerHTML;newWin.print();}