7 Layer Bars with a potato chip crust is a great twist on classic hello dolly bars. Perfect for adult with added smoked almonds, but kids devour them fast!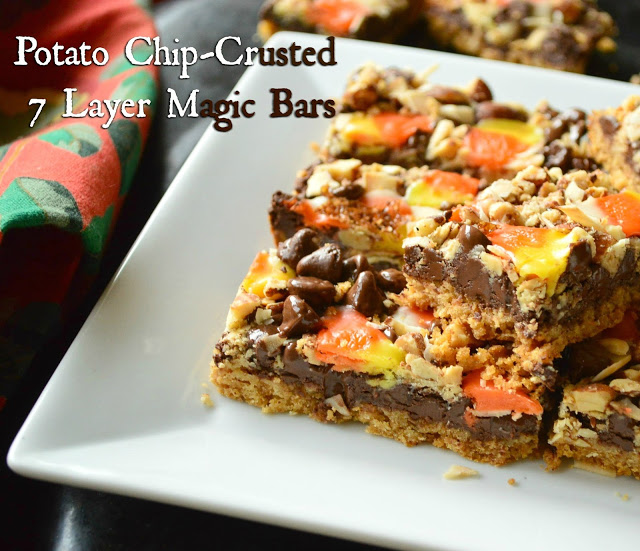 Halloween has arrived and I'm trying quickly to make sure this posts. As you can see my candy corns dutifully melted and yes, I do believe the rumurs are correct that they contain a waxy substance. In any case, I do admit to being a fond lover of candy corn, waxy or not. And yes, this recipe can easily be made without it and probably would be better off!
As part of Blogging for Books, I received the book, " Modern Potluck" by Kristin Donnelly. It is an array of fun, more hip versions of food designed for modern potlucks. Unlike recipes of my era that often contained ingredients from cans and other processed goods, this is a book for my kid's generation and yes mine too, and yes again, we will all probably be better off for it. In fact, Kristin would probably cringe in horror at my addition of candy corn to her layer bars. Well, it is Halloween so I guess cringing is in order!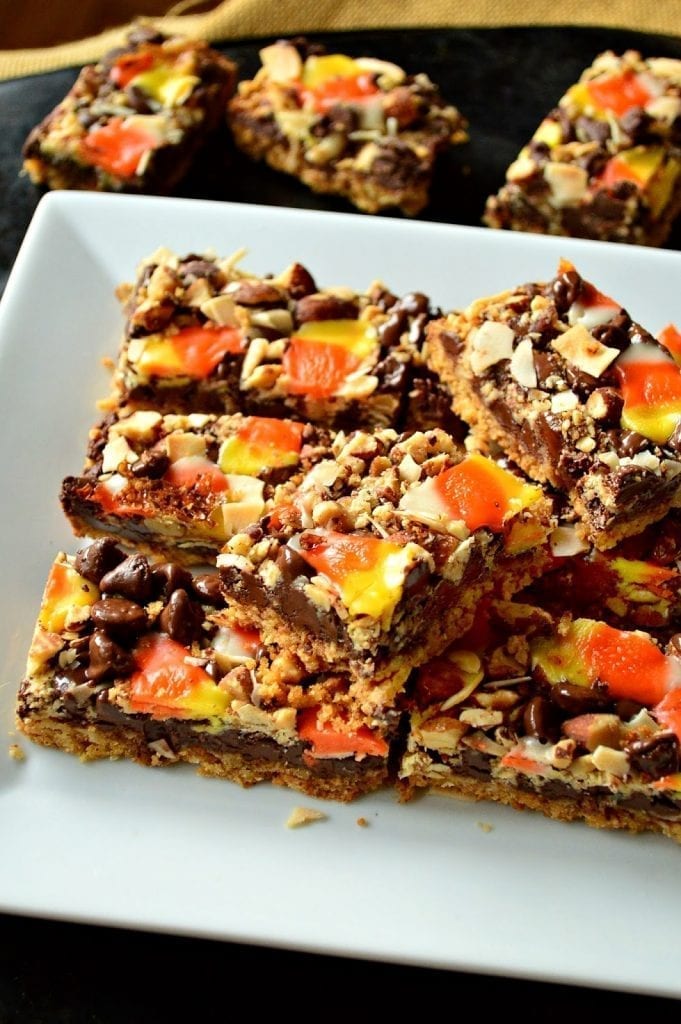 These layer bars, compared to the original version, are less sweet, which is what the author intended. I'll let you be the judge when you make them to see which you prefer. Her addition of a potato chip crust and smoked almonds, plus coconut chips rather than sweetened shreds, certainly turns these into a more adult version of 7 layer bars, though I am sure no kid would turn up their nose at these. What a creative use of ingredients she has put together!
Lest you think you won't find recipes for things like three bean salads and potato salads, well guess again! There are potato salads for each season and the bean salad contains a wide array of fresh and dried beans, plus fresh herbs and such. Potlucks can be so challenging these days with having to worry about dietary challenges and pressures to make stand out dishes due to Instagram, and even issues like sustainability deserve thought. Kristin wrote this book with those things in mind. This book filled with fool-proof modern recipes and gorgeous photos would be a great addition to any one's cookbook library.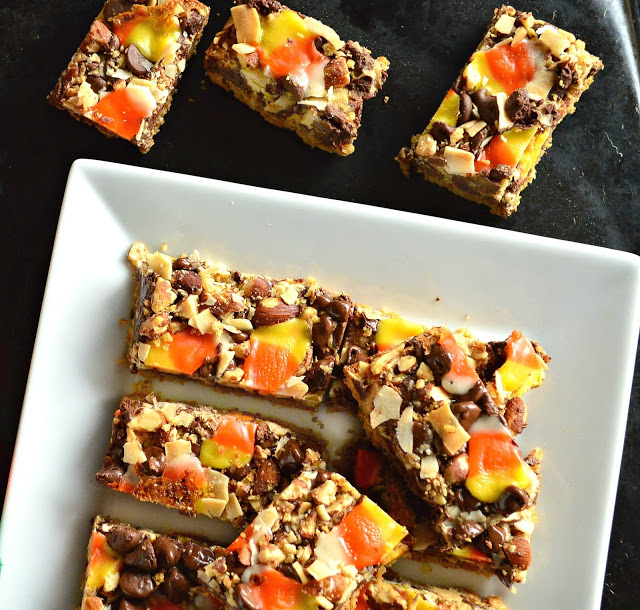 Print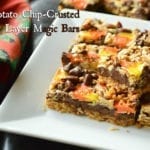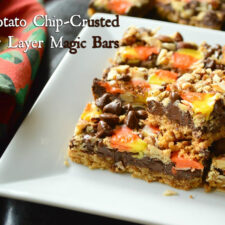 Potato Chip-Crusted 7 Layer Magic Bars
Author:

Prep Time:

20 Minutes

Cook Time:

30-40 Minutes

Total Time:

25 minute

Yield:

1

13 x 9 pan

1

x

Category:

Dessert

Method:

Food Processor

Cuisine:

American
---
Description
These adult 7 layer bars have a potato chip crust. Add in some smoked almonds and see what these are irresistible!
---
1 10 oz bag plain salted potato chips, not thick cut
3 T all purpose flour or rice flour
4 T unsalted butter, melted
1 14 oz can sweetened condensed milk
1 12 oz bag semi-sweet chocolate chips
1 c large unsweetened coconut flakes
1 c salted, smoked almonds or your choice, roughly chopped
1 c candy corn (optional)
---
Instructions
Preheat the oven to 350. Butter a 9×13 pan, preferably metal, and line with parchment paper so it overhangs on the long sides of the pan.
In a food processor, pulse the potato chips with the flour until they resemble coarse bread crumbs. Pour in the butter and pulse until the chips are evenly moist and finely chopped. Press mixture into the prepared pan. Bake for 15 minutes or until the crust is lightly browned.
Pour the sweetened condensed milk over the crust and tip the pan so it forms an even layer. Scatter the chips, coconut and nuts on top and use a fork to press ingredients into the condensed milk.
Bake for about 30 minutes, then top with the candy corn, pressing it in, if using. Bake another 5 minutes or so until the coconut is toasted and the condensed milk is lightly browned at the edges. (If you are using candy corn and overbake it the candy corn will spread into a molten mess!) Let cool on a rack.
When pan is cool, lift out the parchment paper by the sides and cut into bars. Enjoy!
---
Keywords: 7 layer Bars, 7 layer bars recipe, hello dolly bars
More 7 Layer Bars: