This Amazonian paiche fish, rubbed with an orange cacao rub and topped with a browned butter sauce is truly amazing!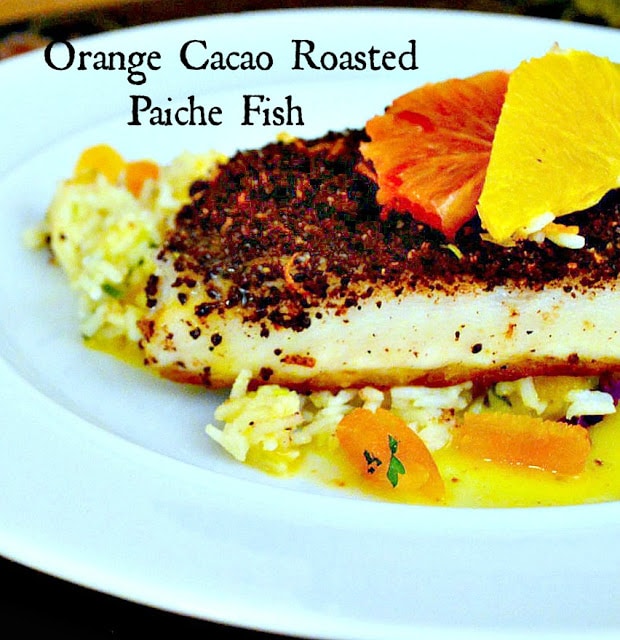 What do I say about a prehistoric fish? I wish I could have Adam over at my local Whole Foods tell you.
(He works in the fish department.) I asked him about this paiche and he spoke excitedly. "Love this fish. It's been very popular," he tells me.
So pai-che was on my dinner table the other night. I even asked my neighbor to join us.
Well, let me tell you with excitement, just like Adam, "This is a great fish! We loved it!"
A lot like Chilean sea bass, this is a firm and mild fish.
There is not much shrinkage to speak of. I bought 1.38 pounds and I could have easily made 4 servings out of this, but we ate it in three.
No skin on this fish, equals no waste. It is a fresh water fish, kosher, and lives in piranha infested waters.
The scales on this fish are like armor.
Arapaima is the largest freshwater fish in South America. It is considered a living fossil and has no lungs or gills.
To breathe air it must come to the surface every 5-15 minutes and was originally hunted by spearfishing.
It still is considered endangered in the wild but the Amazone project has learned how to farm these fish.
Hence, Whole Foods is now selling it. And even Morimoto cooked with it on Iron chef.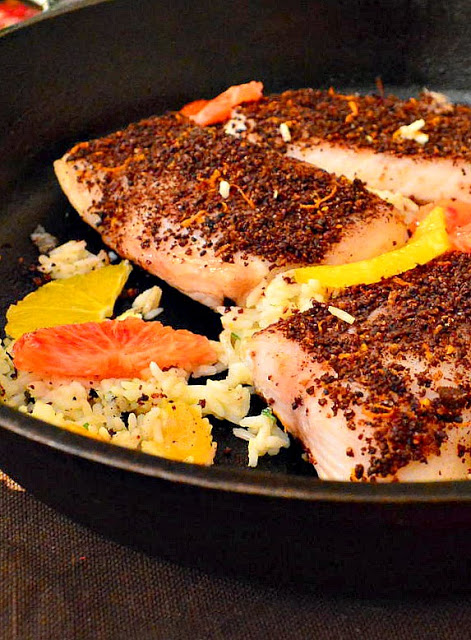 I could tell you much more, but what I really want you to know is that this paice fish is so easy to cook with.
I cut my fillet into three pieces and the middle section did have one big piece of bone.
It came out in one piece and that was it. No more bones to be had.
There are many ways one could prepare this, but I seared it and then finished it off in the oven.
The results showed that it was still moist, full of flavor and had a great tender but rich, substantial texture.
I used a cocoa nib, orange and clove rub. Sounds weird and I must admit that when I made it, I thought this wasn't going to work.
I took the recipe from the Mast Brothers cookbook.
Yeah, same one I got the Cincinnati chili from. (And guess what? They do sell their chocolate at Whole Foods. I didn't know until I went there looking for paiche. It is pricey though, so I'll have to wait until another time.)
I thought the rub tasted a bit salty, but after the fish was baked, it was perfect.
It was then topped with a light browned butter sauce and served over Basmati rice in which I threw some dried apricots.
My neighbor and Manservant raved about this dinner and though I'm not one to toot my own horn, well, it was a pretty, pretty good dinner!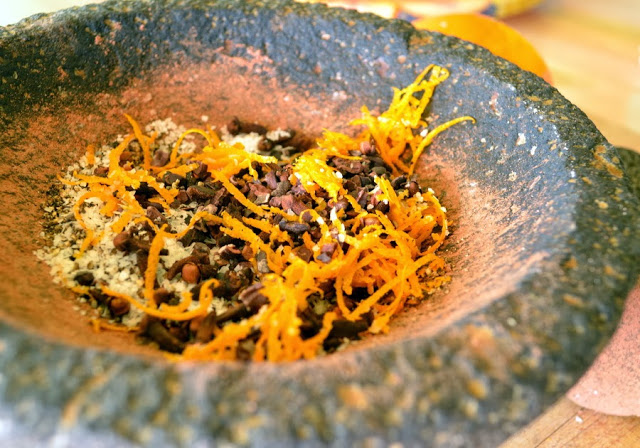 Whole Foods also sent over some protein powder by Vega and Garden of Life. Manservant was ecstatic.
He is convinced that by getting 30g of protein in the morning that it will jump start his metabolism and help him eat less and lose weight faster.
He, of course, read this in a book. I, of course, will let you know his progress. And if it works I will be convinced and try it too!
Alex saw the containers in the pantry when he came home and said, "This is the good stuff!"
He apparently buys something online that he drinks after he works out.
Manservant has already asked for more and said to tell Whole Foods to send it! (Consider this a request, Danielle!)
It is all over their store right now and I must tell you that I'm partial to the Vega brand, but Manservant is happy with either.
Both are gluten and dairy free but Garden of Life does has some soy.
They also both contain cocoa which is a great thing in my book! Check them out if you need a boost. They make you feel very healthy after you gulp them down!
And now for the piece de resistance! (My computer doesn't do accents or maybe it's me that doesn't know how to type them!)
A few notes on cacoa nibs: They are fermented, dried, roasted and crushed cacao beans. They resemble chocolate, but have no sugar or other flavors added.
They give texture to the rub and they kind of melt in, but not quite. I also used them in a vinaigrette!
Earthy and nutty is the best way I can think to describe them. They worked perfectly in this rub. Can't wait to add some to chocolate chip cookies to see what they do!
I'd Love it if You'd Follow Me and Pin and Share!
Print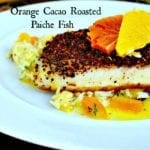 Orange Cacao Rub, Roasted Paiche Fish
Author:

Abbe

Total Time:

30 Minutes

Yield:

2

-

4

Servings

1

x

Category:

Main Course

Cuisine:

American
---
Browned Butter Sauce
1 stick butter
2 T white wine vinegar
2 egg yolks
Spice Rub
1/2 c cacao nibs
1 T orange zest
1 T whole cloves
2 t sea salt
2 t black pepper
1–1 1/2lb paiche fillet
1 T olive oil
---
Instructions
Start with the sauce:
Put butter in a small saucepan over medium heat and cook until golden brown. Let cool to room temperature.
While butter is browning, whisk vinegar and egg yolks together. Slowly add browned butter to the egg yolk mixture, whisking until emulsified. Season with salt if desired. Keep at room temperature until ready to use.
Spice Rub:
Put all of the ingredients in a mortar and pestle and grind to a somewhat fine paste.
Or throw in a mini processor and pulse a few times!
Fish:
Preheat oven to 375 degrees. Cut paiche into desired serving sizes. Rub spice mixture on top of fish.
Heat a cast iron skillet with olive oil over high heat. Sear fish on unrubbed side for two minutes.
Place pan in oven for about 10 minutes or until fish reaches your desired doneness!
---
Notes
From: Mast Bros Chocolate
Keywords: paiche fish, Amazonian fish, plaiche fish,