Barbequed Shrimp isn't made on the grill. It's made on the stove with lots of garlic and pepper and butter. This shrimp eats butter like I eat this shrimp. The best part is it's ready to eat in less than 20 minutes!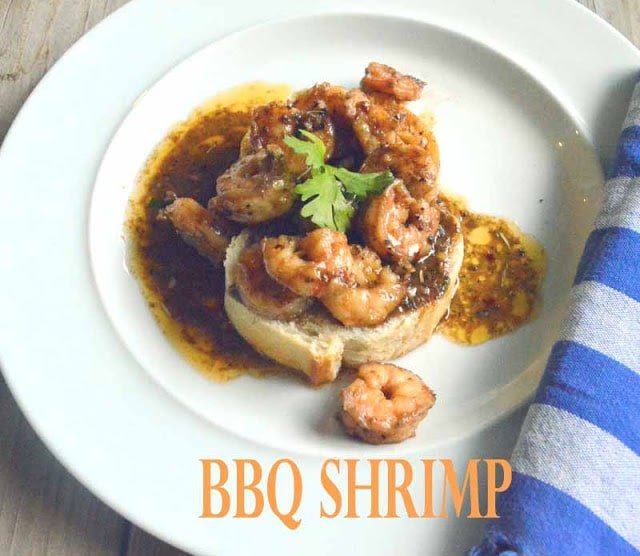 I'm giving you a recipe for spectacular, truly not kosher, barbequed shrimp.
Yes, The challah dough is rising, the rugelach dough is in the fridge and the kadaif is thawing. Plus the chicken soup is in the freezer.
Yeah, it seems strange to me, too. I was raised in a small town with maybe 80 Jewish families, and no one that I know of kept kosher. My grandparents to my knowledge, never ate pork or shellfish and probably wouldn't have thought to mix milk or meat, but they didn't keep kosher.
My grandfather became a butcher when he came to this country and began a grocery store, but he never slaughtered his own meat, though he sure was known for it. Everyone loved my uncle and papa's stores and their meat was renown. That is what I know.
I don't know when I became aware of the concept of keeping kosher. I don't know when I had my first taste of lobster, but I know my mother loved it.
Shrimp d'Jonghe or shrimp with garlic butter, was available at all the quaint restaurants on the Kankakee river, along with catfish, and frog legs. Maybe it was there?
In any case, I never really understood the kosher concept until I became friendly with a family from Israel when we were both studying in Fort Collins.
They adopted me in the second family sense, and I was very happy to be adopted. They are still a part of me and we have been close all these years. So, to say I feel a bit guilty about posting all these recipes that are totally treif, well, I do.
But I am who I am and I eat what I eat and I will happily keep kosher when I am with them.
In the meantime I eat bottom feeders. Ouch. Truly, I've given up meat so why is it so tough to give up shrimp?
Well, probably because they don't have pretty brown eyes that gaze at me soulfully. Enough already.
This bbq shrimp recipe is an outstanding, truly rich, totally to die for, recipe. I made it when my in laws were here, because they brought me shrimp fresh from the Gulf. And well, I just had to do something with them.
I love Cajun cooking and my MIL is from Mississippi. Pre kid, the manservant and I used to visit The Big Easy and eat. And eat. AND EAT. Those were the good old days.
This was when Paul Prudhomme was king and in my book, still is. In 1975 he brought back Commander's Palace to what it is today, and he was the one that hired Emeril to take his place when he opened K-Paul's. You know – that guy?
If you read Paul's bio he sounds like quite a colorful character and one that probably would be a lot of fun to hang with. We ate at K-Pauls and we ate at Commanders. And we ate until we got on the plane to come home.
Truthfully, if we hadn't come home I would have probably found myself in the gutter retching, because my tummy couldn't have held another bite. Rich food it is.
Ever since those 8o's years, I have cooked from Paul. I have one favorite cookbook of his, Chef Paul Prudhomme's Louisiana Kitchen, published in 1984, that has many recipes that I truly adore. But barbequed shrimp was one I still had yet to do and so I decided to make this shrimp.
Though they are traditionally served in the shell, I'm not good with finger food. I don't like foods that need to be nibbled off the bone.
I love cotton candy but I really don't like even getting my fingers dirty for that. So, I took the shells off and these were still good great. He has the original recipe on his website but I'm going to give it to you the way I did it.
And as Julia Child believed, Paul does, too. Yeah, butter is a key component to this dish.
I also love potatoes and had never made his potatoes, so I figured it was time. Yeah, rice is the tradition, but well, I love potatoes. They were mighty fine. Mighty fine.
It was hard to share. And so it is that I find myself in the midst of cooking for Yom Kippur, the holiest of holidays and giving you a shrimp recipe.
Please forgive me, G-d. But I did find out that Paul Prudhomme was asked to join the celebration of Jerusalem's 3000th birthday in 1996 and he was asked to make a kosher recipe for King David's feast.
I feel redeemed. The problem is that his bio didn't say what he made. Well, I guess barbequed shrimp it wasn't.