February is when I make this Homemade Cherry Pie Recipe with Frozen Cherries. As a child, my mom used to bake a store bought pie in honor of George Washington. I think she thought it was the perfect holiday to bake a pie. As kids, we certainly didn't disagree!
Feburary is when I search the depths of my freezer for frozen sour cherries.
And it you read on you will know why February is the month I use them in the best cherry pie recipe I know of.
And the best part is it is so easy to make this sour cherry pie.
The hard part is finding the cherries.
If you are not so lucky, you can be like my friend who during cherry season used to put a step stool in the back of her car so she could pick cherries in case she found some low hanging branches.
After all we do not live far from Cherry Creek and there was a reason it was named that!
I always buy a 15 pound bucket of fresh cherries every year at the farmer's market and with any luck they are pitted.
How To Pit Cherries
Pitting cherries is not so fun.
I do own a cherry pitter but I find it much easier to stick a plastic straw (if you still own one) or a single chopstick, into the end of the cherry and push the pit out.
My love affair with fruit pies started when I was young.
My mother used to fill the freezer with apple pies after buying a bushel of apples from John Pannozo in Kankakee, Ill she would come home and make applesauce and the filling for apple pies.
Her neighbor would make the crusts and at the end of the day they would divide the bounty.
Yes, cherry pie is my fave, but my second favorite would be apple pie!
How to Freeze Sour Cherries for Future use:
Many recommend after pittting the cherries to freeze them individually on a baking sheet.
Once they are frozen place them in a freezer bag and store in freezer for easily up to 12 months.
I do not do this!
I measure my fresh sour cherries in a 4 cup measure which is enough for a pie and place them in a zip lock bag and then freeze.
However I will mention that if you want a really loaded cherry pie you can use up to 6 cups of cherries.
Maybe you want to meet in the middle?
How To Make a Homemade Cherry Pie Recipe with Frozen Cherries:
First off! My homemade cherry pie filling is not cooked.
I prefer pie with an uncooked cherry filling. It's just the way I roll.
When I am ready to use them, I place the bag in a sink filled with cold water and let them thaw about 15 to 30 minutes.
In the time they have been sitting, there might be some cherry juice that accumulated. Drain it off, or drink it, but save about 1/2 c per pie.
As I'm mixing up my cup of sugar, flour, corn starch, cinnamon and lemon juice in a large bowl, they are lightly thawing.
They may still have some ice crystals but that's OK.
And so is adding a dash of almond extract. I am a purist. I love the cherries all on their own.
Place the cherries in the bowl and let them macerate about 15 minutes where they will come to room temperature.
If you want to do this the easy way, choose your favorite store-bought pie crust.
I like Pillsbury which is in the refrigerated section of the grocery store, usually near the butter.
I also like Trader Joes butter pie crust, so I use whatever I have.
A flaky pie crust is what I'm after and both of these aren't bad in that department!
If you plan to do a streusel top, then you only need a bottom crust.
Thaw according to directions and place the crust in the bottom of a 9-inch pie pan.
Sometimes it helps to place the crust on a floured surface and use a rolling pin to fit it into the pan.
I love my ceramic pie plate from Emile Henry as it always cooks evenly.
Add the cherry mixture and top with little butter pieces.
This is totally optional, but something my mom used to do to give a little more added flavor to her apple pies.
Now add the top crust or a cookie streusel. Whatever you prefer.
Then chill the pie for about 30 minutes before baking.
If using a top crust you may want to brush the top of the pie with an egg wash, but it isn't necessary.
There are so many tips and tricks to baking pie.
I do not claim to be an expert in the art of pie baking or even rolling out pie crust, but if you use a store bought crust than this is not only a delicious cherry pie with amazing cherry flavor, it is an easy cherry pie to make.
If you are searching for a different recipe I also have an awesome chocolate cherry skillet pie that is made with three types of cherries and it would be a hard choice if I had to choose between the two.
For best results, make sure to let this pie rest before serving.
Many often complain when baking fruit pies about too much juice accumulating, but hopefully your cherries bake up ok.
It often looks like the cherry pie has cooked all the way through because the top has browned, but sometimes it just needs to be covered with aluminum foil to continue baking.
This often solves the problem of a juicy pie. That and letting the pie rest.
Honestly, all I can say is that this works for me!
After the pie has settled and rested and hopefully you have, too-feel free to serve this fresh cherry pie with a scoop of vanilla ice cream.
Or whipped cream. Personally, I just want mine with a big glass of ice cold milk!
Below is the original post from February 22, 2013!
Today is George Washington's Birthday.
A long, long time ago when I walked miles to school we celebrated George's birthday on his real birthday.
I don't think President's Day was invented yet.
And when I walked those miles home all by myself, or with my brother, and no one worried about stranger danger, we were greeted with cherry pie.
In honor of George, of course.
Because he chopped down that cherry tree; because he could not tell a lie.
Which is just a myth, don't you know?
In any case, thanks to George, my mother would buy a frozen pie and sprinkle the top with sugar before she put it in the oven and we had cherry pie for dessert.
I don't remember having many desserts, at least at the kitchen table, so this was very special.
It was delicious; even if it was frozen.
I think it is still my father's favorite pie.
So today when I give thanks to the founding father of our country, I also give thanks for cherry pie.
Years ago when we bought our home there was a cherry tree in the back yard.
It has long since passed to wherever cherry trees go when they can no longer show us their delicate pink blossoms.
I thought it was a good sign we had a cherry tree and I wish we would plant a new one.
For many years we were blessed with cherries which meant pies and a really good cherry cobbler.
Since its demise I have had to find fresh, sour, pitted cherries at the farmers market to bring home and freeze.
The last few months have found me subscribing to frugality which means my freezer is quickly being cleaned out.
It was during this discovery process I found enough cherries to bake one more pie.
Thank you George!
(And as a side note I will tell you that our Skye Terrier is named George. The breeder we bought from gave him his name. She also told me she named his sister Martha!)
But back to the pie.
When I discovered the cherries, I also discovered that I was out of butter which meant I couldn't make a pie crust.
So necessity being the mother of invention (was that Ben Franklin?) I decided to do a Momofuku.
Go look up his cookbook. David Chang. I love his stuff.
He is the one that makes awesome Japanese food and has a bakery where he makes cookies and then crumbles them all up to make crack pie.
It's good. I made it once. So, you guessed it.
My freezer had cookies, too. These were not my faves which is probably how they ended up in the freezer.
Not that they weren't good cookies, but I tend to like soft, chewy cookies and these are chewy, but crisp.
Luckily, I had a refrigerator pie crust leftover from God knows when, and I decided to use that as my bottom crust and crush up my leftover cookies for a really good crumbly top crust.
A bit of a streusel, you say.
Now lest you think you must go to the trouble and make the cookies for the crust I say, fear not.
Use whatever crust you want for this pie.
The refrigerated Pillsbury ones that come rolled up in the refrigerator aisle will suffice.
And I say that crust is good, but in this case it is the filling that counts!
Those cute little tart cherries with a hint of cinnamon are killer.
So once again-thank you George!
A few notes on cherries:
You may be able to find frozen sour cherries in the freezer case, in which case use them.
You can also buy sour cherries in a can.
I, repeat after me, do not like cherry pie filling. You know…the kind from a can.
Make your own. It is SIMPLE!
Still Want More?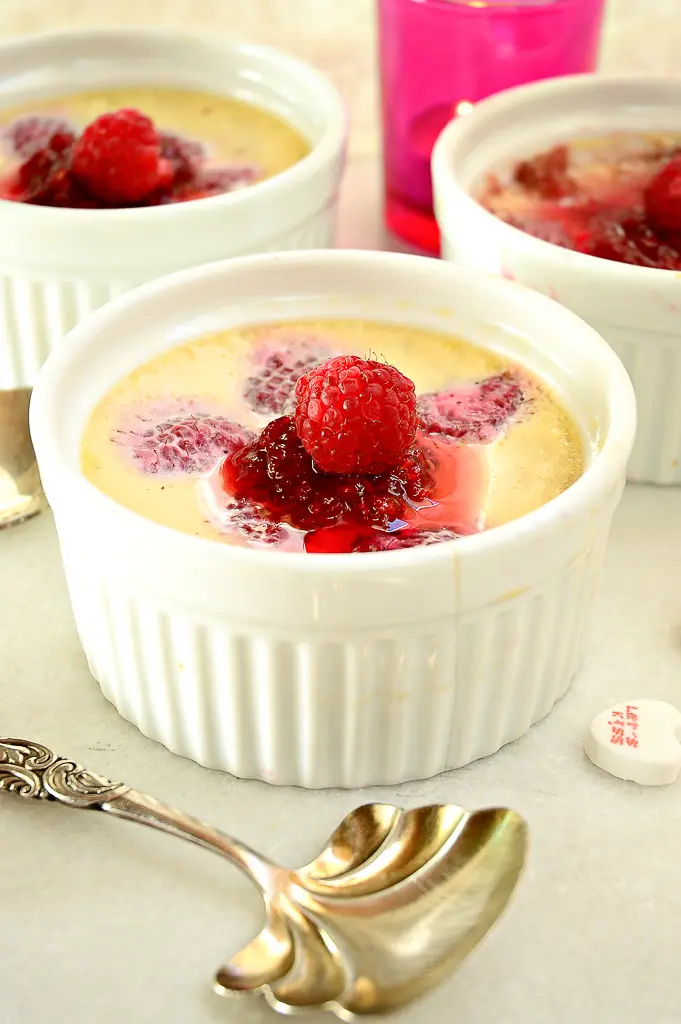 This post contains affiliate links from which I may or may not make a small commission at no cost to you.
Print
Homemade Cherry Pie Recipe with Frozen Cherries
Author:

Abbe Odenwalder

Prep Time:

20 Minutes

Cook Time:

75 Minutes

Total Time:

1 hour 35 minutes

Yield:

1

9" pie

1

x

Category:

Dessert

Cuisine:

American
---
Description
This sour cherry pie made with frozen cherries is my favorite pie. Not too sweet and not too tart, it is just right!
---
Your Favorite Crust
4 to 6 cups pitted sour cherries with 1/2 c juice
1 c sugar
1 T flour
2 1/2 Tablespoons corn starch
3/4 t cinnamon (optional)
2 T cold unsalted butter, cut into small pieces for dotting the cherries
Streusel Topping:
1 1/4 c flour
6 T brown sugar
1/4 c sugar
3/4 t cinnamon
1/4 t salt
1/2 c melted butter
1/4 t vanilla
Egg Wash:
1 egg
1 egg yolk
1 T heavy cream
---
Instructions
Thaw frozen cherries according to directions in post or leave in the refrigerator overnight.
Mix together the sugar, flour, corn starch and cinnamon in a large bowl.
Add the drained cherries with 1/2 c of cherry juice. Mix well.
Line a 9″ pie plate with bottom crust and top with the cherry mixture. Dot with butter.
Top with an upper pie crust or a struesel topping. If topping with crust, cut several slits with a sharp knife into the crust.
Chill in the refrigerator for 30 minutes.
Place oven rack in lower middle position and preheat to 400 degrees.
Whisk egg wash ingredients together if using on the top crust and brush on.
Place chilled pie on a parchment lined rimmed baking sheet.
Bake until crust is golden, about 1 hour, then loosely cover with tented foil and continue baking another 15 minutes or until filling is evenly bubbling in the center of the pie.
Let pie cool about three hours before serving.
---
Notes
Leftovers will keep at room temperature, about three days if covered with foil. Warm 10 minutes in a 350 oven to crisp the crust.
Keywords: cherry pie recipe with frozen cherries, sour cherry pie, sour cherries cherry pie, cherry pie recipe, best cherry pie, easy cherry pie, homemade cherry pie, frozen cherries cherry pie,