My favorite cherry pie begins with three kinds of cherries. Add in a flaky pie crust and lots of dark chocolate and get ready to swoon!
You deserve my favorite cherry pie recipe. Please do not take it lightly.
Not only is this the best cherry pie, it also is the best pie crust. At least the best pie crust that I've ever made!
But a good pie crust is only as good as what it is filled with. Yep. That's where these cherries step in. Glory, hallelujah! This pie is so cherrylicious!
This cherry pie has one extra special ingredient that makes this pie subtle, smooth and rich. It adds sweetness that balances the tartness of the cherries without overtaking them.
Oh My. Out with it. You know I'm talking about my best babe, chocolate. I have to admit to having an aversion to those chocolate cherries that come in a box, but oh my, not these that come in a pie.
No, that's not cinnamon sprinkled on the top of this cherry pie. You know, it's chocolate, right?
This is one splendid cherry pie. My mouth is watering just thinking about it.
So what else did I do out of pure impetuousness? Is that a word? I decided to bake this pie in a cast iron skillet just like the Long I Pie Company.
I have a great pie dish that I love. But baking the pie in a skillet gave me a thicker pie crust and I love pie crust. I can never decide if I love it more than the filling. We'll call it a toss up.
Baking it in a skillet allowed me to have a thicker bottom and top crust. I just love that word crust, don't you?
I always think the perfect crust is flaky, crispy and golden brown, kind of salty, and slightly sweet. Who knew crust could be so complex?
Now the cherries. Luck was with me when I found sour cherries. I thought I'd missed the season. For some folks life is a bowl of cherries but for me-well-I'd rather have them in pie!
I love cherries and always take great pleasure when baking a cherry pie or cobbler in the middle of winter. They remind me of summer and of the cherry tree that used to be in our yard. (I think that's why we bought the house!)
Finding an 8 pound container of pitted sour cherries gives me enough for about 5 pies. I freeze them in 4 cup portions which is usually enough for one pie.
Besides the sour cherries I added some dried sweet cherries. And I added some dried sour cherries. That's why this is a Triple Cherry Chocolate Skillet Pie.
I've never added dried cherries to a pie but it was a great move on my part. These cherries added texture and bite and such incredible flavor that I think even if I skip the chocolate, I'll always add dried cherries to my cherry pie recipe.
This cherry pie recipe was without a doubt, over the top incredible. Well. As long as cherries and chocolate are your thing!
Yes, it was my lucky weekend! For some that might mean winning the lottery or getting the closest parking spot. To me it meant strolling in the farmer's market with good friends.
I adore gazing at summer's bounty and tasting samples along the way. I always come home with too much, but that's OK by me.
So now I have to squeeze in making plum jam and some refrigerator pickles. And one big heirloom tomato salad. Certainly the farmer's market is no place to save money, but it is fun to buy things that often can't be found elsewhere.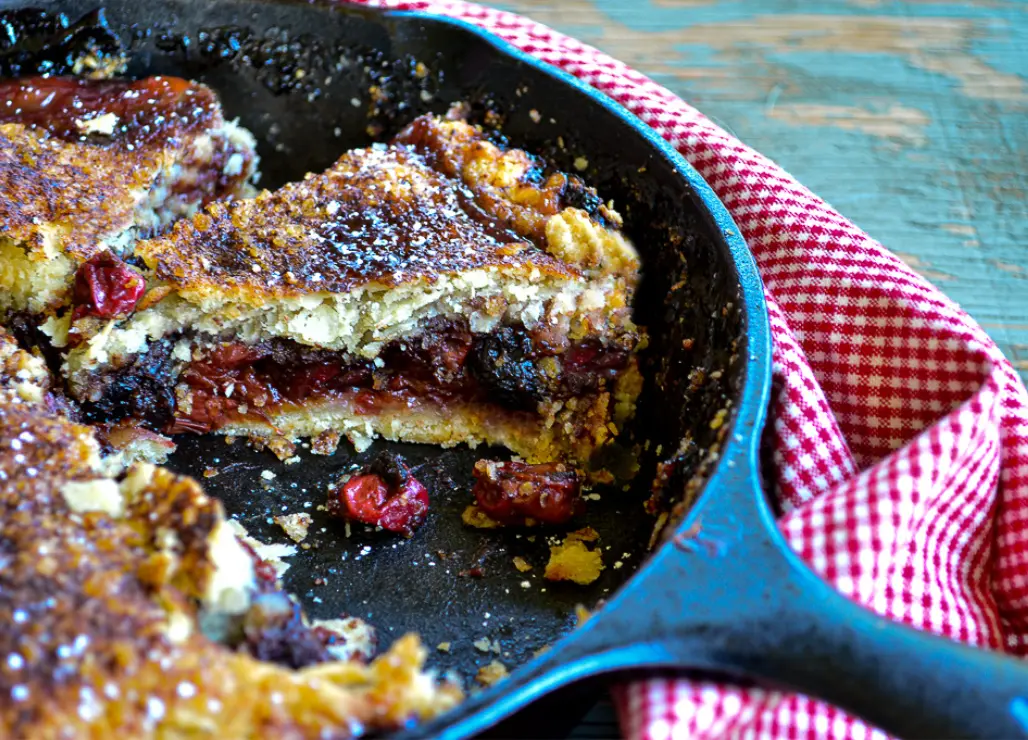 But back to pie. Now pie making skills are not my strongest suit, but recently the Denver Post published a story about a younger than me girl, that bakes fabulous pies from her trailer named Stella.
I saved the article and you know what? She is good. This girl rocks! I feel like pie crust and I finally came eye to eye!
Yes, it was a revelation and I finally feel secure baking a pie crust. Hallelujah! And Hurray for the Long I Pie Company!
Please visit a Farmer's Market. It is where many great recipes begin!
Need a Few More?
Please Pin and Share:
(This is an updated post from 2015.)
Print
Triple Cherry Chocolate Skillet Pie
Author:

Abbe Odenwalder

Prep Time:

30 minutes

Cook Time:

50 minutes

Total Time:

1 hour 20 minutes

Yield:

8

1

x

Category:

Dessert

Method:

Baking

Cuisine:

American
---
Description
Triple Cherry Chocolate Skillet Pie is truly incredible. With three kinds of cherries and lots of flaked dark chocolate that sink into the cherries as the pie bakes, makes this one irresistible dessert.
---
The Very Best Pie Crust (from the Long I Pie Company)
2 1/2

c unbleached flour

1

T sugar

1

t salt

1

c frozen butter cut lengthwise down the middle and then sliced into

8

and then each slice in half

3/4

to

1

c ice cold water (I put ice cubes in the water and pour from there)
Cherry Chocolate Pie Filling
4

c pitted sour cherries

1 1/2

c dried cherries, sweet and tart combined

1

c sugar

1

T flour

2 1/2

T cornstarch

1 1/4

c finely grated bittersweet or dark chocolate finely grated (I grated mine on a microplane. Make sure to set aside a few to sprinkle on top of crust.)

1

–

2

T heavy cream
---
Instructions
Pie Crust: Mix all dry ingredients into a large bowl. Use a pastry blender, not your food processor because the friction will heat the butter and cut the chunks too small. Cut the butter into the dry ingredients until butter is divided into marble sized pieces. It is these pieces that melt into the crust and create air pockets which make a flaky crust. Do not cut them too small.
After butter is cut in, slowly add water and mix with your hands until dough sticks together and can be formed into a ball. You may need more or less water. Once shaped into a ball, wrap in plastic wrap and chill for two hours before rolling.
After chilling cut dough ball in half. You should see butter striations in the crust. These are kind of like the gold veins in a gold mine. It means flaky crust, people!
Filling:
Combine everything but chocolate in a large bowl. Mix and set aside until crust is rolled out.
Cut dough in half. I used a 9″ cast iron skillet but feel free to use your favorite pie plate. Preheat oven to 400.
Roll out your crust: I roll out my pie crust between two pieces of plastic wrap.
Take one half of the dough and beat it with your rolling pin until it forms a thick circle. Now roll from the center of the circle to the outside, but don't use your full weight as you get to the edges, or the edge of the crust will get too thin. Always roll from the center and in 1/4 sections until the pie crust is the size you need it. Then peel off the top sheet of plastic wrap and turn it upside down over your pie dish. Gently press into place. Do this again for top crust.
Assemble your pie:
Fill bottom with cherry filling and then pour your chocolate shavings over the top. Smooth it around evenly. Place the top crust on top and tuck it into the sides of your skillet with the bottom crust on the inside. Pinch lightly. Brush crust with heavy cream and sprinkle with some leftover chocolate shavings.
Bake: Bake at 400 for 50-60 minutes. Let cool for as long as you can stand it!
---
Keywords: cherry pie recipe, cherry pie, easy cherry pie, chocolate cherry pie, skillet cherry pie, sour cherry pie, best cherry pie recipe