Old Fashioned Skillet Cherry Cobbler is made with sour cherries and biscuit dough in a big cast iron skillet. What are you waiting for?
Sour cherries are one of my favorite finds when I venture to the local farmers markets.
Colorado has great cherries and baking with them is a true luxury and a tasty one at that.
I love fresh cherry pie but then again I love biscuits.
This old fashioned cherry cobbler recipe is one way to combine my two favorites.
Making a Bisquick cherry cobbler is fun and easy to do and not quite so fussy as pie.
Whether you use Bisquick mix to make the biscuits, or your own favorite recipe, I guarantee this skillet cherry cobbler will make everyone happy.
Spring cleaning this year found me discovering frozen sour cherries that I bought at the farmer's market last year. Lucky me!
Next to the frozen Halloween candy I consider frozen cherries to be like winning a blue ribbon.
The time has come to use them up so I can buy more frozen sour cherries to find next year.
Sour cherries are my absolute favorite fruit to use in summer desserts.
There is something decadent and wholesome when one spies truly gorgeous, red glistening cherries coming out of the oven.
It doesn't matter in what form they are-whether it is crisp, cobbler or pie.
Whether it is syrup, sauce or jam, or just one on top, cherries are just so damn pretty.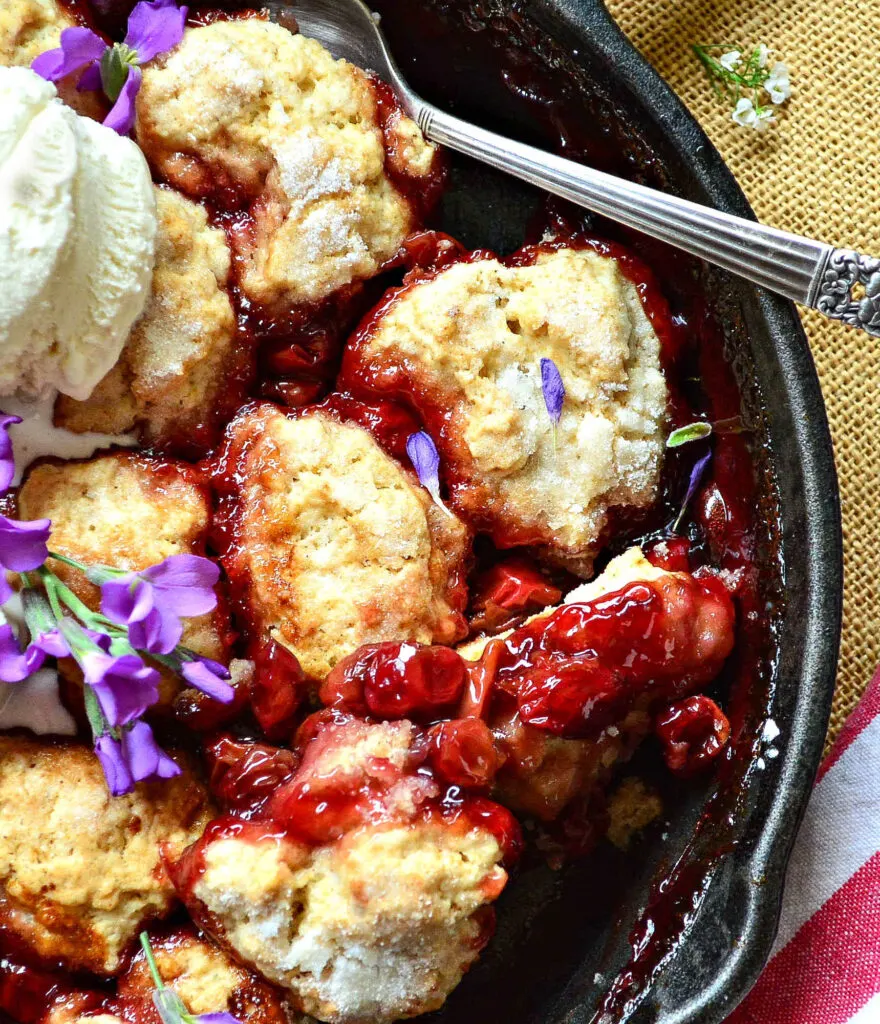 How to freeze sour cherries:
Make sure to remove the pits, in case they are still there! I have a cherry pitter but find using a plastic straw is much easier. Poke it in one end and the pit comes out the other.
I buy one 15 lb bucket of frozen cherries which lasts me through the year.
Measure 4 c of cherries with a bit of juice. Place in a ziplock freezer bag. Squeeze out the air. (I use about 4 cups of cherries per pie or cobbler.)
Freeze your cherries flat. It makes them easier to stack that way. Once the bags are frozen I put them in a giant ziplock bag so they are more protected from freezer burn.
Lots of folks think you need to freeze cherries in a single layer before storing. I've never done this, but it does sound good. However I can tell you I've never had a problem with my method.
To thaw, I place each 4 c bag of cherries in cold water and presto, in about 20 minutes I have cherries that are suitable to use in all of my cherry desserts.
Spring cleaning is not a chore I enjoy.
My kids are 25 years old and I still find myself giving away toys and cleaning out old makeup and cheap gems from my daughter's room.
My son's room has been cleaned out, but since he is far, far away and hopefully will return again, we are storing boxes and books and four guitars that require keeping a humidifier running in his room.
That's not so bad as long as I remember to fill it. Manservant has even found that if he keeps his cigars in there it works out quite nicely for them, too.
I can't wait to paint our basement that has brightly colored stripes running up and down the walls that worked out quite nicely during the kid's party years.
The basement still contains various games and tons of children's books that I know I will save forever.
Well, hopefully I will have something called grandkids to pass them on too.
And then there is the crawl space that contains so many stuffed animals and baby clothes and who knows what else, because I'm afraid to go in there.
But this week I was more focused on the freezer. We need a new refrigerator so badly.
Ours is 24 years old and it works quite nicely except that ice builds up in the bottom of the freezer side and then we need to chip it away so I can use the bottom shelf.
Using a hair dryer to start the melting isn't hard to do, but it is a hassle.
We've tried having it fixed but no one ever does the job right, so we've given up on it ever being 100%.
Since all funds are going to China, it appears I'll be chipping away a few times this year.
Which takes me back to spring cleaning. You knew I'd get there, didn't you?
The discovery process of cleaning a freezer can be quite amazing. In my case it involved throwing away a can of frozen limeade that has been there for two years.
And then I discovered the chicken fat that I was going to use for rendering for Passover so I wouldn't have to buy schmaltz, but I did buy schmaltz, so now I guess I'll try saving it until Rosh Hashanah.
Then I found three Cornish hens that never got baked and who knows how long they have been there. And I could go on, but why?
Being quite busy running around like a chicken with my head cut off, I threw this cherry cobbler together for a nice dinner I made last weekend for Manservant's send off.
Except it wasn't a send off, because the MAN is still here. Drives me crazy when he does this!
I also made a superb papparadelle with baby lobsters in a lemon garlic sauce. Yes, those baby lobster's were buried in the freezer, too.
I buy them and tuck them away whenever they are on sale, and I think those tiny tails were from Valentine's Day.
You already know I found the frozen cherries and that for me is like winning the lottery.
So remember if life gives you pits, make sure to eat the cherries.
They sure brighten my day and I have no doubt this easy cherry cobbler will brighten yours.
Even if you had to go through spring cleaning to find them!

A Few More:
Print
Old Fashioned Skillet Cherry Cobbler
Author:

Abbe Odenwalder

Prep Time:

35 Minutes

Cook Time:

45 Minutes

Total Time:

75 Minutes

Yield:

1

8" Skillet Pie

1

x

Category:

Dessert

Method:

Baking

Cuisine:

American
---
Description
Old Fashioned Skillet Cherry Cobbler is made with sour cherries and biscuit dough in a big cast iron skillet. What are you waiting for?
---
4 c sour cherries, pitted and drained well
2 T lemon juice
1/4 t almond extract
1/2 t vanilla extract
2 T cornstarch
2/3 c sugar plus 3 T
1 1/2 c flour
1 t salt
1 1/2 t baking powder
1/2 t cinnamon
12 T cold unsalted butter, cut into small cubes
---
Instructions
Preheat oven to 350. Lightly grease an 8″ cast iron skillet. Put cherries, lemon juice almond and vanilla extract, cornstarch and sugar into skillet. Stir well. Set aside and make biscuit dough.
In a small bowl, combine flour, baking powder, salt 3 T sugar and the butter. I use my fingers, but you may want to use a fork or pastry cutter, and cut the butter in until it resembles coarse meal. Stir in 1/2 c boiling water, stirring until batter is just combined.
Now over medium heat bring the cherry mixture to a boil. Drop the batter in large heaping tablespoons onto the cherries. Bake the cobbler for 45-50 minutes, or until the top is golden. Serve with ice cream or whipped cream.
---
Keywords: old fashioned cherry cobbler, cherry cobbler, cherry cobbler recipe, cherry cobbler easy, cherry cobbler bisquick, cherry cobbler with bisquick, skillet cherry cobbler