A great buttermilk pancake loaded with macadamia nuts? This macadamia nuts pancake recipe is the best ever. Try it. I guarantee you won't be disappointed with these simple and fluffy pancakes!
A macadamia nuts pancake recipe is a lavish way to start off the new year.
Macadamias are a rich nut, loaded with antioxidants and fiber.
But forget all that, macadamias are just crazy good.
The first time I ate macadamias was years ago in the days when Manservant earned lots of points on United and we were able to fly first class to Hawaii.
Not sure that will ever happen again in our lifetime, or even if we will ever get back to Hawaii, but I do remember that everyone was served a little white bowl of macadamias when flying the friendly skies!
And yes folks, that was a great introduction to this decadent nut-which is actually a seed.
Macadamias are expensive because it takes 7 – 10 years to even harvest the first crop.
Usually they are harvested by hand, and have the hardest shell to crack of any nut.
But oh my, these rich, buttery nuts are so worth it.
Which is why the memory of these macadamia nut pancakes stayed with me for so long.
Yes, I remember those cute little bottles of maple syrup served with a big plate of macadamia pancakes while we were poolside.
So good and since that time I've made these pancakes just a few times and I always ask myself why I don't make them more often.
After all, Manservant does buy macadamias quite often at Costco to supplement whatever special diet he is on for the day.
(And between you and me, whatever it is works for him because he lost a lot of weight before the wedding!)
And with the beginning of this new year it felt good to welcome it in such a totally caloric way. Resolutions can wait until Monday!
With the type of pancake decided-usually in our home it is chocolate chip, banana or blueberry, it was time to decide what pancake recipe to try.
And boy did I hit the jackpot with this one.
Adapted from Joanna Gaines and her jackpot cookbook, Magnolia Table, this buttermilk pancake recipe is easy to make.
But the best part is these fluffy buttermilk pancakes taste so good.
I don't eat pancakes often, but these macadamia nuts pancake recipe will surely begin to appear more often on lazy Sunday mornings.
How to Make this Macadamia Nuts Pancakes Recipe:
Begin with a large bowl. Whisk together the dry ingredients of all purpose flour, sugar, baking powder, baking soda and salt.
In a separate bowl or measuring cup, combine the buttermilk, 2 tablespoons of melted butter, 1/2 c of vegetable oil, and the two eggs.
Pour the liquid ingredients into the flour mixture and watch as your pancake batter begins to let loose!
Let it stand for up to 30 minutes while you chop your macadamia nuts or slice up your banana slices and watch as the pancake batter begins to explode.
Before pouring the batter into the griddle, don't forget to stir in the chopped macadamia nuts.
This is what creates the best buttermilk pancake recipe, I here-by testify!
There is another recipe for blueberry buttermilk pancakes that I've written about and these two are almost identical except for one thing.
This new pancake recipe contains 1 tablespoon of baking powder which makes for very fluffy pancakes!
I cooked these in a buttered nonstick large skillet over medium heat until golden brown on each side, using about 1/4 cup batter per pancake.
Cook until the top of the pancake is bubbly, about two minutes per side. Usually the second side cooks faster.
I kept the cooked pancakes warm in a 300 degree oven until I was reasy to serve.
This recipe makes lots of pancakes and should easily serve 6.
Macadamia Nut Pancakes Serving Suggestions:
Though this recipe can be made with sliced bananas to make banana-macadamia nut pancakes, personally I prefer these with some fresh fruit on the side.
Make it with a fresh ripe banana, and some chunks of fresh pineapple. Sprinkle with shredded coconut and serve this amazing pancake with coconut syrup, if you really want true tropical pancakes.
Of course, you can't go wrong with a few slice of salty bacon on the plate either!
When the kids were little I used to pour them a glass of guava juice instead of orange juice to drink with these. If you haven't tried guava juice yet, you are missing out!
I've also seen macadamia pancakes made with coconut milk, but remember it is the buttermilk that reacts with the baking soda to help achieve lift and tenderness in the pancake.
White chocolate chips can also be added to the batter, but frankly, I think these are just right, as is!
For that matter one could sprinkle the top of each pancake with coconut, which is something I might try next time!
Or fry these in coconut oil, for a slight tropical flavor.
This macadamia nuts pancake recipe makes some of the best pancakes I've tasted. Perfect for Sunday brunch. Perfect for starting a new year.
They might just become your new favorite pancakes.
Just make sure not to eat all the macadamias before they make it to the batter!
Need Some More? I Always Seem to Post Waffles so here ya go!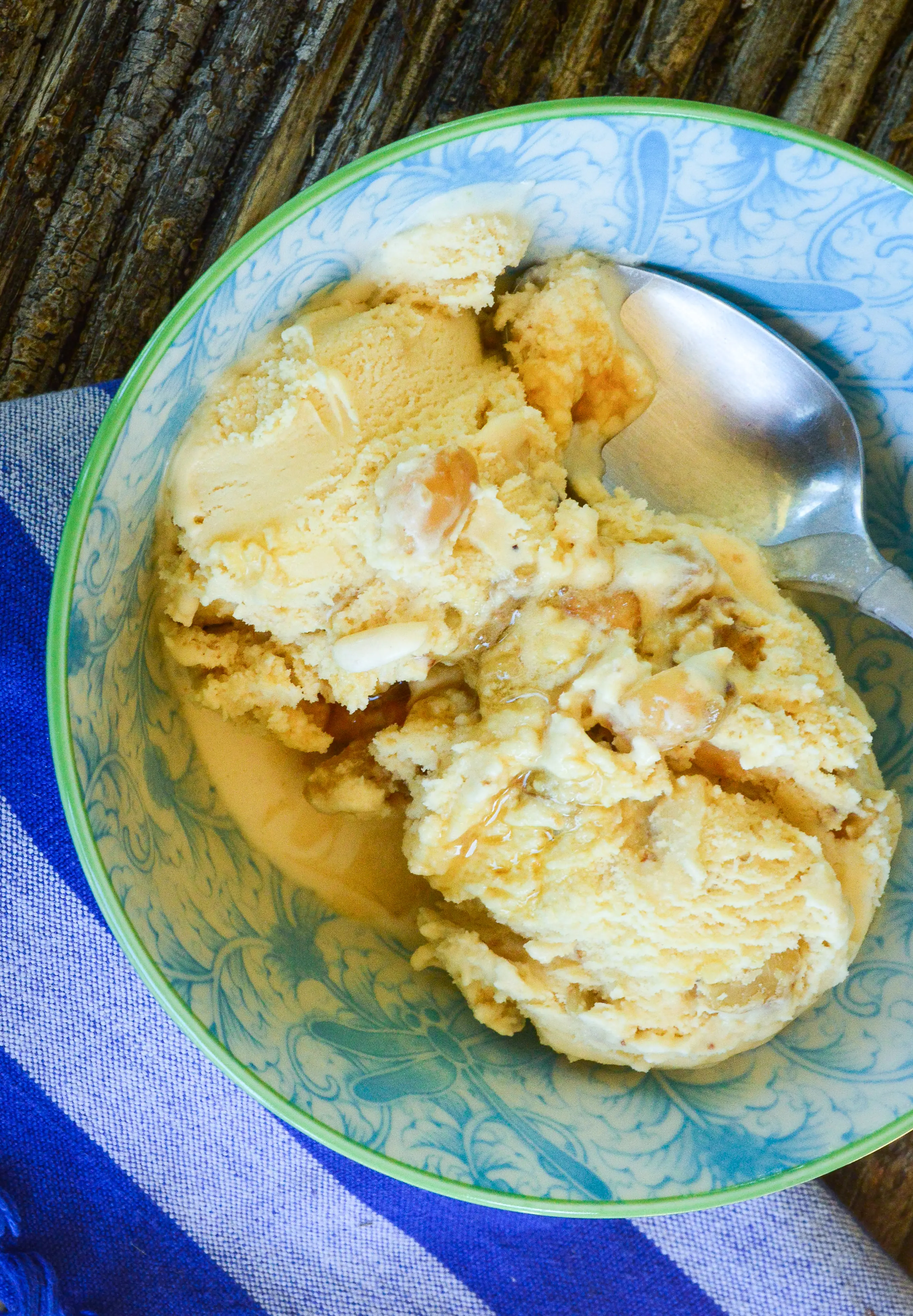 I'd Love it if You'd Follow Me and Pin and Share:
Print
Hawaiian Macadamia Nut Pancakes Recipe
Author:

Abbe Odenwalder

Prep Time:

15 Minutes

Cook Time:

20 Minutes

Total Time:

35 Minutes

Yield:

4

-

6

Servings

1

x

Category:

Breakfast

Method:

Stove Top

Cuisine:

American
---
Description
This simple and fluffy buttermilk pancake is loaded with macadamia nuts. That makes these the most lavish pancake ever. And one of the best I've ever eaten!
---
2 cups all purpose flour
1 /4 c sugar
1 T baking powder
2 t baking sida
1 t kosher salt
2 c buttermilk (I used fresh and also some dried Saco buttermilk powder.)
1/2 c vegetable oil
2 T melted, unsalted butter and more for the skillet
2 large eggs
3/4 c rough chopped salted macadamias
Salted Butter for serving
Pure maple syrup for serving
---
Instructions
In a large bowl, whisk together flour, sugar, baking powder, baking soda and salt. Set aside.
In a medium bowl or large measuring cup, whisk together the buttermilk, oil, butter and eggs.
Pour the liquid ingredients into the dry ingredients and stir together until well combined. Let stand for 20 – 30 minutes so the batter will become fluffy. This doesn't take long!
Now stir in the chopped macadamias.
Heat a skillet over medium to medium-high heat until hot. Brush with oil or butter and pour about 1/4 cup of batter into the pan. Do not crowd. These get big! Don't let your pancakes touch.
Cook until lightly browned and the top is bubbly, about 2 minutes. Flip and cook the other side until brown. Transfer to a platter and place in a warm oven while making the rest of the recipe, adding more butter to the skillet as necessary. (I just rub the paper wrapped butter stick directly onto the pan.)
Serve hot with butter and maple syrup.
---
Notes
These can be reheated, but are best served and eaten fresh out of the pan!
Coconut syrup is an option instead of maple.
Pineapple is great in the side.
Keywords: macadamia nut pancakes recipe, macadamia nut pancakes, macadamia pancakes, Hawaiian pancakes