Belgian Dark Chocolate Waffles are loaded with dark chocolate chips and chunky bits of sugar. Not too sweet and just right for a holiday brunch, this recipe for Belgian waffles will quickly become a favorite!
Need a recipe for Belgian waffles? Though these Belgian waffles are the chocolate version, I don't think you will be disappointed.
If you want just straight up Belgian waffles, then take a look at these. Basically they are the same waffles, except cocoa is substituted for flour.
Waffles and I have known each other for a very long time. However for a long time, I only was friendly with Eggo waffles.
My kids loved Eggo waffles. In fact, I often sent them to school with waffles wrapped in paper towels. They liked each indentation filled with a chocolate chip. Crazily, I complied.
When mini waffles came out, they happily ate the chocolate chip version with more chocolate chips added.
Yes, my kids started early on chocolate but somehow they maintained a healthy distance, where as for me…it is often another story.
Zoe does very well with waffles. One of her favorite breakfast items at The Original Pancake House is a giant Belgian waffle topped with super-sized red strawberries and a pint of whipped cream.
Her face still lights up when she encounters them. As a child the wait staff never believed she could eat the whole thing, but boy, did she surprise them!
One day after cleaning cabinets I discovered a long forgotten waffle iron so I decided it was time to make waffles. Honestly, I thought making waffles was a big deal, but truly, it isn't!
In fact since I discovered that waffle iron, I've made quite a few things in it, besides waffles. For starters, hash browns morph into crispy golden patties when made in a waffle iron. Grilled cheese becomes a panini. And quesadillas become tortilla sandwiches when stuffed with cheese and chiles. I've even made falafel waffles!
But those aren't waffles. These are waffles!
So what is the difference between a waffle and a Belgian waffle?
Belgian waffles generally are larger and have deeper indentations to hold the syrup better. Is my ancient waffle iron a Belgian waffle maker or is it just a regular? Really, I don't know. What I do know is that all of these waffle recipes for waffles are great recipes.
Belgian waffles are usually crisper and lighter than other versions and they may or may not be made with yeast.
Are they all Belgian waffles? That I will leave up to you to decipher!
Trivia question!

Are Belgian waffles from Belgium?
Well yes, they actually are! They were introduced to the US at the Seattle Century 21 exhibit in 1962. That version was topped with strawberries and whipped cream and called a Brussels waffle.
In 1964 at the New York World's Fair, the Belgium waffle reappeared where its name had been changed to the Bel-Gem waffle. Apparently people did not know that Brussels was the capitol of Belgium! (Many probably don't now!)
Waffles are a great way to make breakfast special. This recipes makes approximately 12 waffles but since waffle irons vary in size, I can't tell you exactly.
Having extra waffles is a good thing because waffles can easily be frozen and then reheated. I prefer my waffles heated in an oven because it helps the waffle retain its crispness.
Simply place in a preheated 350 degree oven set to bake, and place frozen waffles on a sheet of parchment paper for roughly 10 to 15 minutes. Once you smell them, they are probably ready!
If you must rush things frozen waffles can be reheated in a microwave for 30 – 40 seconds. Since microwaves vary be sure not to overcook them!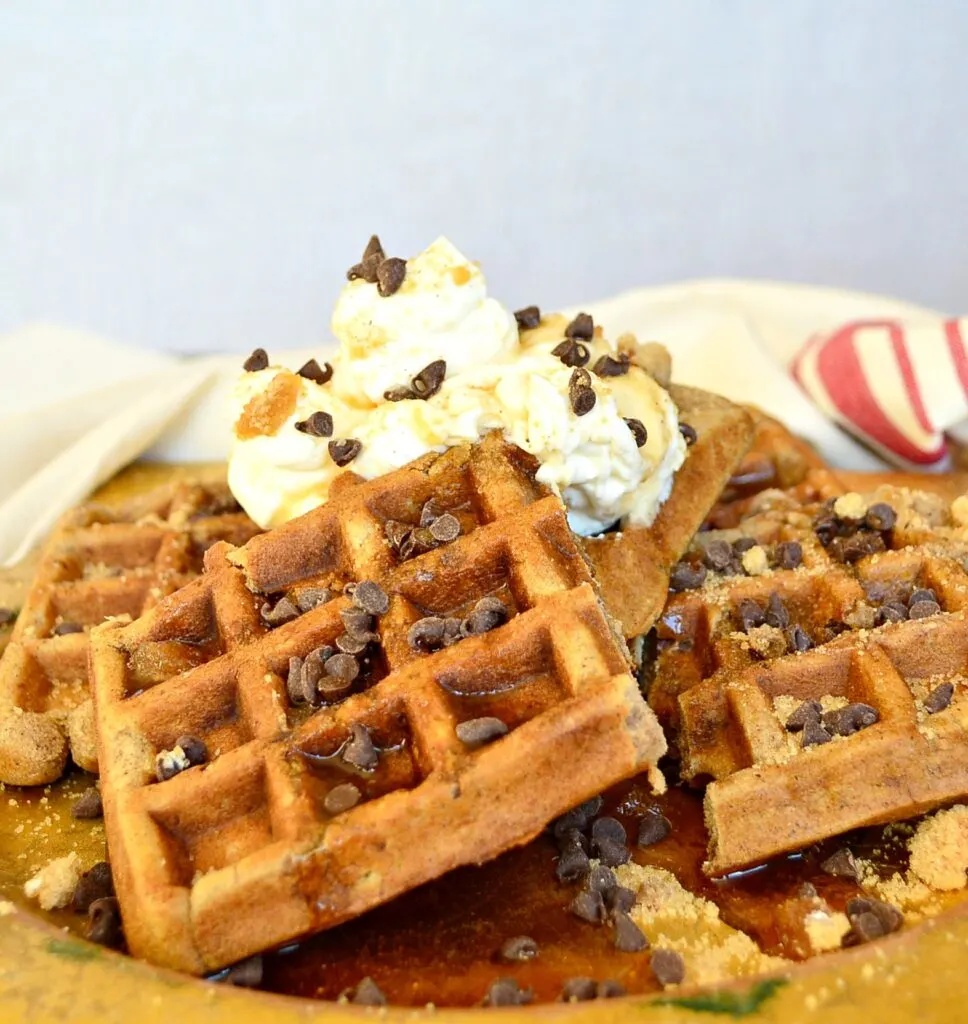 For breakfast I grew up eating Rice Krinkles with milk, or Oscar Meyer liver sausage on toast. Let's just say that the Weiner home wasn't big on breakfast.
Sunday mornings sometimes featured my dad's fried eggs, French toast or Bisquick pancakes, accompanied by the sound of Broadway show tunes.
I however LOVE breakfast and it was weekend breakfasts that often enticed my kids to get out of bed and start their day.
Don't miss these dark chocolate waffles filled with bittersweet chocolate and chunky sugar bits… Manservant loved them. I loved them.
Not too sweet, this recipe for Belgian waffles is perfect with maple syrup. I served them with a mole pork sausage and together this definitely put breakfast over the top!
What you need to make this Belgian Waffles Recipe!
These Leige style Belgian waffles are studded with sugar bits. I buy them at Sur La Table, but Amazon has them also.
I try to always have a bag on hand. Their recipe recommends using the entire bag per recipe, but truly half a bag works just fine.
Use good dark chocolate that you chop or otherwise. I prefer these.
As for waffle irons, mine is about as basic as you can get. It heats just fine and cooks each waffle in about 90 seconds. No need to flip!
Syrup is like icing on the cake. I love the real thing and prefer it robust, but there are other versions that I'd love to try!
Check out all my waffle recipes. I didn't realize I had this many. Don't ask me to choose a favorite…I love them all!
As an Amazon Associate I earn from qualifying purchases at no additional cost to you. Please feel free to read my disclosure policy.
Need a Recipe for Belgian Waffles?
Easy Buttery Waffles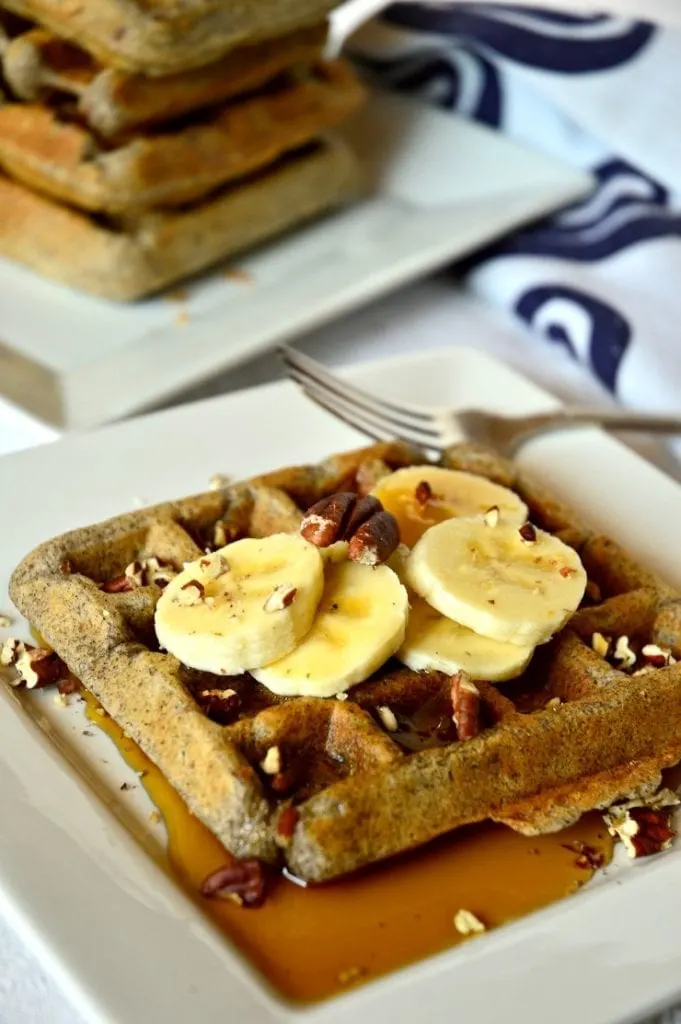 Follow me on Pinterest and Don't Forget to Share!
Print
Belgian Dark Chocolate Waffles
Author:

Abbe Odenwalder

Prep Time:

20 Minutes*

Cook Time:

20 Minutes

Total Time:

0 hours

Yield:

12

Waffles

1

x

Category:

Breakfast

Cuisine:

American
---
Description
Chocolate Belgian waffles are a special treat. Not too sweet, but totally decadent!
---
3 c flour

1/2 c cocoa

1 package dry yeast

3/4 c lukewarm milk

2 sticks very soft butter

2 eggs

1/2 t salt

1 t vanilla

4 oz pearl sugar or coarsely chopped sugar cubes

3/4 c dark chocolate chips
---
Instructions
Dissolve yeast in lukewarm milk for a few minutes. After it sits a few minutes I use my mini whisk to blend the mixture better.
Gradually add all the ingredients to the flour, except the pearl sugar. Feel free to use your hands, a pie crust blender or a mixer to do this. Really, I just use my hands and smush.
Cover dough with plastic wrap and let rise in a warm place until doubled. This takes about 30-45 minutes. Now smush in the sugar and chocolate chips. It is a stiff dough so your hands will get a bit of a work out!
Divide dough into small patties about 3-4 ounces each. (Believe it or not, I still have my weight watcher's scale from so long ago.) They also can be measured out in an overflowing 1/4 c measuring cup. I weigh one to get an idea of what they should look like, but this makes about 12.
After your waffle iron has preheated, plop each patty in. They take about 90 seconds to bake. Take them out carefully so the sugar doesn't burn you. But don't wait to long to eat them. Nothing like a hot waffle.
---
Keywords: Recipe for Belgian waffles, Chocolate Belgian Waffles, Belgian waffle, Belgian waffles recipe, Belgian waffles best recipe