Maple Ice Cream with macadamias cooked in maple syrup is rich and luscious and totally made for maple and nut lovers! That's you, isn't it?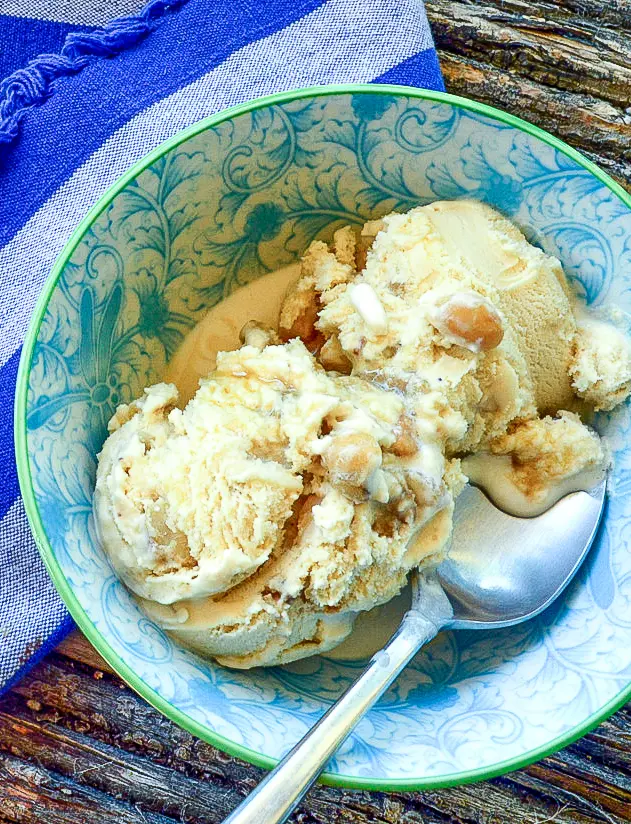 Yes, I'm a maple lover which could be the reason why I love this maple ice cream.
I love this simple maple ice cream, which though it is made in an ice cream maker-it requires no cooking.
Made with a simple custard of eggs, heavy cream and maple syrup, this ice cream recipe is so good.
Though walnuts are often the preferred nut in maple ice cream, I chose salted macadamias.
Maple is sweet and the saltiness of the macadamia nuts helps offset that and also plays up the sweet and salty effect of this decadent ice cream.
Kind of reminiscent of pralines and cream, this ice cream recipe has lots of caramel flavor, though in this case it isn't brown sugar that causes it-it's the maple syrup.
If you don't feel like splurging on macadamias, feel free to use another nut.
Or if you don't like nuts, skip making the praline!
Another possibility is to use already made peanut brittle or just stir in some glazed pecans. I guarantee this would make some great ice cream, too!
I love making ice cream and don't do it often enough, considering that it is so simple to make.
I do love this no churn recipe with Oreos, but making ice cream in an ice cream maker helps create a better texture.
(This is an updated post from July, 2014.)
Anyone that has looked at the calendar today, knows it is July 1st. Besides being very close to my official halfway point of summer, it is also the beginning of national ice cream month. Now that's a fact you need to know, right?
I used to think ice cream season started around daylight savings time. That was when my parents took us to the Dairy Queen, which was a big deal.
It was always after dinner because the sun stayed out late. I remember the long lines, and seeing everyone you know doing the same thing.
Would it be a cone, a sundae or a shake? For me it was a DQ sundae with hot fudge. And no, I'm not sure if I liked the ice cream more than the hot fudge.
Kankakee had two Dairy Queens, which made it quite a metropolis for ice cream.
We also had a Howard Johnson's, but only went there on very special occasions.
It wasn't until Baskin Robbins opened up, that we realized there were other kinds of ice cream. Things like Jamocha Almond Fudge and Butter Pecan were my mom's favorite flavors.
I usually liked the Double Fudge Brownie or something like that. My father never got anything. Party pooper.
I was often told by my grandfather that he could have been Mr. Baskin or Mr. Robbins. It seems that when he left Lithuania behind in 1938, he also left a thriving shoe repair business and an ice cream business.He used to claim that he had 32 flavors; not 31. I never thought to ask what they were. Shame on me. Oh, but he loved telling us those two things, and always with his blue eyes sparkling.
Now my kids were raised with ice cream surrounding them. We did the Dairy Queen thing, which my son called Fairy Queen.
He really thought that was their name until he learned how to spell. We thought it was cute, so never corrected him.
We had Baskin Robbins and Bonnie Brae, TCBY and Coldstone. Then when the kids were in high school and could drive, there became a slew of frozen yogurt stores that opened, that they drove themselves too.
Which reminds me of when I first got my drivers license. That was long before cell phones, but in our house we had a children's line.
My mother, who totally loves ice cream, would call me in the basement or party room, on the children's line, and aski me in a very soft voice, if I would mind running to Baskin Robbins to get her some Jamocha Almond Fudge.
Then she would tell me not to yell upstairs when I got home; she would know when the ice cream had arrived by the sound of the backdoor opening and slamming.
I'm always one to keep a good secret, so I'm not sure that my father ever found out why she snuck downstairs in her nightie. Whoops. But I never let on either about the giant Hershey bars found in the back of the freezer or sometimes in her lingerie drawer. Double Whoops.
My favorite ice cream flavor is always something to do with chocolate, but I do love Chunky Monkey. Manservant loves most all fruit flavors but he also loves Phish Food.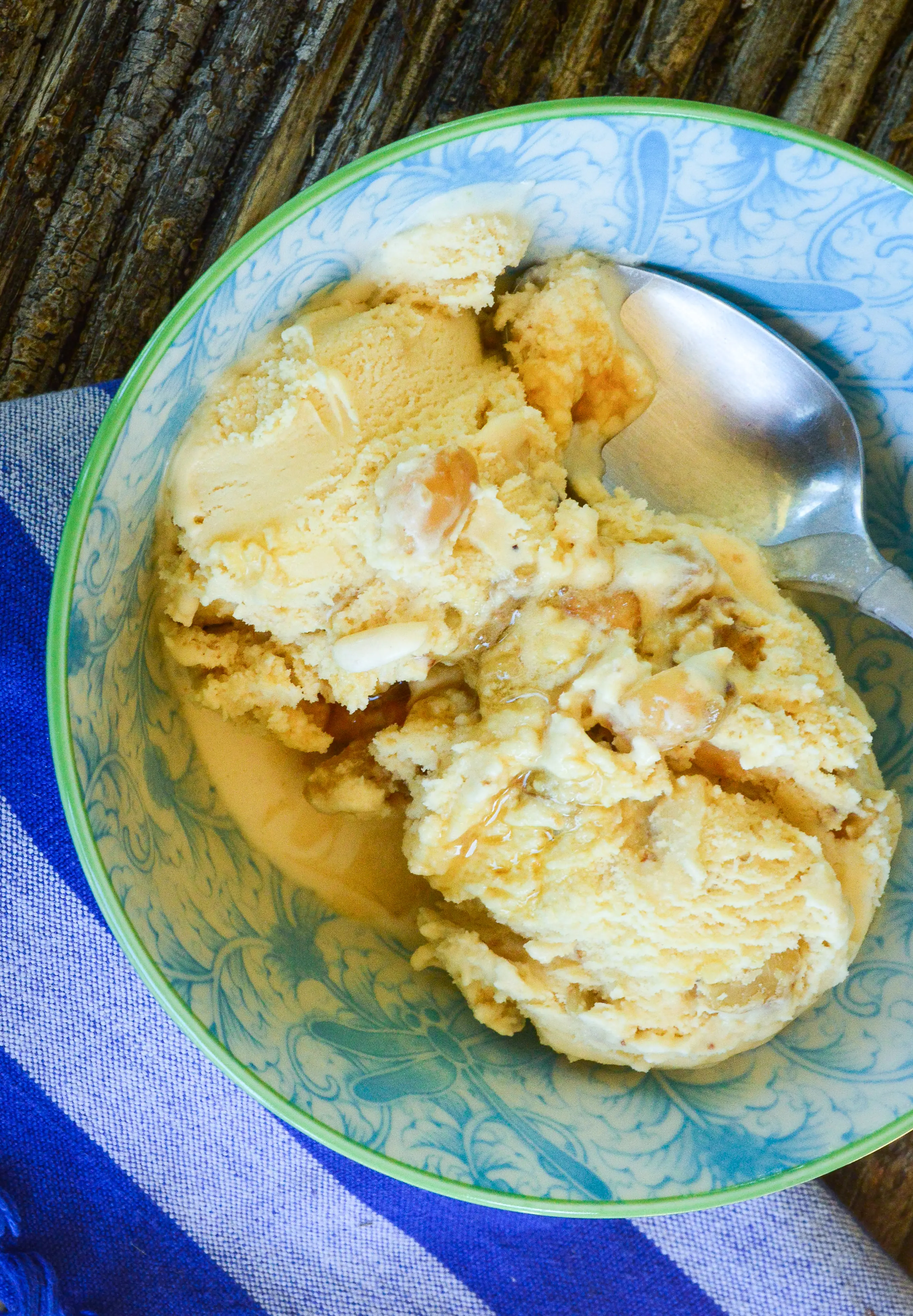 And Zoe, well Zoe loves it all. She leans toward fruit, but when she was young she loved bubblegum or mint chocolate chip, or any of those neon colored flavors that TCBY had. Alex is simple. Give him chocolate. A good man, that Alex.
So what is your favorite flavor? Make sure to get it soon. Ice cream month is upon us!
Need A Few More?
I'd Love it if You'd Follow Me and Pin and Share!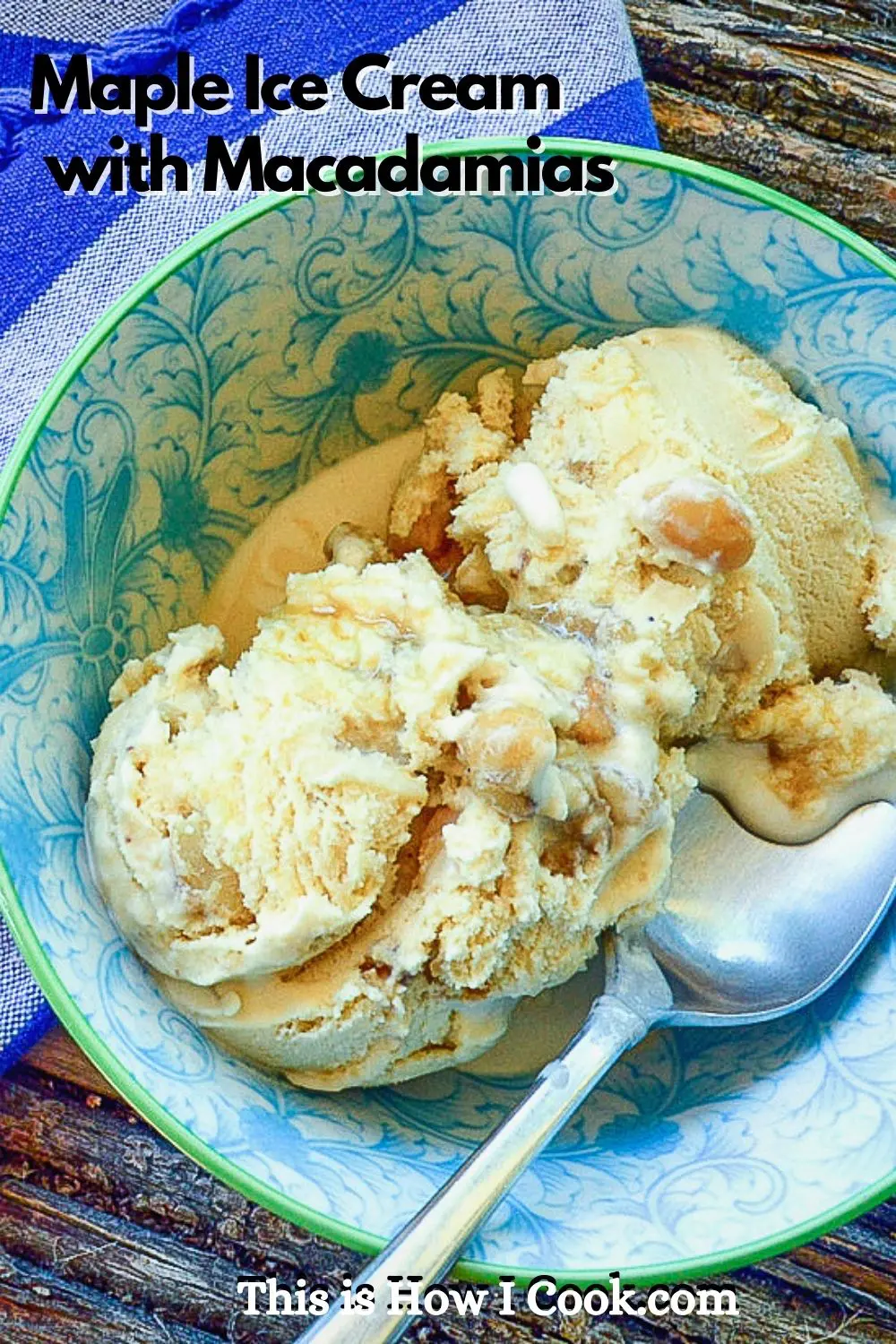 Print
Maple Salted Macadamia Ice Cream
Author:

Abbe Odenwalder

Prep Time:

30 Minutes

Total Time:

4 -6 hours*

Yield:

1 1/2 quarts

1

x

Category:

Dessert

Cuisine:

American
---
Description
This decadent ice cream is loaded with maple coated macadamias and lots of maple syrup. If you love maple, you will love this!
---
Praline:
1 c salted macadamias, roughly chopped

1/3 c maple syrup – grade B – if possible

Ice Cream:
2 large eggs

1/4 c sugar

3/4 c maple syrup – grade B – if possible

2 c heavy cream

1 c half and half or milk

---
Instructions
Nut Praline Directions:
Heat 1/3 c maple syrup over medium high heat. When syrup begins to boil, reduce heat to medium. Allow syrup to boil and thicken for about 10 minutes, swirling pan to keep it from burning. Remove from heat and add nuts. Stir well with a metal spoon and then pour onto a pie tin and place in the freezer to harden and cool.
Ice Cream:
In a large bowl, beat eggs until light, lemony and fluffy; about two minutes. Whisk in sugar and maple syrup, until completely blended. Pour in cream and milk and whisk some more. Make sure all is happy and well mixed.
Place ice cream mixture into the frozen bowl of an ice cream maker. Turn on machine and let spin until it starts to slow down. This took about 15 minutes for me.
At this point, break up your frozen nuts and add them to the ice cream maker. When all are swirled in, stop machine. Scrape or spoon ice cream into a 2 quart container and place in freezer for about 4 hours.
---
Notes
*Total time includes freeze time
Other nuts may be used, such as walnuts and pecans.
Don't like nuts? No worries! Just make the maple ice cream.
Keywords: maple ice cream, macadamia brittle ice cream, ice cream recipes with ice cream maker, macadamia nut recipes