"These gingerbread eggnog waffles studded with toasted pecans are guaranteed to get anyone out of bed. The subtle flavor of ginger bread and the heavenly aroma will make them happy they got up. Easy to make you can always reheat them in a toaster oven."
This year I find myself home alone. Manservant flew off last minute to be with his parents who are having a bit of a hard time this season. A few prayers in their favor could help. I would have loved to have flown off to be with my parents, as my dad is turning 85 tomorrow, but last minute things are tough this time of year. And yes, in case you are wondering, because of my dad, being Jewish in our home still always guaranteed a celebration on Christmas day. Alas, I couldn't find a spot for the dogs and so it is I find myself in a very quiet house. That's OK, I'm still grateful for seasons past.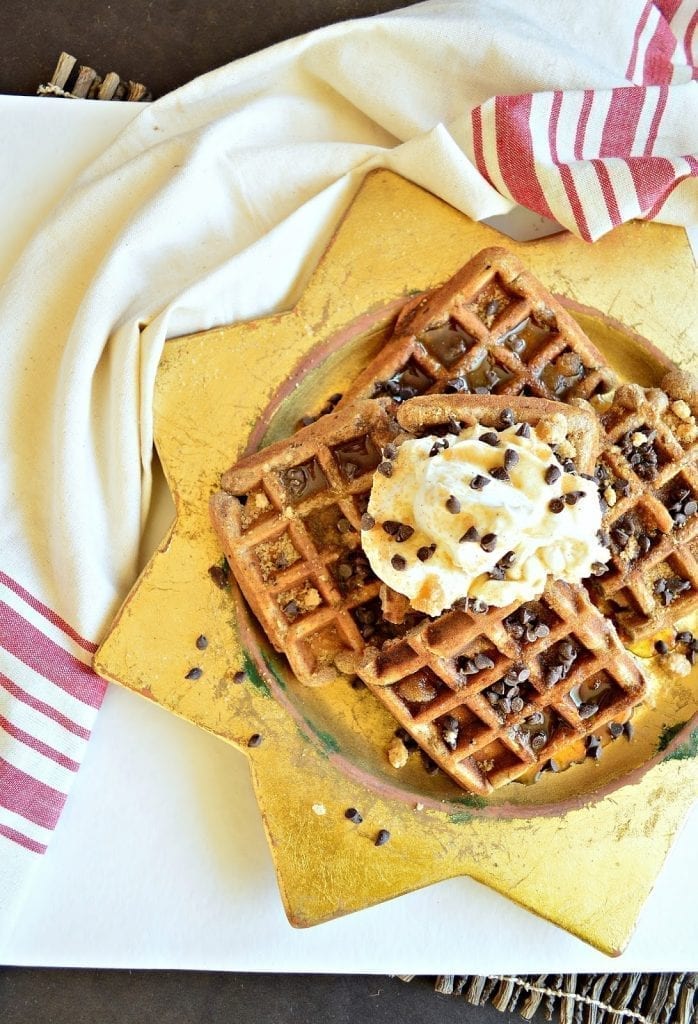 The kids are in their respective places. My folks will be enjoying themselves with my brother who is hosting a little party for my dad, and I am here enjoying the peace and quiet. Last weekend on Zoe's faster than a speeding bullet visit, I made these waffles. She wanted me to post them, so here ya go princess. They aren't what my dad would want. He prefers plain thin crepes with hot maple syrup. I hope he gets them!
Here's wishing everyone a Happy Hanukkah, a Merry Christmas, a Happy Kwanzaa, a Happy Festivus and a happy anything else that anyone can think of. Oh yeah. Happy Birthday fits in there also! Hope it is a good one Dad. I'm grateful for all of my friends; those here and those I have but not yet met, and those that are still to be. I wish for peace on earth and well filled stockings, brightly lit candles, and good food in your tummies. Have a happy day, my friends!
yield: 12-14 wafflesAuthor: This is How I Cookprint recipe
Gingerbread Eggnog Waffles with Pecans
These gingerbread eggnog waffles studded with toasted pecans make a very special breakfast. Make ahead and reheat if you like. Whatever you choose, just make them!
prep time: 20 MINScook time: 10 MINStotal time: 30 mins
INGREDIENTS:
2 c flour
1/2 t salt
1 t ginger
2 t cinnamon
1/4 t allspice
1 1/2 t baking soda
1/2 c brown sugar
1/2 c melted butter
1 c yogurt or sour cream
2 eggs
1/3 c eggnog (You may need a bit more)
2/3 c toasted chopped pecans
Whipped Cream (optional)
Brown sugar, mini chocolate chips, cinnamon for topping (optional)
INSTRUCTIONS:
Combine dry ingredients in a large bowl. Stir together.
Melt butter in a large 4 c measuring cup-power level 7- for 1 minute. This should do it, but if it isn't quite melted put in the microwave for a few seconds more. Add yogurt or sour cream, eggs and eggnog. Blend well with a whisk.
Add liquid ingredients to dry ingredients in bowl. Fold together well. Stir in toasted pecans.
Heat up your wafle iron. I use about 1/4 c per waffle. If your mixture is to stiff add a bit more eggnog. My waffle iron takes about 90 seconds to cook the waffles. Keep warm in a 300 degree oven until ready to serve.
I top with whipped cream and maple syrup. If you'd like you can mix up 3 T of dried out brown sugar with 1/2 t cinnamon and 3 T mini chocolate chips to sprinkle on top of the waffles. Zoe loves them this way! (Plus this is the perfect way to use dried out brown sugar. It makes a great crunchy topping.)
.recipe-inner{max-width:620px;border:6px double #009BFF;padding:20px;background:#f2f2f2;margin:40px auto;font-family:Lato,sans-serif}#recipe .info{font-size:13px;text-transform:capitalize;border-bottom:2px solid #000;padding-bottom:7px;margin-bottom:20px}#recipe .info:after{content:";display:table;width:0;height:0;clear:both}#recipe .info span{margin-top:-6px}#recipe .info .yield{margin-right:30px}#printbutton{color:#fff;float:right;background:#555;padding:5px;border-radius:3px;cursor:pointer}#recipe .time{text-transform:uppercase;font-size:12px;text-align:center;background:#fff;padding:15px 0;margin:20px 0}#recipe .time span:not(:last-child){margin-right:12px}#recipe .time span:not(:last-child):after{content:";display:inline-block;height:10px;width:1px;background:#000;vertical-align:middle;margin-left:12px}#recipe .summary{line-height:1.7;font-style:italic}.ingredients,.instructions{line-height:1.7}#recipe .recipe-name{font-size:18px!important;color:#000}ul.ingsContent{list-style-type:disc!important}ol.ingsContent{list-style-type:decimal!important}.ing-section{margin-top:10px}.instructions li{margin-bottom:15px!important;line-height:1.6}#recipe .instructions{margin-top:30px}#recipe .ingsContent{padding:0 0 0 40px !important;margin:0!important}#recipe .posturl{border-top:1px solid #ccc;padding-top:10px}strong.subTitle{margin-left:15px;font-weight:700!important}.subTitle ~ .ingsContent{padding-left:50px!important}.recipe-credit{font-size:13px;border-top:1px solid #ccc;padding:10px;text-align:center;background:#fff;margin:-20px;margin-top:15px}.recipe-credit a{color:blue;text-decoration:none}.recipe-credit a:hover{text-decoration:underline}#recipe .copyright-statement{font-size:13px;font-style:italic;border-top:1px solid #ccc;margin-top:15px;padding-top:15px;line-height:1.6}@media only screen and (max-width: 550px){strong.subTitle{margin-left:0!important}.ingsContent{padding:0!important}.subTitle ~ .ingsContent{padding:0!important}}#recipe .image{text-align:center;margin-bottom:25px;margin-right:20px;float:left}#recipe .image img{max-width:250px}#recipe .recipe-name{font-size:20px !important;line-height:1.6;text-transform:uppercase;margin-top:0;letter-spacing:1px;text-align:left;margin-bottom:25px}#recipe .time{background:#fff;clear:both;border:1px solid #d7d7d7}function printDiv(a){var b=document.getElementById(a);newWin=window.open(",'printwin');var c=newWin.document.createElement('style');c.innerHTML='html{font-family:sans-serif}img{display:none;}#printbutton,.recipe-credit{visibility:hidden;display:none;}.info{text-align:center;text-transform:capitalize}.recipe-name{text-align:center}.info span{margin-right:20px}.time{text-align:center;padding:10px;border-top:1px dashed #000;border-bottom:1px dashed #000;}.time span{margin-right:20px}';newWin.document.getElementsByTagName('head')[0].appendChild(c);newWin.document.getElementsByTagName('body')[0].innerHTML = b.innerHTML;newWin.print();newWin.close()}
Please Pin and Share:
And a few more: