Chicken riggies is an Italian American dish from upstate New York. Made with roasted red peppers and hot cherry peppers, plus big chunks of chicken, make this a tasty dinner!
Chicken riggies has been on my bucket list to make for a very long time.
There is something about the addition of a jar of hot cherry peppers and roasted red peppers added to big fat rigatonis that just appealed to me.
So last spring, I found myself making these chicken riggies not once, but twice!
I love the tangy spiciness of the hot cherry peppers and the richness that red peppers add.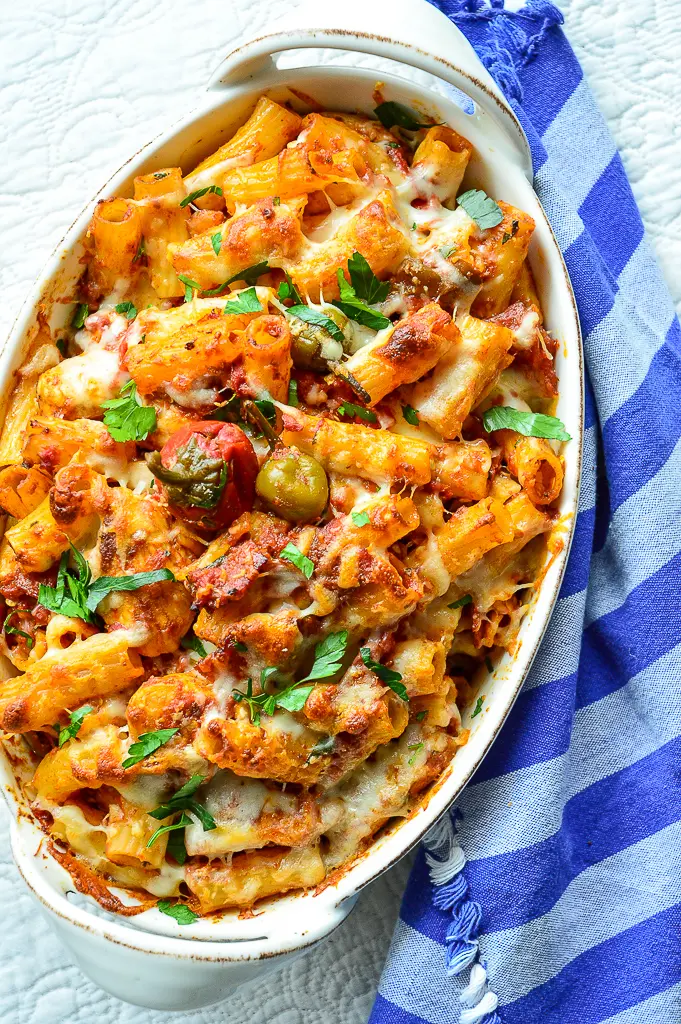 With garlic and butter and heavy cream; this pasta dish becomes a real crowd pleaser. Actually it became a Manservant request. He loves this pasta and my man is not really a pasta lover. Much to my regret.
Perfect for a family dinner, perfect to gift to new mothers; this chicken riggie pasta is what I brought to Zoe's friend who needed a bit of supper after having her second baby.
Italian food is comfort food and not having to worry about dinner sure takes a load off, does it not?
This pasta dish can be frozen as a casserole, but honestly we never got that far. As for us, just being two people, I can tell you that this is easily reheated in the microwave in individual portions.
If the pasta starts to become dry, feel free to stir in more marinara or cream to perk it right up. And don't worry about making another sauce, just use your favorite jarred variety, preferably a chunky version with lots of garlic!
We all need ways to simplify, right?
Yes, you can use jarred marinara sauce to make this chicken riggies recipe!
In fact, if you want to save a step, use jarred marinara the whole way through.
But don't skip the sherry or butter or cream. Rao's marinara is my fave and I find it at Costco.
Heat it up and then add the sherry. When ready add the butter and basil. Check for salt, and at the end stir in the cheese and cream.
Want to jazz this up even more? Stir in some Italian sausage or pepperoni or Calabrese salami. All totally optional as there is plenty of chicken, but those all add even more flavor.
Want more cheese? Stir in chunks of fresh mozzarella and watch it melt a bit. Or place the pasta in a casserole dish and bake it with cheese on top.
If you do it this way, you may want more cream in the sauce because as the pasta heats up again it will soak up the sauce. But nothing wrong with more cream, right?
However I've never had chicken riggies-the real version- but I can tell they do not add extra cheese. That addition is totally because I love cheese!
Chicken riggies is an Italian American dish that originated in the Utica area of upper New York state. No one seems to know who originated it, but this creamy and spicy tomato sauce chicken dish deserves more applause.
I hope you all are doing well. Life seems pretty complicated outside of our abode.
I'm trying to focus on all the positives and in our case, that means my kids, my dogs, my home and lots of good food.
Sometimes when life gets overwhelming having a big plate of pasta and a loaf of garlic bread sure makes me feel better! Plus a glass of wine never hurts!
Need a Few More?
Ziti Al Fresco also has a spicy, creamy tomato sauce but instead of chicken it is made with Italian sausage and sun dried tomatoes.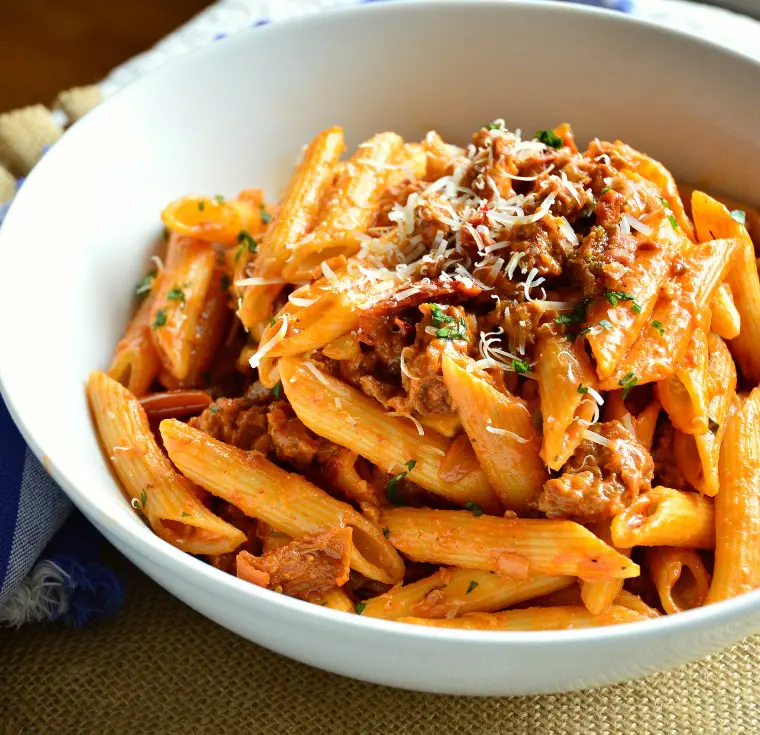 Spicy Fried Spaghetti Pancakes
Leftover spaghetti is perfect for making spaghetti pancakes. Treat these like you would chicken parmesan or just top with sausage and sauce!
Please Pin and Share and Follow my Pinterest Boards!
Print
Chicken Riggies Pasta
Author:

Abbe Odenwalder

Prep Time:

45 Minutes

Total Time:

45 to 60 Minutes

Yield:

4

-

8

Servings

1

x

Category:

Main Course

Method:

Stove Top

Cuisine:

Italian
---
Description
Chicken riggies is an Italian American pasta dish made with roasted peppers, hot cherry peppers, some cream and butter. It is very good!
---
Marinara Sauce:
2 T olive oil
4 smashed and chopped garlic cloves
1 14 oz can diced tomatoes
1 14 oz can whole San Marzano tomatoes
1/2 c sherry cooking wine mixed with one cup of water
4 T butter
8 basil leaves
1/2 t coarse salt
1 c finely grated Pecorino Romano plus more for serving
1/4 c heavy cream plus more if you want a thinner sauce
Chicken Mixture:
2 T of extra virgin olive oil
2 lbs chicken breast cut into medium chunks
2 large roasted red peppers (from the jar, sliced into 1″ pieces) Using more does not hurt!
1 jar of hot cherry peppers roughly chopped, about 7 – 8 or a 16 oz jar
1 smashed and minced garlic clove
6 standard slices spicy Calabrese salami or pepperoni (optional)
1 T pepperoncini (optional)
1 lb rigatoni, cooked al dente according to package directions
---
Instructions
Prepare the tomato sauce:
In a large pot heat 4 smashed and chopped garlic cloves with 2 T of extra virgin olive oil on low heat. Do not brown the garlic as it will taste bitter. Add the whole tomatoes and squeeze them with your hands while adding. Stir in diced tomatoes. Add sherry mixed with water. Simmer for a few minutes.
Add the butter, basil and coarse salt. Simmer on low heat while sauteing the chicken.
Start the water for the rigatoni while sauteing chicken.
Prepare the chicken mixture:
In a large skillet saute the chicken chunks in 2 T of olive oil. When the chicken is almost browned, stir in the roasted red peppers, hot cherry peppers, one minced garlic clove, salami and pepperoncini and saute a few more minutes to blend.
Now stir the Pecorino Romano cheese and the heavy cream into the tomato sauce. Do not stir it in earlier as the cheese has a tendency to stick to the bottom of the pot. If your sauce is chunky and you prefer it more smooth, feel free to use a potato masher or an immersion blender to get the sauce to the consistency you prefer. Personally, I like the tomato chunks for flavor and texture.
Combine the chicken mixture with the tomato sauce and simmer for 10 minutes. while preparing rigatoni.
According to package directions, cook rigatoni al dente.
Drain and stir rigatoni into the sauce. Serve with additional grated cheese and red pepper flakes.
---
Notes
Chicken Riggies can also be placed in a casserole dish, topped with mozzarella, and baked or the top broiled for a few minutes, until the cheese melts. OR, stir in chunks of fresh mozzarella before serving.
This also reheats quite nicely in a casserole dish topped with cheese.
Feel free to add more sauce and grated cheese on the side along with some red pepper flakes for sprinkling.
Keywords: chicken riggies, chicken riggies recipe, recipe for chicken riggies