Big Mamou Cajun Pasta can be made with chicken breasts or rotisserie chicken. This addicting buttery, garlic, and spicy red sauce is a great way to celebrate New Orleans cooking!
I've had Paul Prudhomme's Louisiana Kitchen cookbook probably since 1984.
It is one of my most used cookbooks particularly in Spring around the time of Mardi Gras.
I love cooking these savory, spicy dishes that remind me of the days I spent in New Orleans-eating my brains out, getting my palm read and seeing family.
It is time to get back.
But good memories last a lifetime and so probably do those pounds I gained all those years ago!
This Cajun pasta recipe is one I've bookmarked to make for a long time and it was just last night that I finally accomplished it.
With loads of leftover roasted chicken in the fridge from the dinner I made for Zoe and her friends, it was necessary to find a way to use it.
This was meant for this Cajun chicken pasta.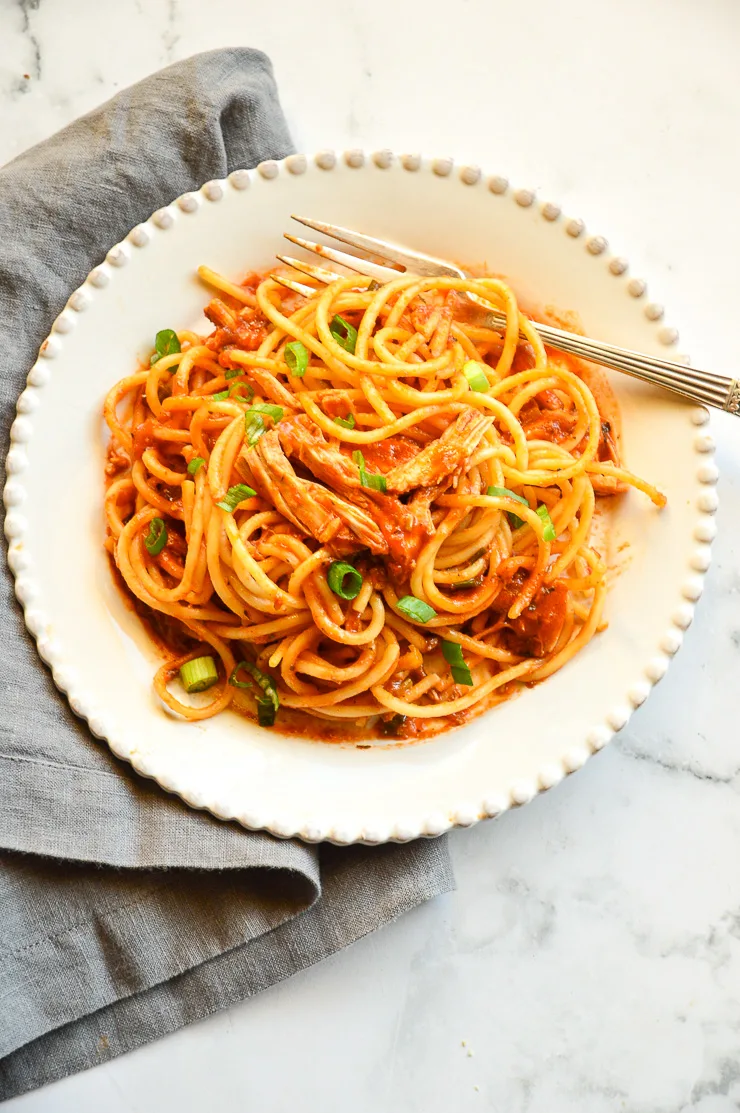 How do this Cajun pasta dish get the name Big Mamou?
Big Mamou is its proper name and I was curious where that came from.
Mamou actually means mammoth and depending on how high you pile it on your plate may explain that definition.
However I learned that Mamou is actually a little town in Louisiana deep in Cajun country.
So maybe it's the mammoth flavors that come from cayenne pepper, loads of garlic and tons of butter, that give this dish its name.
After cooking this recipe I decided that Julia Child and Paul Prudhomme should have been very good friends given their love of butter.
Nope. This dish is not a healthy dish as written. But I suppose it could be made more healthy-ish, if one felt so inclined.
This was not my inclination last night so this recipe for Big Mamou stands, almost as the big man wrote it.
Maybe this Cajun recipe is a take on the classic Italian Arrabiata dish or Fra Diavolo.
Wherever it came from, I must assure you that this thick red sauce would also be heavenly without chicken.
The choice is up to you.
As for how much butter is used…
This totally depends on how you are cooking the chicken. Using already cooked chicken, I didn't feel the need for using the full amount of butter.
As for what kind of chicken? You may use any combination of boneless, skinless chicken you want.
Keep the weight of the chicken around 2 lbs. You may also just use boneless chicken breasts or thighs and cook them directly in the butter.
The chicken can also be diced or sliced and cooked in the butter.
For cooked chicken I used about 5 c of shredded chicken. Honestly a little less, will just make this chicken dish a bit saucier. And more will make it a bit thicker.
How to Make Big Mamou Cajun Pasta:
Begin by combining the seasoning for the sauce in a small bowl.
Now melt 1 1/2 sticks of the butter, the onions and garlic cloves and saute just a bit. Stir in the minced garlic and the seasoning mix.
Stir in the chicken stock, Worcestershire and the Tabasco. Bring to a fast simmer and cook about 8 minutes stirring often.
Add the tomato sauce and bring mixture to a boil. Add the sugar and 1 c of the green onions and simmer for about 40 minutes until nice and thick.
Now it's time to cook the chicken. If you are using cooked chicken, merely melt 4 T of butter and add the seasonings. Stir well and add the chicken. Once it is heated through remove from heat.
Once the sauce has thickened, stir the chicken mixture into it. If you are cooking raw chicken use up to 1 1/2 sticks of butter to cook it.
Cook the spaghetti according to package directions and toss with 3 T of butter and set aside. For reheating instructions please see the recipe card.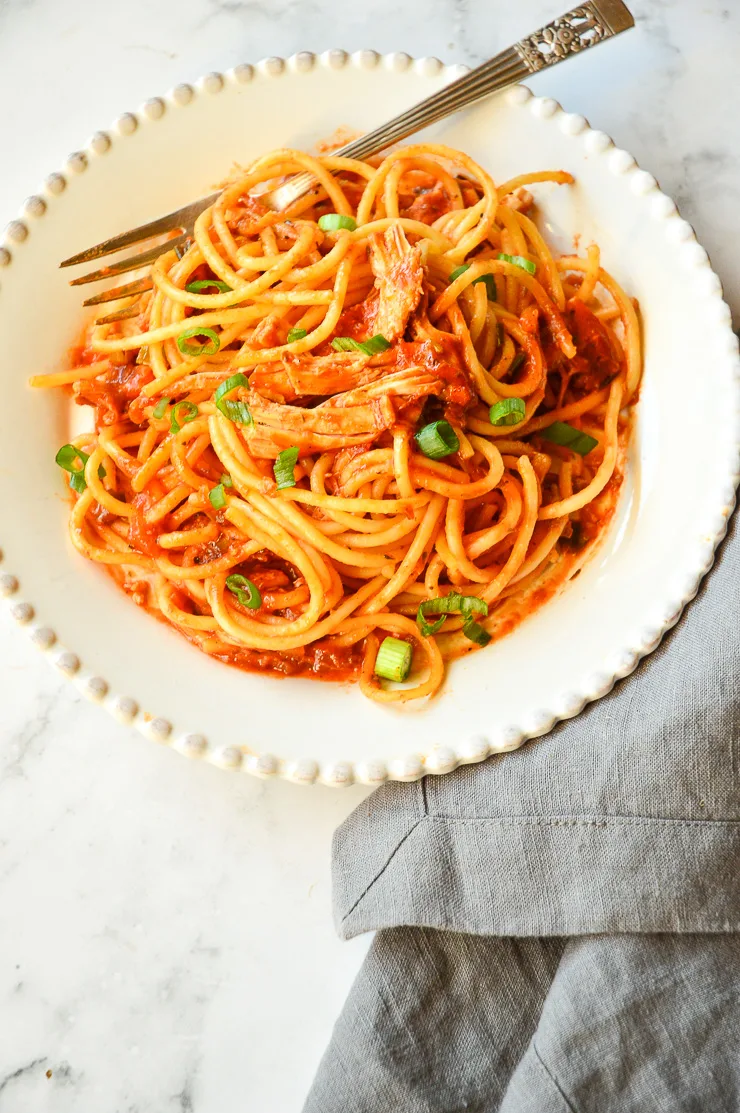 What to serve with this Cajun recipe with chicken?
I kept it simple and just made garlic bread. Why not?
A wedge salad was also served.
Quick tip-I slice my head of lettuce in big giant rounds, instead of wedges. This way I can pile on the toppings and nothing falls off!
Yes, this dish is a great way to celebrate Fat Tuesday. In fact, it's great any day.
Worried about the heat? Though this is spicy, to us it is not a burn the tongue kind of heat.
Want to add more peppers? Just chop up some green peppers and add them to the onions when you add the seasoning mix.
Don't have basil? Use oregano.
Want some cheese? By all means. It's hard to runi this rich dish.
Of course we did leave room for the cinnamon roll bread pudding I made for dessert.
Totally scrumptious, I made it from the cinnamon rolls that Zoe didn't have a chance to eat.
As for tonight's dinner, I'm guessing it might just be salad!
More to Try:
Chicken and Sausage Gumbo Yaya
I'd Love it if You'd Follow Me and Pin and Share!
This post contains affiliate links that may or may not pay a small commission to me at no cost to you.
Print
Big Mamou Cajun Pasta
Author:

Abbe Odenwalder

Prep Time:

45 Minutes

Cook Time:

45 Minutes

Total Time:

90 Minutes

Yield:

6

Servings

1

x

Category:

Main Course

Cuisine:

American
---
Description
Big Mamou Cajun Pasta is a spicy, thick buttery, garlic, red sauce that can be made with the chicken of your choice. Hearty, and addicting!
---
Seasoning Mix for Sauce:
2 t dried thyme leaves

1 1/4 t cayenne pepper

1 t white pepper

3/4 t black pepper

1/2 t dried basil

1 pound unsalted butter (in all, though if you use cooked chicken you will not need as much)

1 c finely chopped onions

4 medium-sized garlic cloves, peeled

2 t minced garlic

3 1/4 c chicken stock

2 T Worcestershire sauce

1 T plus 1 t Tabasco sauce

2 16 oz cans tomato sauce

2 T sugar

2 c finely chopped green onions, in all

Seasoning Mix for Chicken:
Salt

1 1/2 t white pepper

1 1/2 t garlic powder

1 1/4 t cayenne

1 t black pepper

1/2 t dried basil

2 lbs chicken-boneless and skinless, dark or light, or 4 chicken breasts or 5 c shredded or chopped rotisserie chicken

1.5 lbs spaghetti cooked al dente according to package directions in well salted water, tossed with 3 T of butter after cooked
---
Instructions
Combine the sauce seasoning mixture in a small bowl and set aside.
In a 4-qt saucepan, combine 1 1/2 sticks butter, onions and garlic cloves. Saute over medium heat for 5 minutes. Add the minced garlic and the seasoning mix; continue cooking over medium heat until onions are dark browned but not burned, about 8 – 10 minutes, stirring often.
Add 2 1/2 c of chicken stock, Worcestershire and Tabasco; bring to a fast simmer and cook for about 8 minutes stirring often. Stir in the tomato sauce and bring mixture to a boil. Now stir in sugar and 1 cup of the green onions and gently simmer uncovered about 40 minutes, stirring occasionally.
Combine seasoning mixture for chicken in a small bowl.
If you are using chicken pieces or diced chicken breasts, full chicken breasts or sliced chicken breasts, sprinkle seasoning mixture over all.
In a large skillet, melt 1 1/2 sticks butter over medium heat. Add the remaining 1 c of green onions and saute over high heat for about 3 minutes. Add the chicken and cook until done.
If you are using shredded cooked chicken or rotisserie chicken, melt 4 T of butter and the green onions together. Stir in the seasoning mix, mix well and then stir in the cooked chicken.
Once the tomato sauce has simmered about 40 minutes, stir in the chicken mixture, or serve the sauce over the top of the chicken and spaghetti.
I made my spaghetti ahead of time and tossed it with 3 T of butter. To serve I took a portion of spaghetti-about 2 cups- and heated it with 2 t of butter and 1 T of chicken broth in the microwave. I then added about 1 cup of the sauce mixed with the shredded chicken and heated it another 40 seconds. I then plated this and sprinkled it with green onions.
Another option is to mix the pasta with the sauce and serve the chicken pieces on top. Reserce a bit of the sauce to pour over the top of the chicken.
---
Notes
Recipe can be made with cooked chicken or from raw chicken.
Spaghetti can be cooked ahead and set aside or used immediately after cooking.
Reheat individual portions by first reheating the spaghetti in the microwave for about 45 seconds. Then add 2 t butter and 1 T of chicken stock, along with about 2 c of the red sauce mixed with the chicken. Stir the sauce in well and heat for about 25 seconds covered. Serve sprinkled with green onions.
Keywords: big mamou, cajun recipes with chicken, cajun chicken pasta, cajun pasta, cajun pasta recipe,