Chicken and Sausage Gumbo YaYa starts with a roux and the holy trinity of celery, onions and green peppers. Throw in some spicy smoked sausage and boiled or roast chicken and you've got yourself a party. Pass the Tabasco, please.
I'm sure I've mentioned that Manservant has roots in Mississippi, just down the road from New Orleans.
It was there that I discovered my love of Cajun and Creole food and gumbo yaya.
It was there that Paul Prudhomme and I became soul mates-well-at least in my head.
And it was there that shrimps became srimps-because that's how they say it.
It was also there that I discovered a jovial side of the family who are warm and generous and that I hardly see at all.
Whenever I go to N'awlins I eat my brains out. Good food is hard to resist and good rich food is even better.
Stuffing my face with cream filled food and lordy lordy, a lot of spicy spices, and then the muffalettas and the beignets and the chicory coffee and we haven't even gotten to drinks yet.
Yep, this was the first place I had okra; and I liked it. No, on oysters. I'm weird that way.
However you can pry my mouth open when they're fried or perhaps covered with a ton of garlic and grilled.
Pralines? Pass one my way. And the list goes on. New Orleans food is a wonder and I remember getting on the plane to come home.
Manservant and I both felt a tad nauseous. That's what happens when you put a Northerner into a vat of richly seasoned food and fun loving folks.
My brain starts wanting me some good Cajun food 'bout now. I think my body is a walking calendar.
Yep, it's Fat Tuesday and my body needs more. Don't I wish? Now I've never been to Mardi Gras or celebrated Lent, but that is what we're talking about.
Eat all you want. Drink all you want. Party like there's no tomorrow and then tomorrow it's time to get ready for Easter and the ritual fast.
So it is I started digging out all my cookbooks from Paul and Emeril and Brennan's and Commander's Palace and I have even more….until I found Gumbo YaYa.
What does YaYa mean?
Don't you all be jabberin' at the same time now. Because that's what YaYa means.
When you can't hear each other talkin'…found in a 1945 Cajun cookbook…all you hear in the kitchen is yaya!
Gumbo YaYa was described as a Creole dish, but I think the author got it wrong. Creole food is city food.
It usually contains tomatoes and butter; not oil. Those aren't in this recipe.
Cajun is country food. Not as refined. Never has tomatoes. Often contains seafood and chicken or sausage. Andouille sausage is Cajun food.
Whatever. Manservant was thrilled to see me stirring the roux.
I stirred my roux in my Le Creuset Dutch oven.
It made it easy-not that making a roux is hard, but it came together really quick because I was able to turn my heat higher and not worry about scorching the roux.
If you have a not so heavy pot, than turn your heat lower.
Have all your ingredients ready. Don't leave it for a second.
Though Manservant would say that a touch of scorch is what makes a good roux, but what does he know?
Now quit your jabberin'! And start cookin! Tonight's a party, y'all. You may not think so, but this gumbo sure does. Let the good times roll!
More N'Awlins Food: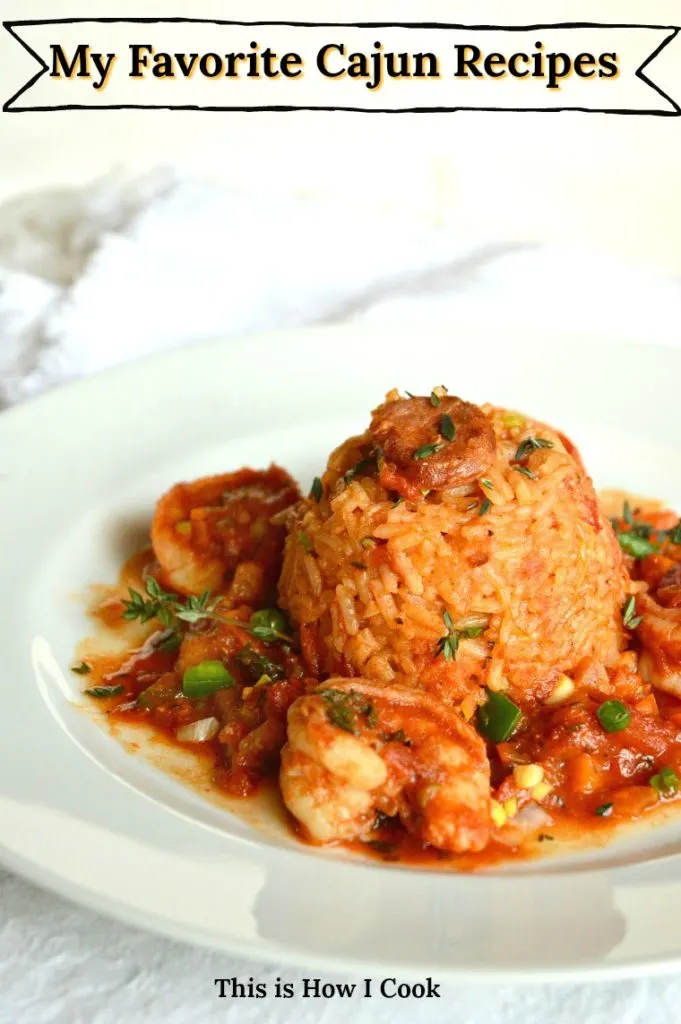 Print
Chicken and Sausage Gumbo YaYa
Author:

Abbe Odenwalder

Prep Time:

60 Minutes

Cook Time:

45 Minutes

Total Time:

1 hour and 45 minutes

Yield:

8

-

12

Servings

1

x

Category:

Soup, stew, gumbo

Method:

Stove Top

Cuisine:

Cajun/Creole
---
3

cans low salt chicken stock

1 1/2

c brown roux approximately

1

lb Andouille Sausage or any spicy smoked sausage

1

T canola oil

1

T minced garlic

1

large green bell pepper, chopped

1

medium yellow onion, chopped

1/2

t dried thyme leaves or

4

sprigs fresh

1

bay leaf

2

T tabasco

2

T Worcestershire

1/2

–

2

t salt (This is your preference and depends on how salty your stock and sausage is.)

1

t freshly ground black pepper

3

–

4

c shredded chicken (I use a roast chicken from the grocery, but if you make your own chicken stock, you can use the chicken from that.

3

c cooked white rice (You may want more. It depends on how many rice lovers you have.)
Brown Roux
1

c canola oil

1 1/2

c flour, divided into

1/4 cups

1/3

c finely chopped onion

1/3

c finely chopped green pepper

1/3

c finely chopped celery

1

t minced garlic
---
Instructions
Brown Roux (Make sure to have all ingredients ready and a whisk.)
In a heavy bottomed 4 quart Dutch oven, add oil and heat to smoking over medium high heat. Be careful! As soon as oil is smoking whisk in flour in 1/4 c increments until flour becomes a dark nutty brown. When that happens add the next 1/4 cup and so on. Continue to whisk, through out the entire process until flour is incorporated and deep brown. Do not leave for one second because the roux can burn fast. When all is incorporated, remove from heat.
Once removed from heat immediately add onion, pepper, celery and garlic. This helps cool the roux and adds flavor. Pour or spoon roux into a 4 cup measure and set aside. It is very hot so be careful. Now wipe out your Dutch oven and get ready to make your gumbo.
Gumbo YaYa
Slice sausage into 1/4″ slices and cut in half. Heat oil in Dutch oven over medium high heat and add sausage. Cook until the fat is rendered or it starts to brown.
Add garlic, green pepper and onion. Saute about 3 minutes or until veggies are softened. Pour in stock and bring to a simmer. Add thyme and bay leaf.
Add reserved 1 1/2 c roux, whisking until roux is incorporated. Bring to a simmer and simmer for 30-45 minutes.
Stir in chicken, Tabasco, Worcestershire and pepper. Add salt to taste. Serve over rice with biscuits or corn bread. (You may also want to adjust the tabasco if you don't like things too spicy.)
---
Notes
Slightly adapted from Brennan's.
Keywords: gumbo. gumbo yaya, cajun food, creole food, mardi gras recipes,