I do love chocolate fudge, but this simple white chocolate fudge made with a funfetti cake mix really takes the cake, shall we say?
A few years back when I gave Zoe a bridal shower in Philadelphia she decided she wanted a "funfetti" theme.
Now funfetti wasn't something I grew up with.
Funfetti was something she grew up with.
She and her girlfriends were always making funfetti cupcakes to bring to school.
What is funfetti?
Turns out Pillsbury came up with the whole funfetti thing in 1989, which explains why I had never really heard of it.
Funfetti was a word invented to combine fun and confetti, which they used to describe a white cake that was combined with colorful sprinkles.
Well, Zoe loves sprinkles and this theme did not surprise me.
We also served funfetti popcorn and funfetti brownies and even had an ice cream truck visit.
Did you know champagne goes very well with ice cream sundaes?
It was a fun day.
The white chocolate fudge was very popular with her crowd, so it was last year for Valentine's Day that I decided to bring a batch to the sweet girls that lived next door.
Rather than brightly colored confetti sprinkles, I decided to use lots of heart and pink colored sprinkles to celebrate the day.
You can see the results!
There are so many ways you can go with this funfetti fudge and you could even leave the funfetti out and have a perfectly luscious white fudge recipe.
If making white chocolate fudge without the funfetti feel free to stir in cranberries or dried cherries or just leave it plain.
Even Manservant though, loved this sparkly confection.
Or have fun and make this cake batter fudge with any kind of sprinkle your heart desires!
This is a fudge made on the stove, not the microwave, and it's hard to screw it up.
About 10 minutes to make and a few hours to chill.
How do you make white chocolate fudge funfetti style?
Begin by lining an 8 x 8 pan with parchment paper.
Combine the condensed milk, white chocolate chips and salted butter in a medium sized saucepan over medium heat.
Stir until everything is melted and smooth and combine well.
Be careful because white chocolate can scorch quite quickly, so this is one pot you don't want to leave unattended!
Reduce heat to low and add the cake mix and vanilla extract and stir until the cake mix is absorbed.
Remove from heat and stir in 2 Tablespoons of sprinkles.
Immediately pour into the prepared pan and use a spatula to smooth the surface.
Decorate with additional sprinkles, if you'd like!
Cool to room temperature or chill in the refrigerator until completely firm.
If you don't want funfetti fudge, do not mix in the sprinkles or the dry cake mix!
I used Ghiradelli white chocolate chips and Pillsbury funfetti cake mix.
Substitutes have not been tested!
White chocolate always has a buttery and golden caramel flavor to me, so this white fudge is totally rich and decadent and something most can't resist.
Take a moment to make someone happy as anything with sprinkles always does.
Try it and see!
Favorite Fudge Recipes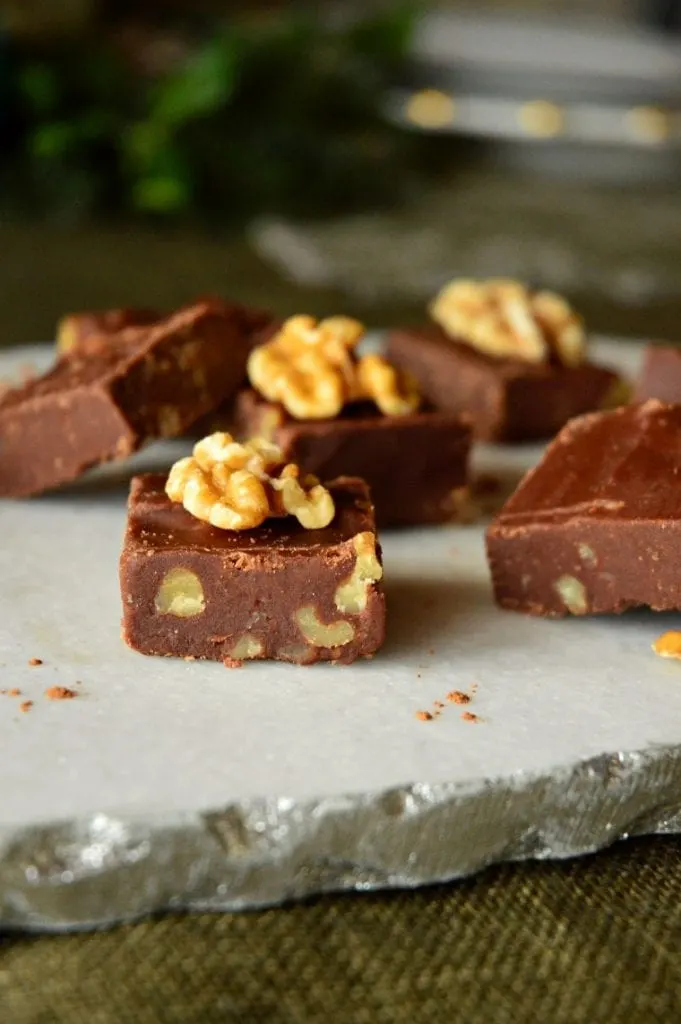 This pst contains affiliate links from which I may or may not receive a small commission at no cost to you.
Print
White Chocolate Fudge
Author:

Abbe Odenwalder

Prep Time:

5 Minutes

Cook Time:

10 Minutes

Total Time:

15 Minutes*

Yield:

32

Servings

1

x

Category:

Candy

Cuisine:

American
---
Description
This white chocolate fudge-funfetti style is fun to make and tastes totally decadent. Who would guess you spent less than 15 minutes cooking?
---
14 ounces sweetened condensed milk (not evaporated milk)
2 c white Ghiardelli chocolate chips
2 T salted butter
1/4 white or funfetti cake mix (dry from the box)
1 1/2 t vanilla
2 T colored sprinkles plus more for decorating
---
Instructions
Line an 8 x 8 pan with parchment paper.
In a medium saucepan combine condensed milk, white chocolate chips and butter over medium heat. Stir frequently until butter and chocolate have melted and mixture is well combined.
Reduce heat to low and stir in the dry cake mix and vanilla extract. Stir well until cake mix is well absorbed.
Remove from heat and stir in 2 T sprinkles. Immediately pour into prepared pan. Use a spatula to smooth the top and sprinkle with more sprinkles as desired.
Cool to room temperature and then refrigerate up to 6 hours so it is well chilled before cutting.
---
Keywords: white chocolate fudge, white chocolate fudge recipe, white fudge recipe, funfetti fudge, cake batter fudge